3DS XL Handheld Console Starter Bundle
by
Nintendo
|
Item
 #: 

5221
|
Build your bundle:
This bundle has items that are out of stock. It is unavailable for purchase.
Your bundle is ready to purchase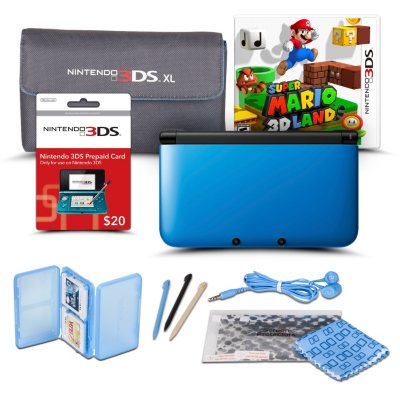 Description
The Nintendo 3DS XL system combines next-generation portable gaming with eye-popping 3D visuals (no need for special glasses). Take 3D photos, connect to friends, other players or wireless hotspots with the wireless StreetPass and SpotPass communication modes. It comes bundled with a 4GB SD card, making it perfect for downloading content from the Nintendo eShop. From games to photos and beyond, Nintendo 3DS XL is the ultimate 3D entertainment system
Specifications
3D Screen: Open up a whole new world of eye-popping gameplay possibilities. The stereoscopic 3D display gives objects within the game world a feeling of space and depth, making many game experiences more intuitive for all types of players.

3D Depth Slider: A built-in 3D Depth Slider allows you to adjust the intensity of the 3D settings to your liking. The 3D effect can also be turned down completely—all Nintendo 3DS games and applications can be played in 2D. Even in 2D, your gameplay will look better than any Nintendo handheld before it.

Motion Sensor & Gyro Sensor: Portable play control reaches a new level with a built-in motion sensor and gyro sensor that react to the motion and tilt of the system.

Two Screens: A widescreen display on the top screen shows 800x240 pixel resolution, allocating 400 pixels for each eye to create the 3D effect. The bottom LCD touch screen operates at a resolution of 320x240—with both screens capable of displaying a brilliant 16.77 million colors.

Analog Control: With the Circle Pad, located above the + Control Pad, Nintendo 3DS offers full analog control in 3D game worlds.

3D Camera: The Nintendo 3DS system uses its two outer cameras to see the world in 3D, much like the human eye. This allows for the creation of 3D photos, 3D video and even 3D stop-motion animations. Check out the Nintendo 3DS Photo Showcase. Browse featured galleries of user-submitted photos updated weekly and submit your own.

Stylus: All Nintendo 3DS systems come with a stylus to allow for precise touch controls on the bottom screen.

SD Memory Card Included: Every Nintendo 3DS system comes packed with a SD Memory Card*. You can use this SD Memory Card to store your 3D photos, and sound recordings created on the Nintendo 3DS system, and music** from your PC. You can also use it to store games downloaded from the Nintendo eShop. The Nintendo 3DS system has SDHC card compatibility to increase your storage space even further.

* Nintendo 3DS systems come with a 2GB SD Memory Card and Nintendo 3DS XL systems come with a 4GB SD Memory Card.

** Nintendo 3DS is compatible with MP3 and AAC file formats.

Backwards Compatibility: Almost all existing Nintendo DS and Nintendo DSi games can be played on a Nintendo 3DS system in 2D. With backwards compatibility, your existing portable games look and play just as well*.

* Nintendo DS and Nintendo DSi games will be displayed in 2D graphics. Select Nintendo DS games that use accessories in the Game Boy™ Advance slot of the Nintendo DS system are not compatible with the Nintendo 3DS system.

Power A 3DS XL Starter Kit Includes:



System Case
Cleaning Cloth
Ear Buds
Screen Protectors
3 Styluses
2 Game Card Cases
1 3DS Game
$20 Nintendo 3DS Prepaid Card*

*The Nintendo 3DS Prepaid Card is your ticket to a world of amazing downloadable games and applications on the Nintendo 3DS™ system. Hundreds of titles—from classics remade in 3D, all-new 3D titles, legendary portable 2D games, and more—are all just a download away. These prepaid cards can be redeemed on any Nintendo 3DS system via the Nintendo eShop, and games are available at great value prices—so get connected and start downloading today*. Learn more about Nintendo 3DS and the Nintendo eShop at http://www.nintendo.com/3DS. Broadband wireless Internet access required to access the Nintendo eShop. For more info, go to support.nintendo.com.
Warranty Information
This product is covered by the Sam's Club Member Satisfaction Guarantee.
There is no additional information available for this item.