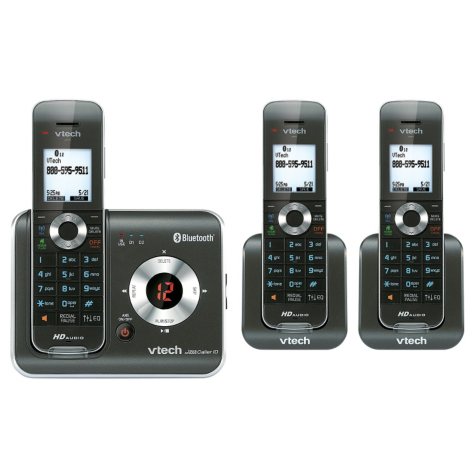 About this item
A three handset cordless phone system which features the ability to make and receive cellular calls with the ease and comfort of a home phone system.
VTech DS6421-3 Three Handset Cordless Phone System with Connect to Cell Answering System
Description
The VTech DS6421-3 allows users to pair up to four cell phones and two devices activily connected. Cellular calls can be made or received from either of these two active cell phones. This is a great convenience for cellular-only households, as landline service is not required. Enjoy numerous features, including the digital answering system, HD audio and voice announce caller ID.
Specifications
DECT 6.0 Digital Technology
Bluetooth "Connect to Cell" Technology
Three Handsets
Simultaneously connect up to 2 Bluetooth cell phones.
Make and receive calls from either your landline or cellular phones
Voice Announce Caller ID
Expandable to 12 cordless handsets
Digital Answering System
HD Audio
Member reviews & questions