by Tijuana Flats
|
Item # 980038717
|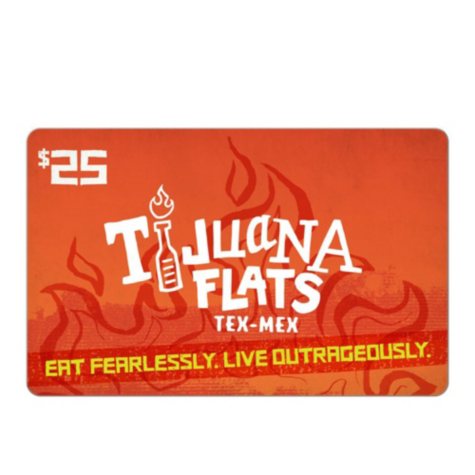 Product Details
About this item
Serves fresh, fast, made to order Tex-Mex food in a fun, offbeat atmosphere filled with sci-fi wall art, celebrity snapshots, a 15 pump hot sauce bar and local flair
Uses zero trans fatty acids or cooking oils, 100% hormone free, white meat chicken, fresh produce and all menu items are lard free
Online only
Digital delivery
FREE digital shipping
Email delivery
Description
How'd Tijuana Flats become Tijuana Flats? Funny story, really. Back in '95, this college kid, Brian Wheeler, walked into a bar. Actually, a bunch of bars. (And restaurants, too.) At first, it was just harmless fun. But over time, the good times got the best of him and just going out no longer cut it. So Brian decided to open his own restaurant despite having never worked in one before (brilliant, right?). Only problem was, Brian was broke. Luckily, his parents weren't. And after much begging and pleading, his dad loaned him $20,000 & Brian opened the first Tijuana Flats in Winter Park, Florida. In '99, Brian's success caught the eye of former restaurant industry hotshot Camp Fitch, who left retirement to become partner & chairman of Tijuana Flats. And Camp wasn't the only one. Remember the dad who reluctantly loaned his son $20K? Yup, Chester Wheeler left a 30-year career at a Fortune 500 company to become CFO of Tijuana Flats. Since then, Tijuana Flats has grown to more than 100 restaurants in six very lucky states. From the outside, it looked like Tijuana Flats didn't have a care in the world, but inside, Brian and his Camp care deeply about the people in their company, restaurants and communities. That's why they attract the best of the best team members who personally engage with guests from the time they walk in to the time they leave. It may be "fast casual," but everyone at Flats takes the time to give a care. They go above and beyond to make guests feel comfortable and cared for, even if it means taking an order to a car in the pouring rain because mom has the kids in the car. Since day one, Tijuana Flats has always given back to the community. But in January 2007, it created the Just in Queso Foundation to give back even more. Much more. The company has raised over $3,500,000, and donated countless hours, to help those in need.
Redeemable:
National. In-Store Mobile Redemption Instructions
Recipient:
To redeem your eGift Card from a mobile device display the gift card number and associated PIN (if applicable) to the cashier at the time of purchase.

Cashier:
Hand key the gift card number and associated PIN (if applicable) into the POS.
*or* Scan the barcode off of the mobile device and/or hand key the gift card number and associated PIN (if applicable) into the POS.
You will receive a confirmation email from Sams.com within minutes of successful order placement.
A second email from SamsClub@e-deliverygroup.com with access to your code will be delivered within 60 minutes*. This e-mail will contain instructions on how to access the Sam's Digital Delivery Center Web site to redeem or gift your code.
If you have issues receiving your email, go to the following webpage to access your purchase: egift.samsclub.com. Enter your email address used to order on Sams.com, your billing ZIP code and your Sams.com Order Number or view your Account Order History on Sams.com to gain access to your order. There are no returns or refunds on electronically fulfilled PIN numbers. Walmart.com is not responsible for stolen or misplaced PINs. *Pins are usually delivered in minutes or, at most, within 48 hours depending on additional order validation required by Sams or your credit card company.
Policies & plans
Specifications
No value until activated by merchant. Use of this card constitutes acceptance of the following terms and other terms that may be imposed from time to time: Tijuana Flats is not responsible for lost, stolen, or damaged ecards, or any unauthorized card use unless otherwise required by applicable law. Ecard is redeemable for services and merchandise only and cannot be redeemed for cash. No service fees are charged in connection with this ecard. To obtain the card balance, visit www.cardbalance.net or call 1.888.892.3813 and enter the card number.
Warranty
No returns or refunds on Physical or Digital Gift Cards
Member reviews & questions