SolarChlor MAX Deck Mounted Chlorine Generator
by
SolarChlor
|
Item
 #: 

231671
|
Model #: 
8004
|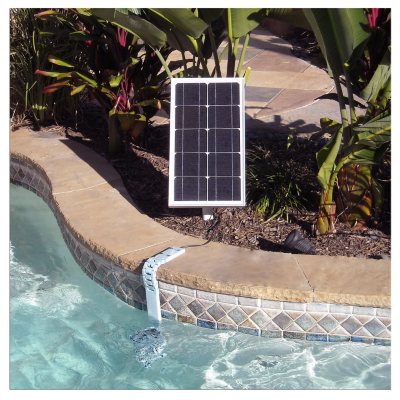 Shipping

Price includes shipping
Delivery estimates, taxes, and fees are based on ZIP Code. Club Pickup orders are based on your club's current price and item availability on the day of payment.
About this item


The SolarChlor MAX Deck Mounted system provides FREE chlorine all day long and is ready to do the job for you.

Original Price $599.00
Save $120.00


Description
The SolarChlor MAX efficiently and effectively transforms simple salt into chlorine through electrolysis utilizing a high output, shatter-proof, durable solar panel which works all day long and even when cloudy. Simply add salt to the swimming pool and you're ready to save! No plumbing or electrical hook-up needed with no changes required to your existing pool equipment. Unique feature allows for salt to be added directly to the cell housing should a boost be required. Easily sets up in minutes and adapts to either in-ground or above-ground pools. Three output setting modes are provided to accommodate to your swimming pool volume. Recommended up to 25,000 gallons, the SolarChlor MAX can save up 80% or more on chemical and energy use which will allow you to break even with in the first year of use or sooner! Safe and easy install that provides a non-shocking electrical current to the cells that produces a sufficient amount of chlorine, even in cloudy weather. Enjoy the benefits that SolarChlor MAX unit can provide while experiencing the soft water, rejuvenating feel while avoiding the high cost of rising energy and chemicals for years to come. Easy set mounting kit options are provided.

Just add salt and you are ready. SolarChlor's dual patented process transforms simple salt into chlorine all day while providing algae inhibiting minerals 24/7.

Additional benefits include safe and easy installation with no programming or plumbing, no electrical hook-ups, hazards or electrical consumption, no changes to your existing equipment, pump or filtering system and no more large chemical storage or handling.

SolarChlor MAX is the solution to the ever-rising energy and chemical costs related to maintaining crystal clear water and will quickly transform your pool into an economic paradise that you'll enjoy for years to come.

Comparably, the savings continues to mount as other systems or methods require constant energy, pump run time, maintenance, costly replacement parts or expensive mineral cartridge replacements. SolarChlor further enhances saving by extending the life of your existing equipment in reduced run time and operation and conserves water by eliminating the need to dilute the pool due to high conditioner levels.

The SolarChlor MAX is a eco-friendly product that can reduce green house emissions by as much as 800kg per year per pool, which can also allow you the additional satisfaction of recouping your investment in the first few months of use.

Sun, salt and SolarChlor equals the perfect pool!
Specifications
The SolarChlor MAX converts salt into chlorine via the sun
Simple to set up and adapts easily to both in ground or above ground pools
Mounting kit options are included
No changes are needed to your existing equipment, pump or filtering system and can be used with in ground or above ground pools
Simply add salt to the pool and begin saving immediately and experience the tremendous savings in energy and chemical costs all year round
Salt can also be added directly to the cell housing assembly for higher chlorine output or for a boost when needed
The SolarChlor MAX is recommended up to 25,000 gallons and can save on chemical and energy usage by as much as 80% or more and comes with a 3 year limited warranty
Also included is an optional mineral purifier that works 24/7 providing crystal clear water and lasts up to 8 years
Easily attaches to the skimmer basket
The SolarChlor MAX comes with three adjustable output mode settings to accommodate your size of pool and is recommended up to 25,000 gallons for optimal savings in energy and chemical costs
Safe and easy install with no electrical hazards, no plumbing or electrical hookups that's complete with self cleaning cell plates that requires no upkeep or maintenance
Made from durable ABS plastic and there are no rechargeable batteries, charging needed nor electrical hookups required
The SolarChlor MAX is recommended for residential above-ground or in-ground swimming pools but not recommended for commercial swimming pool use
Simply attach the cell housing to the deck, set the solar panel and enjoy the economic transformation and saltwater sensation that only SolarChlor can provide
For questions or concerns regarding this product, please contact our customer service department at 1.713.401.4121.
Frequently Ask Questions:
Q. Do I have to make any changes to our current pool system?
A. No changes have to be made to your current equipment, filtering or pump system. Simply add the salt to the pool and you're ready. There is absolutely no need to change out your existing pool water or wait for the chlorine level to dissipate as this is what saltwater generators generate.
Q. How much salt needs to be added and how do I add it?
A. Add salt directly to the pool water while brushing. Do not add the salt to the skimmer as this will clog the pump. 34 lb. per 1000 gallons is suggested to obtain 4000 PPM salinity level however, the salinity level can be lowered or raised depending on the amount of gallons to be treated. For optimal results on 25,000 gallons a 4000-5000 PPM level is suggested.
Q. What kind of salt do I use and where do I get it?
A. Salt can be purchased at Sam's Club, Walmart or any hardware store and should be the granular form for quick dissolving when added to the water. Salt crystals can be used when adding directly to the cell housing as this dissolves at a slower rate and will last upward to a week. Do not use a potassium based salt.
Q. How long will the salt last in the pool and how often will I be adding it?
A. Salt does not evaporate out of the pool. It must be back-washed out, splashed out or spilled over by rain. The average user may add an additional 2-4 bags of salt per year to maintain proper levels depending on climate conditions.
Q. Can I still use regular chlorine tablets with my pool and will I have a saltwater pool?
A. Yes to both. You can still use chlorine tabs with this system if and when needed but your dependence on chlorine will be reduced significantly as well as your energy use on the pump system by as much as 80% or more. We recommend that the pool be shocked weekly when water temperatures exceed 70 degrees.
Q. What shock can I use to shock a saltwater pool?
A. With the SolarChlor systems you can use any form of approved sanitizer form granular to concentrated liquid bleach. With other in-line generators we recommend that only Salt Shock be used as this will not foul the cell plates or cause undo damage.
Q. What are the benefits of SolarChlor systems verses other saltwater systems?
A. Simple- No plumbing is involved; no electrical use or hookup is involved and no expensive maintenance or constant upkeep is involved. The other systems can cost as much as $50 a month in energy to operate as well as $100-$300 a month in energy required to run the pool pump. The savings really add up quickly with the SolarChlor systems...not to mention the chemical savings as well.
Q. Can I use a SolarChlor unit with my pre-existing saltwater generator?
A. You sure can. This would save you substantially in energy usage and monthly bills. Just keep the salinity level at the manufactures recommended level, turn down the pump run time and all will be right with your energy provider and your pocket book.
Q. What benefits will a saltwater pool bring?
A. Saltwater is gentle on the eyes, hair and skin and the strong chlorine smell will be eliminated. You will also enjoy the benefits of feeling rejuvenated as saltwater is an electrolyte that will leave you feeling refreshed and energized.
Q. Do I ever have to remove the SolarChlor MAX unit from the pool?
A. No. Just set it and forget it
Assembled Country
China
Component Country
Imported
Member reviews & questions