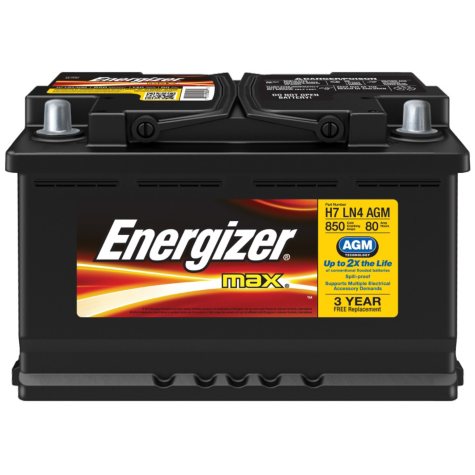 About this item
Posted Core Charge May Apply - Amount varies by State
For 3-Year Free Replacement: Retail Differences, Disposal Fees and Taxes may apply
Energizer Absorbent Glass Mat (AGM) batteries are designed for the most demanding applications and come with the reliability, power, convenience, and long life required to power your busy life.
100% maintenance free and spillproof
Free installation in Sam's Club Tire and Battery Center (Available on most vehicles)


ONLY AVAILABLE IN CERTAIN STATES
Energizer AGM Automotive Battery - Group Size H7 LN4
Description
Today's vehicles have more accessories than ever before: heated seats, power lift gates, alarms, stereo and DVD systems, navigation, and all of the electronics like cell phone, tablets, and laptops that we can no longer live without. All of these accessories takes a toll on the battery, shortening the life of ordinary flooded batteries.

Energizer Absorbent Glass Mat (AGM) batteries with their thick, high density paste and tightly compressed cells are engineered to meet the extreme demands of today's vehicles.

In high heat environments, the dual sealed, valve regulated AGM design creates a recombinant environment in which water loss is not a problem. Combined with their thick patented stamped grid they offer up to 2X the life of flooded batteries.

Energizer AGM batteries are 100% Spill proof, perfect for batteries located in the trunk and passenger compartment.

The lead acid battery is one of the world's most recycled consumer products. Nearly every part of your Energizer automotive battery can be recycled. Please return your used lead acid batteries to your local Sam's Club for free recycling.

Energizer AGM batteries are maintenance free.


ONLY AVAILABLE IN AK, AR, AZ, CA, CO, HI, IA, ID, KS, LA, MN, MO, MT, ND, NE, NM, NV, OK, SD, TX, UT, WA, WI, and WY
Specifications
12 volt
850 CCA / 1000 CA
Absorbed Glass Mat (AGM) Battery Technology is ideal for vehicles with multiple electronic accesories or for batteries located in the cabin or trunk
Up to 2 times the life of standard SLI and some tradiitional AGM batteries
Meets or exceeds the OEM Specifications
100% Spill-proof design
Excellent Starting Power, in low temperatures and at a low state of charge
100% maintenance free
Patented Grid Design for superior starting performance throughout the life of the battery
Solidium Weld System increases durability for extended life
Valve Regulated Lead Acid (VRLA) batteries reduce water loss even in high heat conditions
Core Charge May Apply
Warranty
3 Year free replacement
Member reviews & questions