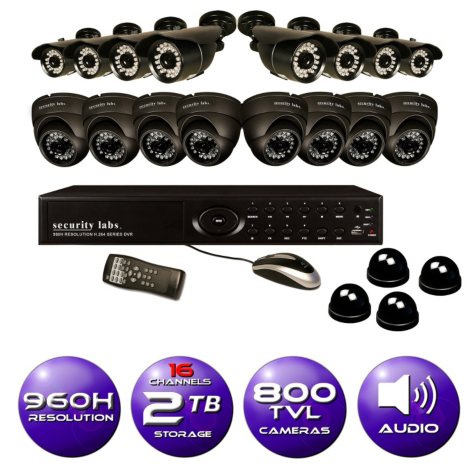 About this item
960H resolution recording captures 30% more detail than D1, and 5x more detail than CIF DVRs.
High Resolution 800+ line camera imagers with mechanical IR cut filters that produce accurate daylight colors and improved night vision.
E-mail and SMS text messages can be sent with images when motion is detected or alarm terminal contacts are triggered. Free Smartphone apps available.
DVR loaded with: 2TB survellance grade hard drive, HDMI / VGA and composite video outputs, video motion detection, 4 alarm Inputs, alarm output, and 4 audio inputs


 
Security Labs 16 Channel 960H Security System with 16 800TVL Cameras, 2TB Hard Drive, and 80' Night Vision
Description
Raise your recording capabilities to a new level
960H Resolution live view and recording is a must when using today's advanced 800+ line cameras and high definition display monitors. 30% more detail is captured in each video image when compared to standard D1 resolution DVRs. VGA and HDMI ports on the DVR maximize the output to a high definition monitor. A composite video output is also included for connection to a TV or older monitor with a video input. Advanced H.264 video codec technology stores four times more video on the hard drive than previous models. Dual stream video processing records the highest quality video possible to the hard drive while adjusting the image compression to optimize the DVR's internet transmission speed. Smartphone monitoring, e-mail with images, SMS text messaging with an image, or standard text only alarm notification messages provide maximum access and connectivity while you are on the move. The included Central Monitoring Station (CMS) Software gives you the ability to monitor up to 64 cameras on one PC screen, with video streaming from multiple DVRs from the Security Labs 960H family of DVRs and surveillance systems.
Intuitive menus and controls
An interactive setup wizard, colorful on-screen graphics, and descriptive icons make navigation of the menus and control of the DVR very intuitive and easy to use. A PC type mouse allows you to quickly click and drag over schedules, motion detection grids, digital zoom, and on-screen DVR controls. An IR remote control is also included for ease of operation. Pentaplex capability allows you to view live video, record all channels, play back selected channels, connect via the internet, and back up a file all at the same time. Motorized Pan/Tilt/Zoom (PTZ) cameras, such as Security Labs SLC-176 and SLC-177 can be controlled with the mouse, IR remote, PC, or via free mobile phone apps. Timed, motion detection, and alarm recording can be scheduled for any hour of any day for each camera, giving you total control over what to record, and when. Back up or copy video files quickly to a flash drive via a front panel USB 2.0 port, or to a PC via the internet. Generate your own private password to access all data and functions, or user passwords that offer limited access.
Cameras with accurate reproduction that work almost anywhere!
The weatherproof bullet cameras have a 800 line high resolution imager that incorporates a true mechanical IR Cut filter. The photocell controlled filter is automatically placed in front of the image sensor during daylight hours to filter out unwanted infrared light from the sun that affects the color hue of the image. During night time operation, the filter is moved away from the image sensor to allow better viewing of objects being illuminated by the 30 IR LEDs. The imager and LEDs are optically isolated as both items are housed in their own compartments, holding IR reflection and halo effect to a minimum. Typical IR range produces facial recognition at 25 feet and general surveillance in excess of 80 feet for reflective surfaces. The cast aluminum swivel mount allows for precise viewing angle adjustment and houses the video power cable for additional security and cosmetic appeal. Like the bullet cameras, the turret dome cameras also have a high resolution 800 line imager with a mechanical IR Cut filter. Turret dome cameras offer the stylish look and tamper proof features of a metallic dome camera, plus some of the night vision and weatherproof capabilities of a bullet camera. The 3-axis internal ball design allows you position the camera on target, particularly in tight indoor situations. The 24 Infrared emitting LEDs allow night vision for reflective objects up to 65 feet away, and facial recognition up to 15 feet. The rugged cast aluminum case protects the camera and cable from tampering. Both types of cameras can be used outdoors, but should be mounted under a protective covering from direct rain such as an awning, eave, or soffit. The bullet cameras offer a slightly higher level of weather protection and can be mounted in areas subject to occasional rain and sun. Mounting any camera under some type of rain protection is always preferred. The two included *condensor microphone / audio kits can be installed with any camera in the system. The two mics are .25" diameter by 1.5" long, and can be mounted under the sun shield of the bullet cameras, above the ball inside the turret domes, or independently near the camera. *Monitoring or recording audio can be helpful around your home or in a lab situation. Consult with your local and State authorities on the proper use and notifications that may be required in your area when installing a camera with audio in a public place. Covertly recording audio is illegal in most jurisdictions.*
Plug-N-Play installation with lifetime customer support
All Security Labs systems are packaged with everything you need to connect and operate the system with no special tools required. Professional style locking BNC video connectors are used on all cameras and DVRs for long term stability, and compatibility with cameras and accessories made by other major CCTV manufacturers. Toll free (USA based) lifetime customer support with technicians that are available to remotely connect to your system (with your authorization) and help you configure your connection to the internet!
Specifications
System
DVR
Number of Cameras:
(8) IR Bullet Cameras, (8) IR Turret Domes, (2) Universal Microphone / Audio Kits
Number of Channels:
16 Video / 4 Audio
Hard Drive Space:
2TB (Two terabyte)
Wired or Wireless:
Wired
Average Minimum Setup Time:
8 Hours - Types of walls and ceilings on site will vary time spent on installation. Note: All connections are Plug-N-Play.
Camera 1
DVR Model:
SLD25X 960H series
Number of Channels:
16
Number of Channels with Audio:
4 (2 audio mic kits included)
Hard Drive Size:
2TB
Maximum Hard Drive Expandability:
6TB (3TB x 2)
Recording Resolution:
NTSC:960H (960*480), D1(704*480),CIF(352*240)
Recording Frames per Second:
480ips (30 per channel) in all modes 960H/D1/CIF
Recording Compression:
H.264
Recording Modes Available:
Continuous, Scheduled, Video Motion Detection, & Alarm
Wireless Camera Receiver:
Not available
Video Motion Detection Recording:
Yes (352 point selectable grid 22 x 16)
Pre-Event Recording/Capacity:
Yes (Adjustable 5 seconds to 2 minutes)
Mobile App Viewing:
iPhone, Android, Blackberry, Symbian, Windows
E-Mail Alert Notification:
Yes
Maximum Number of Remote Viewers:
10
Playback and Search Options:
Slow = 1/30, 1/8, 1/4, 1/2, Still, Normal, Fast 2X, 8X, (& 12X via Network)
Data Backup Options:
USB 2.0 Flash drive, LAN or Internet to PC
Digital Zoom:
Yes
Pan-Tilt-Zoom Controls:
Yes
Still Frame Capture:
Yes
Alarm Terminal Trigger Recording / # of Inputs:
Yes / 8
External Alarm Ouput Contact(s):
Yes / Normally Open
Operating System:
NTSC
Included Accessories:
IR Remote Control with batteries, Mouse, Regulated Power Supply, LAN Cable, BNC Cable, & CMS Software
Camera Cable Connection Type:
BNC
Compatible Cameras:
All composite video (NTSC) cameras with a BNC connector.
DVR Dimensions:
15"W x 11.75"D x 2.75H"
Camera 2
Camera Model and Type:
Weatherproof IR Bullet
Number of Cameras:
8
Image Sensor Type:
1/3" Micro-lens array RGB CMOS w/ IR Cut Filter
TV Lines:
800
Resolution:
NTSC: 720(H) x 480(V)
Effective Pixels:
345K
Aperture:
F2.0
Focal Length (35mm Equivalent):
3.6mm (20mm Equivalent)
Pan-Tilt-Zoom Capability:
Not Available
Optical Zoom:
Not Available
Angle of View:
92 degrees
Color or Black and White:
Color
Wireless Camera-DVR Connection:
Not Available
Audio Capability:
Compatible with included microphone/audio kit
Number of Infrared LEDs:
30
Night Vision Distance:
80' reflective surfaces, 25' facial recognition
Recommended for Outdoor Use:
YES
Weather Resistance (IP Rating):
IP67
Operating Temperature:
14F° ~ 122°F
Operating Humidity:
95% Max
Tamper Protection:
Yes
Compatible DVRs:
All Composite video, NTSC DVRs with BNC input jacks (BNC is the CCTV Industry Standard)
Compatible Cables and Connector Type:
BNC Video / 2.1mm DC Power - Piczel 50' Model 2210 (543979) or Piczel 100' Model 2220 (543987)
Length of Cable Included:
50' Video/power cable for each camera
Camera Dimensions:
5.0" x 3.5"
Technical Support
Camera Model and Type:
Turret Dome
Number of Cameras:
4
Image Sensor Type:
1/3" with IR Cut filter
TV Lines:
800
Resolution:
NTSC:720(H) × 480(V)
Effective Pixels:
345K
Aperture:
F2.0
Focal Length (35mm Equivalent):
3.6mm (20mm equivalent)
Pan-Tilt-Zoom Capability:
Not Available
Optical Zoom:
Not Available
Angle of View:
92 Degrees
Color or Black and White:
Color
Wireless Camera-DVR Connection:
Not Available
Audio Capability:
Compatible with included microphone/audio kit
Number of Infrared LEDs:
24
Night Vision Distance:
65 feet reflective objects / 15 feet facial recognition
Recommended for Outdoor Use:
Yes - Camera should be mounted under an awning or eave
Weather Resistance (IP Rating):
IP66
Operating Temperature:
14° F ~ 122° F
Operating Humidity:
95% Max
Tamper Protection:
Yes
Compatible DVRs:
All Security Labs brand DVRs, and DVRs with composite video (NTSC) BNC type connector inputs (Industry Standard).
Compatible Cables and Connector Type:
BNC Video / 2.1mm DC Power - Piczel 50' Model 2210 (543979) or Piczel 100' Model 2220 (543987)
Length of Cable Included:
50' Video/power cable for each camera
Camera Dimensions:
3.7" x 3.5"
Package Contents
Phone Number:
1-800-774-0284
Hours of Availability:
9:00AM - 9:00PM M-F & 10:00AM - 4:00PM Sat. Eastern Time Zone
Web Support URL:
www.security-labs.com
DVR w/hard drive, mouse, remote, LAN cable, & BNC-BNC cable
(8) IR bullet cameras
(8) IR turret dome cameras
(2) Audio line level output microphones
(4) Simulated (dummy) dome cameras
(14) 50' Camera Video / Power cables
(2) 50' Camera Video / Audio / Power cables
(1) DVR power supply
(2) Multi-camera power supplies
(2) Surveillance Video / Audio Warning Window Decals
Camera Mounting Hardware
Printed owner's manual
CD with; Client Viewers for Windows and Mac, CMS software, Mobile apps, & PDF Owner's Manua
Component Country
Imported
Shipping Info

Standard - 2 to 6 business days

Premium - 2 to 4 business days

Express - 1 to 2 business days

Member reviews & questions