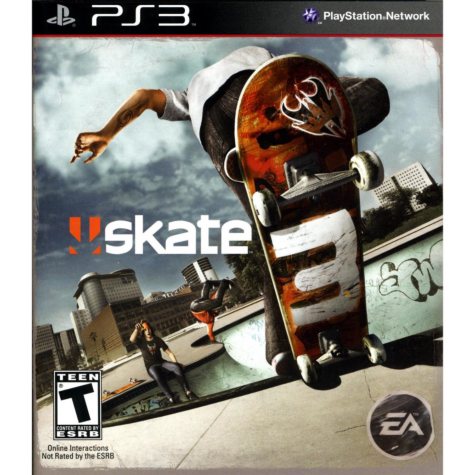 Select a club for price and availability
Skate 3 PS3 Greatest Hits
Description
Skate 3 rolls into the brand-new city of Port Carverton in this new addition to the Skate franchise. The skater-friendly city features unique districts, all-new plazas ready for shredding and endless lines — it really is paradise. Team up with up to five of your friends as you strive to become a legendary skater while creating a brand empire. Watch your team's logo plaster the city as your team's popularity grows. No matter what you do in the game — compete in online challenges, create a skate park or have your content downloaded by other gamers — it only increases your progression and your popularity. Take advantage of the all-new Skate School to learn the finer points of skating and to hone your skills. The Hall of Meat is back and all-new total body control bails let you brutalize your skater in the harshest ways imaginable. Grab your board and get ready to change the face of skating.
Specifications
Roll out to the all-new city of Port Carverton — a skater's mecca with unique districts, plazas, no security, no skate stoppers or need to drain pools
Build a skate crew with up to five of your friends in co-op gameplay and take on challenges or devastate the competition with sick tricks in head-to-head competitive battles
Grow your team's reputation to become a skate mogul — brand the city with your team's logo as your popularity grows
Completing online challenges and having your created skate parks or graphics downloaded by other gamers increases your popularity and counts toward your progression
All-new Skate School helps you learn, practice and hone your shredding skills
New on-screen guides, including a manual meter and Flickit trick analyzer, assist you in becoming a skating legend
Customize your skating experience with Skate Create, which gives you the toolset to let you create content for your team, your own private use or to share with the online community
Prepare for brutal carnage with all-new total body control bails to make the Hall of Meat gnarlier than ever before
All-new Skate Feed game and web social network let you keep tabs on your teammates and rivals
Warranty
Computer/video game software must be returned in the original and unopened packaging with a receipt to receive a refund. Defective software must be returned within 90 days of the original purchase with a receipt to receive an exchange of merchandise.
Member reviews & questions