by Porkopolis
|
Item # 558580
|
Model # EVR12017
|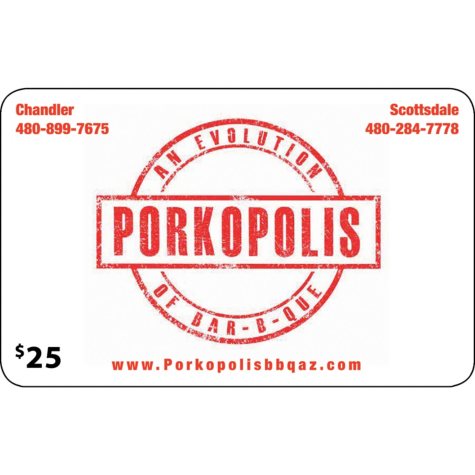 Product Details
About this item
Description
You could say the stars all aligned! – Or maybe that "Pigs really do fly!" Let's begin approximately 20 years ago. Brady ate his way to AZ. A self proclaimed foodie he has worked hard to develop his own sauce and spice line. These sauces and spices are the cornerstone for the beginnings of a great BBQ experience. The sauces have already won various awards at various BBQ throw downs. Needless to say the sauces are good and wait until you try the BBQ. Hammy or Matt operated 25 different restaurants and bars throughout the U.S. before landing in Phoenix 16 years ago. The two of them decided they wanted to do a restaurant. The combination of Brady's sauce line and Matt's having opened and managed two award winning BBQ restaurants meant the idea of doing a barbecue style restaurant was a natural fit. So what do you call a restaurant that is, part "bar-b-que", part "casual dining", part "bar and grill" and just plane "good"? So let's lay some groundwork. In case you didn't know Matt and Brady were born in Ohio. In the early 1800's Peter Bogen, (that's right, of the now famous Brady Bogen lineage) moved his family to Ohio. In the spring of 1830, he opened a meat packing company in Cincinnati. The business quickly became successful. They became well known for their hams and other preserved meats. The level of production exceeded that of many other packers of their time. When the area was the country's chief hog packing center and about the time Cincinnati had become the country's leading center for pork processing it was Peter Bogen who is recognized for coining the nickname for the city as, "Porkopolis". Jumping back to present time, Brady and Matt are thinking of names for their new venture. The thought was, "the definition of BBQ means many things to many people". What better way to signify the evolution of a modern day barbeque restaurant than to recognize the evolution of the pork industry itself. So, Porkopolis was born. Whether you enjoy great smoked meats, fresh grilled seafood with Brady's Signature sauce or a hand-tossed salad, we think, "Porkopolis", will evolve into something delicious!
Chandler, AZ
Scottsdale, AZ
Policies & plans
Specifications
Specialties: The restaurant will feature several items on the menu. First and foremost we will offer the traditional selection of barbecued or smoked meats. This includes, Beef Brisket, Baby Back Pork Ribs, Pulled Pork, Turkey and Chicken. Prior to the year 2000, one would have to have been a judge at a championship level barbeque event to sample the quality of food prepared at our restaurant. All of our barbeque selections are prepared fresh daily, as if they were going to be judged in a professional competition. The meat is seasoned with our "rub" which is specially formulated to enhance the flavor. Then, it's slow smoked for up to seventeen hours, rendering it supremely tender and flavor-filled. The menu also offers a variety of menu items that you might not find at traditional BBQ restaurants. We believe that BBQ can mean many things to many people and because of this we have included items that we consider to be part of, "the evolution of barbecue". All of the items will incorporate one of our Signature, "Brady Sauces". You will see such items at, Red Neck Tacos, Pork Quesadillas, BBQ Salmon, Smoked Meatloaf, BBQ Jambalaya and Pork tenderloin. We have great desserts made both in house and some signature offerings that are made locally.
Warranty
No returns or refunds on Physical or Digital Gift Cards.