Piczel 16 Channel Security System with 8 540 TVL Cameras, 3TB Hard Drive, and 22" LED Monitor
by
Piczel
|
Item
 #: 

248964
|
Model #: 
7014
|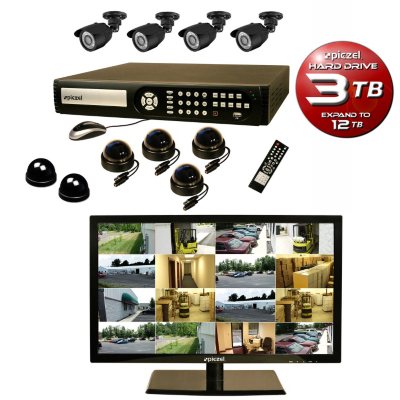 We're sorry, this item is not available in your selected Club.
 Check another Club
About this item
3TB surveillance grade hard drive
Expandable up to 9TB internal or 12TB total
DVR records up to 480 images per second
Includes 22" wide screen LED monitor
Smartphone monitoring, plus email and text alerts
Description
A total coverage system with the latest technology and high storage capability.
The new Piczel 7014 complete surveillance system, provides everything you need to connect and operate the plug-and-play components in the box. The 540-line high resolution cameras include professional quality CCD imagers that generate video with exceptional detail. Images captured with all cameras are well reproduced on the 22" widescreen LED monitor with resolution settings that far exceed those of a typical CRT monitor. The dynamic contrast ratio keeps details from being lost in dark shadows or washed out with bright objects.
Get the latest in recording technology with the new Piczel 5191-3TB digital video recorder. H.264 dual-stream video compression allows you to maximize the speed of your internet transmission while simultaneously recording the highest quality video to the hard drive. An HDMI output has been added to send video to a large flat panel wall display while providing a full 1280 x 1024 VGA signal to the included LED monitor. View live video from a remote location using the exclusive MyDVRView™ that connects any device with any web browser without installing additional software. The full grid video motion with e-mail notification sends you an image of an event as it happens. Text messages can be sent to your mobile device alerting you that an event has occurred. Copying video can be done via a USB flash drive, PC connected via a network connection, or sent to the optional DVD burner. Hard drive storage can be expanded up to 9TB internally (3TB x 3), or two hard drives can be used along with an optional DVD burner installed in the front panel access bay. An E-Sata port on the back of the DVR allows for a fourth 3TB hard drive to be connected for a total of 12TB of storage!
Selectable grid video motion detection and fast event search
Video motion detection can be set to record activity to the hard drive, log the event in a list to simplify searches at a future date, and send an e-mail with an attached image of what just happened. To make the video motion detection more accurate and useful, a 22 x 15 (330 point) grid of squares is displayed over each camera view during the motion detection setup process (see the included graphic with the product photos). With 330 small squares superimposed on a camera's view, you can select each square that you choose to be active, triggering an alarm event when there is activity in front of the square. By the same process, you can deactivate any square that lies in an area of known activity that would cause a false alarm, such as a pathway for a pet, or a public access area. Pre-alarm video memory storage insures you will not miss recording the person or object that causes a trigger. Your recordings will always show the action just before the video motion or alarm trigger occurs.
Database like storage of video files make retrieval of events a snap. Drill down your searches by date, time, camera, and event type to quickly find the information you are looking for. Play the event or click on to save your selected video to a flash (thumb) drive. While reviewing events from the DVR via the internet, you can easily save the data file to your computer. You can also take a quick snapshot or record live streaming to your PC as you see it happen! Alpha-numeric on-screen titles can be generated for each channel making identification of the source location much easier. 16 external alarm contact inputs add to the flexibility of how events are recorded and alarm e-mail notifications are sent, including the Piczel Video Temp Alert. This exclusive accessory displays the temperature of your home or business's monitored area on a camera's video, and triggers the DVR's e-mail feature when there is a problem with heating, cooling, refrigeration units, etc.
Intuitive menus and controls
Colorful on-screen graphics and descriptive icons make navigation of the menus and control of the DVR very intuitive and easy to use. The full function front panel contains all major control buttons and a slot for an optional DVD burner. A PC type mouse allows you to quickly click and drag over schedules, motion detection grids, and on-screen DVR controls. An IR remote control is also included for ease of operation. Pentaplex capability allows you to view live video, record all channels, play back selected channels, connect via the internet, and back up a file all at the same time. Motorized Pan/Tilt/Zoom (PTZ) cameras can be controlled with the mouse, IR remote, PC, or via free mobile phone apps. Timed, motion detection, and "NO" recording can be scheduled for any hour of any day for each camera, giving you total control over what to record, and when. Back up or copy video files quickly to a flash drive via a USB 2.0 port, or to a PC via the internet. Generate your own private password to access all data and functions, or user passwords that offer limited access.
Cameras with Super HAD CCD imagers
A stylish cast aluminum weatherproof case, infrared illuminated night vision and high resolution video are all included in the color bullet cameras. A 540 line high resolution imager is combined with a non-reflective lens design and 24 high output IR LEDs to generate a crisp and clear image. IR LEDs and imager are optically isolated as each component is concentrically housed in its own compartment, holding IR reflection and halo effect to a minimum. Typical IR range produces facial recognition at 20 feet and general surveillance in excess of 40 feet for reflective surfaces. The cast aluminum swivel mount allows for precise viewing angle adjustment and houses the video power cable for additional security and cosmetic appeal. The camera is weatherproof for use outdoors, however installation under an eave or soffit is recommended.
Get a great combination of durability, and picture detail with the tamper-proof, 540 line color dome cameras. Used in banks, office buildings, casinos, and retail stores this camera offers the most popular case design on the market today. The opaque high gloss dome maintains a 360 degree deterrent of malicious activity as the actual direction of the camera inside of the dome cannot be seen. The heavy cast aluminum base holds the dome securely in place. A tool is required to remove the dome keeping it inaccessible to vandals or others that may try to manipulate the imager inside. No matter where you mount the camera in a room, a perfectly aligned picture can be achieved with the internal 3-Axis (X, Y, & Z) imager board adjustments. Low light (LUX) operation performs in dark conditions better than the human eye. The electronic iris automatically adjusts to lighting conditions down to 0.02LUX and will produce an image with candlelight.
Plug-N-Play installation with lifetime customer support
All Piczel systems are packaged with everything you need to connect and operate the system with no special tools required. Locating a power source near a camera is not necessary as all power and video connections are done at the location of the DVR. Industry standard locking BNC video connectors are used on all cameras and DVRs making them compatible with systems and accessories built by other professional CCTV manufacturers. Toll free (USA based) lifetime customer support with technicians available to remotely connect to your system (with your authorization) and help you configure your connection to the internet!
Specifications
System
Number of Cameras:
(4) 540TVL Tamper Proof Domes, (4) 540TVL Weatherproof IR Bullet
Number of Channels:
16 Video / 4 Audio
Hard Drive Space:
3TB
Wired or Wireless:
Wired
Average Minimum Setup Time:
6 Hours - Types of walls and ceilings on site will vary time spent on installation. Note: All connections are Plug-N-Play.
DVR
DVR Model:
5191-3TB
Number of Channels:
16
Number of Channels with Audio:
4
Hard Drive Size:
3TB (Three terabyte)
Maximum Hard Drive Expandability:
12TB
Recording Resolution:
NTSC:D1(704*480),HD1(704*240),CIF(352*240)
Recording Frames per Second:
120 ips/D1, 240 ips/HD1, 480 ips/CIF
Recording Compression:
H.264
Recording Modes Available:
Continuous, Scheduled, Video Motion Detection, Alarm Input
Wireless Camera Receiver:
Not available
Video Motion Detection Recording:
Yes / 22 x 15 (330 point) grid video motion detection per channel
Pre-Event Recording/Capacity:
Yes / 16 MB (approximately 10 seconds)
Mobile App Viewing:
iPhone, Android, Blackberry, Symbian, Windows
E-Mail Alert Notification:
Yes
Maximum Number of Remote Viewers:
5
Playback and Search Options:
Fast = 2x, 4x, 8x, 16x, 32x, 64x, Pause, Step (1 frame at a time), Slow Forward or Back = 1/2x, 1/4x, 1/8x, 1/16x
Data Backup Options:
USB 2.0 Flash drive, LAN or Internet to PC, DVDR (Optional)
Digital Zoom:
Yes
Pan-Tilt-Zoom Controls:
Yes
Still Frame Capture:
Yes
Alarm Terminal Trigger Recording / # of Inputs:
Yes / (16) Normally Closed or Normally Open Contact Inputs
External Alarm Ouput Contact(s):
Yes
Operating System:
NTSC, PAL
Included Accessories:
IR Remote Control with batteries, Mouse, Regulated Power Supply, LAN Cable, BNC Cable, & CMS Software
Camera Cable Connection Type:
BNC
Compatible Cameras:
All Piczel brand cameras, plus all professional brands (BNC connector is the CCTV Industry Standard)
DVR Dimensions:
17" x 14.25" x 2.75"
Camera 1
Camera Model and Type:
Weatherproof IR Bullet
Number of Cameras:
4
Image Sensor Type:
1/3" Super HAD CCD
TV Lines:
540
Resolution:
NTSC: 768(H) x 494(V)
Effective Pixels:
379K
Aperture:
F2.0
Focal Length (35mm Equivalent):
3.6mm (20mm Equivalent)
Pan-Tilt-Zoom Capability:
Not Available
Optical Zoom:
Not Available
Angle of View:
92 degrees
Color or Black and White:
Color
Wireless Camera-DVR Connection:
Not Available
Audio Capability:
Not Available
Number of Infrared LEDs:
24
Night Vision Distance:
65' reflective objects, 20' facial recognition
Recommended for Outdoor Use:
YES
Weather Resistance (IP Rating):
IP67
Operating Temperature:
14F° ~ 122°F
Operating Humidity:
95% Max
Tamper Protection:
Not Available
Compatible DVRs:
All Piczel brand DVRs, plus all professional brands (BNC is the CCTV Industry Standard)
Compatible Cables and Connector Type:
BNC Video / 2.1mm DC Power - Piczel 50' Model 2210 (543979) or Piczel 100' Model 2220 (543987)
Length of Cable Included:
50'
Camera Dimensions:
4.0"L x 2.5"D
Camera 2
Camera Model and Type:
Tamper Proof Dome
Number of Cameras:
4
Image Sensor Type:
1/3" Super HAD CCD
TV Lines:
540
Resolution:
NTSC: 768(H) x 494(V)
Effective Pixels:
379K
Aperture:
F2.0 / 0.02LUX
Focal Length (35mm Equivalent):
3.6mm (20mm Equivalent)
Pan-Tilt-Zoom Capability:
Not Available
Optical Zoom:
Not Available
Angle of View:
92 degrees
Color or Black and White:
Color
Wireless Camera-DVR Connection:
Not Available
Audio Capability:
Not Available
Number of Infrared LEDs:
Not Available
Night Vision Distance:
Not Available
Recommended for Outdoor Use:
No
Weather Resistance (IP Rating):
Not Available
Operating Temperature:
14F° ~ 122°F
Operating Humidity:
95% Max
Tamper Protection:
Yes
Compatible DVRs:
All Piczel brand DVRs, plus all professional brands (BNC is the CCTV Industry Standard)
Compatible Cables and Connector Type:
BNC Video / 2.1mm DC Power - Piczel 50' Model 2210 (543979) or Piczel 100' Model 2220 (543987)
Length of Cable Included:
50'
Camera Dimensions:
2.75"H x 3.75"Dia
Monitor
Type:
LED
Size:
22"
Signal Inputs:
VGA / DVI-D
Maximum Resolution:
1920 x 1080
Aspect Ratio:
16:9
Native Contrast Ratio:
1000:1
Brightness (NITS):
250 NITS
Response Time:
5 ms
Viewing Angle:
170 degrees horizontal / 160 degrees vertical
Speakers with Volume Control:
Not Available
Technical Support
Phone Number:
1-800-774-0284
Hours of Availability:
9:00AM - 9:00PM M-F & 10:00AM - 4:00PM Sat. Eastern Time Zone
Web Support URL:
www.piczel.com
Package Contents
DVR w/hard drive, mouse, remote, LAN cable, & VGA monitor cable
(4) Dome cameras
(4) Weatherproof IR bullet cameras
(1) 22" LED Monitor
(2) Simulated (dummy) dome cameras
(8) 50' Camera Video/Power cables
(1) DVR power supply
(1) Multi-camera power supply
Camera mounting hardware
Printed owner's manual
CD with: CMS software, AVI File Converter, & PDF Owner's Manual
Window warning decals
Assembled Country
Taiwan/China/USA
Component Country
Imported
Member reviews & questions