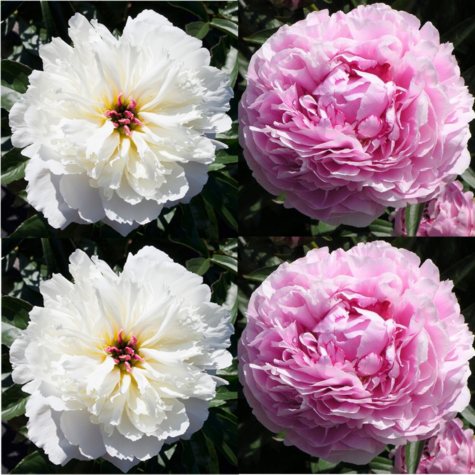 About this item
This product is only shipping now thru September 4th
Stem Length: 40 – 50 cm
Bloom Size: 3 7/8 cm - 4.5 cm/ 1.5 in – 1 3/4 in
Alaskan Peonies
We're sorry, this item is not available in your selected club.
Select a club for price and availability
Sarah Bernhardt White Peonies - 100 Stems
Description
These Premium quality beautiful peonies with a 40 – 50 cm stem arrange beautifully with your choice of flowers, Gypsophila, other fillers and greens or simply by themselves. Perfect for your wedding, event, resale or individual needs.
Please have someone available to receive and process the flowers on the delivery date. Signature will be required for delivery.
For further information regarding care and handling please see our Flower Care Guide.
Specifications
Due to differences in monitor resolution, color intensity may vary from actual items
Bunches: 20
Color:Pink and White
Varieties:Duchess, Immaculee, Bridal, Avelanche, or Festival
Stem length: 40 – 50 cm
Bloom size: 3 7/8 cm - 4.5 cm/ 1.5 in – 1 3/4 in
Each bunch contains: 5 Alaskan Peonies. Within each bunch, the peonies are packed in two layers to ensure protection during shipping.
Suggested delivery date of at least 2 days before your event.
Bouquets/Bunches are individually sleeved to ensure protection during shipping.
Exposing peonies to warmer environment will help the flower bloom, storing them in a cooler will slow down the opening process.
We ship our peonies in bud form. Please do not be alarmed when receiving peonies in bud form. Once the peony is hydrated, the bloom will open to a much larger size in the next couple of hours.
Slight shade variations from actual picture may occur, but will be consistent within the bouquet.
Substitution Policy:
To assure optimum freshness, different varieties may be substituted based on availability. In making substitutions, we take great care to ensure that we exceed your expectations, and that you will be satisfied with the flower quality and performance.
Flower Care and Conditioning:
These flowers are shipped dry and may appear "wilted" when you first receive them. This is natural, as they have been without water for over 24 hours and are very thirsty. The initial hydration process is imperative so your flowers are at optimum freshness and appearance.
Follow the Care Guidelines Below:
Cleanliness truly is important with cut flowers. Make sure your vases are clean, use clean water and change your water (cold) every 1 or 2 days to extend the life of your flowers.
Prepare your clean vases by adding warm water and the floral preservative we've provided.
Remove the flowers from the box, using sharp scissors, recut the stems diagonally at least 1 inch from the bottom creating a fresh surface for water absorption.
Immediately after cutting, place the flowers in your freshly prepared vase making sure to remove any leaves that might be submerged in the water as they will rot and shorten the life of your bouquet.
Place your vase in a cool spot for at least 2 hours while flowers take up the warm water.
If you expose your flowers to warmer environments, the buds will open within 24-36 hours. Keeping them refrigerated will delay the bloom and allow you to 'plan' their opening. When refrigerating, place the buds in a sealed plastic bag.

Delivery dates and prices fluctuate with seasonal availability and demand.

Although your order takes 7 days to process, we suggest you place the order from 7 to 30 days in advance. Since flowers are perishable and affected by weather, please have someone present to receive the flowers between 8:00 a.m. and 12:00 noon if you live in a metropolitan area or 8:00 a.m. to 4:30 p.m. if you live in a suburban or rural area. This will ensure that your flowers are not left at the doorstep or sent back for next day delivery.

ADDITIONALLY, SHIPMENTS MAY BE DELAYED BY WEATHER OR OTHER UNFORESEEN CIRCUMSTANCES RESULTING IN SHIPPING AND/OR DELIVERY DATES BEING MODIFIED.

Order Cancellation Information:

Please note that all requests to cancel a floral order must be made within 7 business days of the scheduled delivery date of the order.

For questions please contact us at samsclub@customerinfo.net.

No deliveries to Puerto Rico.
Warranty
Sam's Club guarantees timely delivery of fresh, beautiful flowers. If you are not completely satisfied with your product please contact us immediately to request a refund or replacement. Requests for replacements must be received prior to 2:00 pm CST in order to have a replacement order sent out. Replacements will only be provided if the flowers arrive in poor condition. Images will be required for any replacement or refund and must be received within 48 hours after receiving the product. Refunds will not be given for circumstances resulting from negligence. Order cancellation requests must be received at least four days prior to the delivery date. Orders cancelled less than four days before the delivery date will not be refunded. Please call 888-746-7726 Option 3 and speak to a Member Service Representative.
Assembled Country
Alaska
Component Country
USA
Shipping Info
Standard - 2 to 6 business days
This product ships to AK and HI.
Member reviews & questions