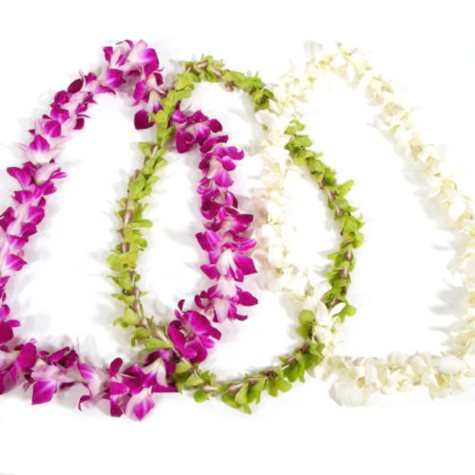 About this item
Recommended delivery date is 2 days before your event

If your event is Saturday or Sunday suggested delivery date is Thursday
If your event is Monday suggested delivery date is Friday

Assorted pack of colors: Purple, Green and White
48" long, then tied together
Bloom Size: 1.5cm - 2cm / .60in - .80in
Each single lei has between 50-60 blooms (depending on the size of the bloom by variety)
Price includes delivery
Delivery
By florist/courier
Orchid Leis - Assorted Colors (choose pack size)
Description
Beautiful orchid leis make a wonderful addition for any occasion for any person, male or female. Enhance your wedding ceremony, anniversary celebration, graduation party, or honor a loved one that has passed.
Please have someone available to receive and process the flowers on the delivery date.
For further information regarding care read Flower Care and Conditioning, under Specifications.
Specifications
Due to differences in monitor resolution, color intensity may vary from actual items. Slight shade variations from actual picture may occur.
48" long, then tied together
Bloom Size: 1.5cm - 2cm / .60in - .80in
Each single lei has between 50-60 blooms (depending on the size of the bloom by variety)
These flowers are tropical and do not need to be kept cold. Do not store in temperatures below 50 degrees
Please read proper care and disposal guidelines
For additional questions or concerns regarding this product, please contact the Floral Customer Service Department at 1-888-746-7726.
Flower Care and Conditioning
For best results unpack your leis as soon as they arrive.
Place them in a refrigerator. Ideal temperature should be between 50 and 55 degrees Fahrenheit.
If you are not near a refrigerator, mist them with cool water and them wrap them in a moist paper towel or keep it in a plastic bag.
Disposal of a Lei
To properly dispose of a lei it should be returned to nature. Leis should never be thrown in the trash. This is considered a sign of disrespect. Here are some creative ways to return your lei to nature:
Let your lei dry out and keep the dried flowers.
Remove the fowers from the string and scatter the flowers in nature or in the ocean.
Hang the lei on a tree and allow it to adorn the tree with its beautiful materials.
Important Delivery Information
It is recommended to have someone available to receive your order on the delivery date. This will ensure that your order is not left at the doorstep or sent back for next day delivery.
Fresh Flowers are available for delivery Tuesday - Friday to the 48 contiguous states.
For metropolitan areas deliveries arrive between 8am and 12pm.
For Suburban or rural areas deliveries arrive between 8am to 4:30pm.
Shipments may be delayed by weather or other unforeseen circumstances such as US Custom Holds or weather which could result in shipping and/or delivery dates being modified. Please contact FedEx for special messages or pick up options concerning weather delays.
Although your order will be shipped overnight, please allow a minimum of 8 days for the handling and shipping process.
No deliveries can be made on Monday, Saturday or Sunday.
Holiday schedules may differ from regular shipping schedules i.e. Christmas Day, Thanksgiving, etc.
Delivery is not available to Alaska, Hawaii or Puerto Rico.
Substitution Policy
To assure optimum freshness, different varieties may be substituted based on availability. In making substitutions, we take great care to ensure that we exceed your expectations, and that you will be satisfied with the flower quality and performance.
Order Cancellation Information
We understand things happen and you might need to change or cancel your order. Call us at 1-888-746-7726, seven business days before your scheduled delivery date. Please verify the requested delivery date and shipping address before completing your order. Refunds will not be given if the incorrect information is chosen.
Warranty
This product is covered by the Sam's Club Member Satisfaction Guarantee. Sam's Club guarantees timely delivery of fresh, beautiful flowers. If, for any reason, you are not completely satisfied with the product freshness delivered, please notify us immediately to request a possible replacement or refund. Please call 1-888-746-7726 with questions or concerns Monday through Friday 8 a.m. to 5 p.m. Eastern Standard Time. Bouquet replacements will only be provided if the Bouquet arrives in poor condition. Due to the nature of this particular item, time constraints may affect any possible replacement.  These are special order items and take time to process; therefore 24-hour replacement may not be available. Requests for replacements and pictures must be received prior to 2:00 pm EST in order to have a replacement order sent out. Images will be required for any replacement or refund and must be received within 48 hours after receiving the product. Refunds will not be given for circumstances resulting from negligence or the wrong delivery dates chosen. Refunds will not be given for cancellations less than 4 days for floral.  It is recommended to have someone available to receive the box. Please make arrangements with FedEx directly for any changes in delivery
Assembled Country
Thailand
Component Country
Imported
Shipping Info
Due to the speed of delivery, order tracking numbers may not be available prior to the day of delivery.
Flowers must be ordered a minimum of 7 business days in advance of delivery
Orders available for delivery Tuesday through Friday
Delivery is not available to AK, HI or Puerto Rico
Member reviews & questions