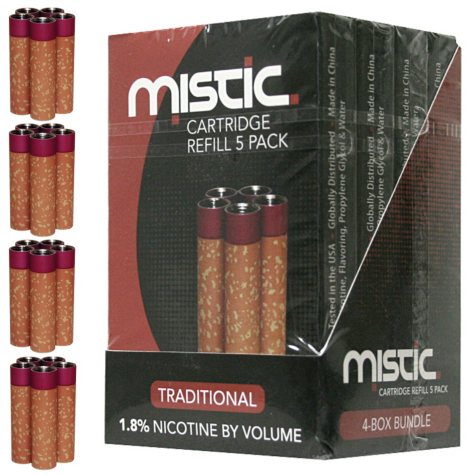 About this item
Replacement cartridges are for use with any Mistic battery.
Contains 20 cartridges
Each cartridge contains propylene glycol, water, nicotine and flavorings

Please note! The price listed is for business resell only.
Mistic 5 Red Electronic Cigarette Cartridges - Traditional Flavor- 4 pk.
Description
Mistic eCigs look and feel like smoking but they allow you to "light up" where you prefer not to smoke or where traditional cigarettes are banned.

Identification of all persons under 26 will be required before purchase.

.Mistic eCigs are comprised of a cartridge (inhaler, liquid container and vaporizer are built as one piece) and rechargeable battery with indicator light.

PRODUCT WARNINGS: Electronic cigarettes are intended for use by smokers of legal smoking age (18 or older in California), and not by children, women who are pregnant or breast feeding, or persons with or at risk of heart disease, high blood pressure, diabetes, or taking medicine for depression or asthma.

Electronic Cigarettes are not a smoking cessation product and have not been tested as such. This product and the statements made within have not been evaluated by the US Food and Drug Administration or any other international health or regulatory authority. These statements and products are not intended to diagnose, treat, cure, or prevent any condition, disorder, disease or physical or mental conditions and should not be used as a substitute for your own physician's advice.

Electronic cigarettes contain nicotine, a chemical known to the State of California to cause birth defects or other reproductive harm. Nicotine is addictive and habit forming, and it is very toxic by inhalation, in contact with the skin, or if swallowed; danger of serious damage to health by prolonged exposure if swallowed; irritating to eyes and skin; may cause sensitization by skin contact; may cause harm to the unborn child; vapors may cause drowsiness or dizziness; very toxic; very toxic to aquatic organisms, may cause long-term adverse effects in the aquatic environment. Ingestion of the non-vaporized concentrated ingredients in the cartridges can be poisonous. After contact with skin, wash immediately with plenty of water and seek medical advice; in case of accident or if you feel unwell, seek medical advice (show the label when possible). This material must be disposed of in a safe way; use appropriate containment to avoid environmental contamination.

KEEP OUT OF REACH OF CHILDREN: Choking and ingestion hazard.
Specifications
Cartridge contains 1.8% nicotine by volume.
Each cartridge contains propylene glycol, water, nicotine and flavorings
Easy-to-use alternative to smoking traditional cigarettes
Emits a mist that looks like smoke but is actually water vapor
Charged and ready to use
Each cartridge will last approximately 300 draws
Results will vary depending on the intensity of a person's average inhalation
Warranty
Mistic Limited Warranty: Subject to the conditions and limitations set forth on www.misticecigs.com, the Mistic electronic cigarette is guaranteed against defects in workmanship and materials if purchased from Mistic or an authorized Mistic dealer, for a period of 12 months from the date of purchase. Visit www.misticecigs.com for details. Should any part of your Mistic product fail to operate satisfactorily, return to Mistic for full replacement to 7800 51st Street West, Rock Island, Il 61201.
Member reviews & questions