HeaterMeals EX Self-Heating Entrées - Assorted - 12 pk.
by
HeaterMeals
|
Item
 #: 

229671
|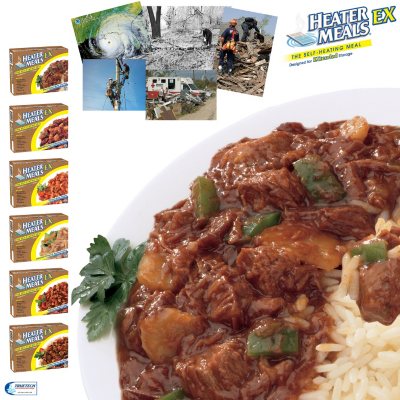 Delivery estimates, taxes, and fees are based on ZIP Code. Club Pickup orders are based on your club's current price and item availability on the day of payment.
About this item
HeaterMeals EX Self-Heating Entrees are designed for extended storage of up to 5 years with no refrigeration required and are formulated for a wide array of diets. There is a vegetarian entree, two lower sodium entrees, and an entree with only 3 grams of sugar.
Description
View Heating Instructions

View a preview of this product

View a preview of this product

The food in HeaterMeals® EX entrees is formulated for a wide array of diets. There is a vegetarian entree, two lower sodium entrees, and an entree with only 3 grams of sugar. HeaterMeals® EX entrees provide no trans fats, less fat and cholesterol content, and contain 40 to 70% less sodium than other emergency meal options.

The food is fully cooked, safety-sealed in a 4-layer flexible pouch and heated again under pressure to assure a safe, easy-to-store meal. The process is similar to canning, but uses a more modern package. No preservatives are added. The result is extended storage without refrigeration and a ready-to-eat meal that retains its natural moisture, texture and taste.

HeaterMeals® EX offer a shelf life of 3 to 5 years when stored properly, and are a simple solution for long-term emergency planning. Each HeaterMeals® EX entree includes: a self-heating entree, seasonings, spoon, napkin, moist towelette and serving tray.

View nutrition information here. (PDF)


Specifications
Our unique, patented, food heater has heated over 1.5 Billion meals
Just add the included salt water packet to the heater bag, and you'll have a piping hot meal in minutes
The patented TRUETECH Self-Heating Technology was introduced for use as the Field Ration Heater (FRH) by the U.S. Armed Forces in 1990 to heat Meals, Ready-to-Eat (MREs) for soldiers in the field
TRUETECH self-heating technology is a simple combination of powdered food grade iron and magnesium, salt and water
Spent heaters are biodegradable and easily disposed of, with no toxic materials

HeaterMeals® EX Self-Heating Entree Assorted 12 pack contains:
2 Chicken Pasta Italiana Entrees
2 Green Pepper Steak with Rice Entrees
2 Homestyle Chicken & Noodles in Gravy Entrees
2 Vegetarian Pasta Fagioli Entrees
2 Southwest Style Chicken with Rice and Beans Entrees
2 Zesty BBQ Sauce & Potatoes with Beef Entrees
Spoon , napkin, salt & pepper, no-salt seasoning and moist towelette

HeaterMeals EX Self-Heating Entrees provide between 300 and 480 calories per entree.

HeaterMeals® EX Self-Heating Entree Benefits:
No Refrigeration Needed: Up to a 5 year shelf life
Tasty Self-Heating Entrée: 50% larger than MRE's
Easy-to-Use and Ready-to-Eat: No handling required while heating
Nutritionally designed for a wide array of diets, offering a quality adult main entree
Proven, Safe Heating Technology: Biodegradable, Non-Toxic HeaterHeaterMeals®3 Self-Heating Meals Uses:
Business continuity planning
Employee & family disaster supplies
Shelter-in-place feeding
Emergency preparedness & food storage
Camping & hiking

Frequently Asked Questions - HeaterMeals Self-Heating Meals
Q: How will my order arrive?
A: Most smaller orders will arrive through either FedEx or UPS. They will ship in cardboard cases.

Q: What is the shelf life of my product?
A: HeaterMeals EX Self-Heating Entrees have a shelf life of up to 5 years from the date of packaging. Your product will have a shelf life of 3 to 5 years when it arrives.

A: HeaterMeals 3 Self-Heating Meal Kits have a shelf life of up to 3 years from the date of packaging. Your product will have a shelf life of 2 to 3 years when it arrives.

Q: How do I know how much shelf life remains on my product when it arrives?
A: The USDA asks each food manufacturer of meat and poultry products to print a recommended consumption date on the package. It is not a 'safety date' as you would see on a milk carton, but rather a recommended use by date. Similar to canned foods, after the consumption date has been reached, food color, texture and nutritional value may decline.

Q: What gives HeaterMeals the extended shelf life?
A: HeaterMeals entrees are made in a high quality food cooking and packaging process (similar to canning) called 'retort packaging', this process gives product an extended shelf life and simple dry storage. 'Retort is a cooking process that uses heat and pressure to cook food a second time in its sealed package - a retort pouch.

Q: How should I store my HeaterMeals product?
A: To ensure maximum shelf life, please store HeaterMeals in a cool & dry, regulated (not changing drastically, like a garage does) area at temperature of 80°F or below.

Q: How do HeaterMeals work?
A: To heat your HeaterMeals Pouch Entree (in HeaterMeals EX Self-Heating Entrees & HeaterMeals 3 Self-Heating Meal Kits) simply place the pre-cooked, sealed entree in the Food Heater Bag, pour the enclosed packet of water into the Food Heater Bag and reseal. Place the Food Heater Bag back in the box (for field use - box is not required).

In just 10 minutes, the food heater raises the temperature of your sealed, pre-cooked entree 100 degrees (F) above the starting temperature. After heating, remove the pouch entree from the heater bag and open at tear notch. Pour onto enclosed tray and ENJOY!

Q: How many types of HeaterMeals varieties are made, how many calories are in HeaterMeals and is there nutritional information available?
A: HeaterMeals EX Self-Heating Entrees provide between 300 and 480 calories per entree. A: HeaterMeals 3 Self-Heating Meal Kits provide between 1,010 and 1,165 calories per meal kit.

Assembled Country

USA

Component Country

USA
Member reviews & questions