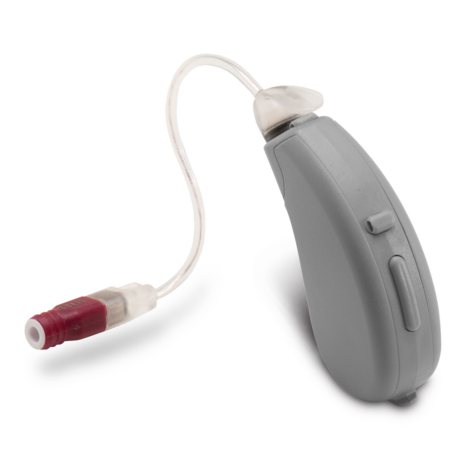 About this item
This sophisticated yet tiny, 64 Channel, Speaker-in-the-Ear Design Digital Hearing Aid, has superior ADRO technology with premium features and options for natural sound quality and excellent member satisfaction.

Hearing Aid requires specific tubing (tubes sold separately), please visit your nearest club for tube selection and purchase.
We're sorry, this item is not available in your selected club.
Liberty SIE 64 Speaker-In-The-Ear Style Digital Hearing Aid
Description
Liberty SIE 64 Speaker-In-The-Ear Style Digital Hearing Aid features:
Premium Digital Sound Processing: Adaptive Dynamic Range Optimization (ADRO) is the most sophisticated and advanced hearing health care sound processing available. ADRO uses automatic adjustment algorithms developed for use in cochlear implants to optimize the listening experience of the ever-changing acoustical environment for each listener?s individual needs, offering 64 channels of clear digital sound.
Sophisticated Background Noise Management: Dynamic Directional Microphone systems automatically optimize directionality patterns to minimize unwanted background noise. In noisy environments, such as crowded restaurants, unwanted background noise is rejected, while wanted conversations are enhanced.
Industry Leading Feedback Management: Dynamic Feedback Manager combines active feedback cancellation with fast acting feedback suppression. Powerful algorithms react immediately to suppress and eliminate feedback (whistling/squealing) while providing excellent sound quality and improved music quality as well.
Multiple Channel Noise Suppression: Multiple Channel Noise Suppression reduces low level noise independently in each channel while maintaining high levels of intelligibility for softly spoken speech, and delivers superior sound performance.
Enhanced Speech in Noise: Enhanced Speech in Noise maintains speech levels in noisy situations for an improved listening experience.
Specifications
Features:
Model Id: 500
Style: Speaker-In-The-Ear
Battery: 312
Processor: Adaptive Dynamic Range Optimization
Channels: 64
Programs: 4
Selector: Rocker Switch
VC: Digital Rocker
Mic: Dynamic Directional Microphone
Tele-Coil: Programmable
Advanced Features:
Dynamic Feedback Canceller
Fast Acting Feedback Suppressor
Environmental Noise Reduction
Wind Noise Reduction
Low Level Noise Suppression
Sudden Impulse Noise Suppression
Enhanced Speech in Noise
Ultra Low Digital Delay
Power On Delay (2 sec)
Voice Prompts
Low Battery Warning
Learning Volume Control
Data Logging
In situ Loudness Balance
Liquid Repelling Nano Coating
Wax Stops
Additional Features:
Power Tube Option available for extended fitting range
Available Colors: Grey (stock)
1 Year Warranty - additional years available for purchase
Loss and Damage Coverage available for purchase
Carrying/Storage Case
Drying Jar
Cleaning Tools
4 Hearing Aid Batteries Included
Additional Batteries Available for Purchase
User Instruction Manuals
Free Adjustments and Cleaning for duration of Warranty Period
Warranty
1 Year Warranty

For questions or concerns regarding this product, please contact the Manufacturer's Customer Service Department at 1.800.785.6052
Member reviews & questions