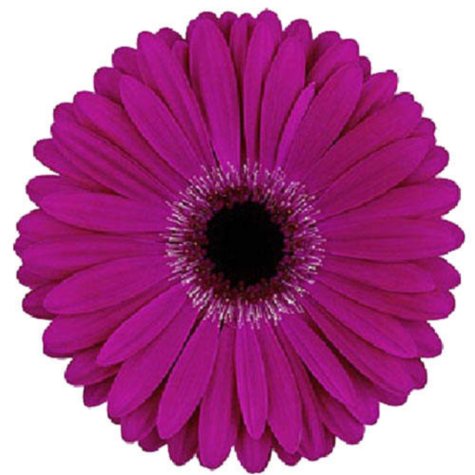 About this item
Lighter, shell pink floret band & dark heart.
We're sorry, this item is not available in your selected club.
Gerbera Daisies - Purple - 70 Stems
Description
Fresh looking, purple rose petals finely edged in white. Lighter, shell pink floret band and dark heart.
Although your order will be shipped Express, please allow 10 days for the handling and shipping process.

Please Note: Flowers are shipped dry and must be properly cut and put in water immediately; therefore, please have someone available to receive and process. We guarantee the color of the petals. We cannot guarantee the center color of this flower. The centers of the flowers may be green, dark brown, or black. You may also receive a mix of center colors in a single pack depending on farm's availability at the time the order is placed. The images presented on this site are informational only and are not intended as a specification. Colors may not be accurate. Since flowers are a product of Mother Nature due to the nature of computer monitors, there is considerable variation of detail, definition, contrast, brightness and color. There may be further noticeable differences between the color of the image displayed and the color of the real product due to the differences in monitor types, age, configuration and quality. Different browser types also have an effect on color representation. For your Wedding or Special Event, we recommend that you arrange to have your Gerbera Daisy flowers delivered 2 days before the actual event. For a Saturday wedding your flowers should be delivered on the Thursday before the wedding.

Special Notice: Extensive exposure to heat can be stressful on fresh flowers. Please be sure to have someone present at the delivery location to receive your flowers. All boxes are shipped FedEx Priority Overnight.

For further information regarding care and handling please see our Flower Care Guide.
Specifications
Due to differences in monitor resolution, color intensity may vary from actual items
Flower: Gerbera Daisies
Color: Purple
Stems: 70

Flower Care and Conditioning:
These flowers are shipped dry and may appear "wilted" when you first receive them. This is natural, as they have been without water for over 24 hours and are very thirsty. Allow time for your flowers to revitalize (8 hours minimum) to enjoy the full splendor of your product.
Unpack flowers immediately upon arrival.
Always start with a clean vase or display bucket.
Add flower food and tap water.
Make a "clean" cut about 1/2" off the end of each stem.
Remove all leaves that fall below water line to maintain cleanliness of the water.
Place stems in vase or bucket immediately after cut to ensure proper hydration.
Place flowers in a cool location out of sunlight and away from heat sources.
Change water and re-cut stems every 3 days.

Delivery Information:
Delivery dates and prices fluctuate with seasonal availability and demand.
Although your order takes 10 days to process, we suggest you place the order from 10 to 45 days in advance. Since flowers are perishable and affected by weather, please have someone be present to receive the flowers between 8:00 a.m. and 12:00 noon if you live in a metropolitan area or 8:00 a.m. to 4:30 p.m. if you live in a suburban or rural area. This will ensure that your flowers are not left at the doorstep or sent back for next day delivery.
Delivery dates subject to FedEx Holiday Schedule
Warranty
This product is covered by the Sam's Club Member Satisfaction Guarantee. Sam's Club guarantees timely delivery of fresh, beautiful flowers. If, for any reason, you are not completely satisfied with the product freshness delivered, please notify us within 48 hours to request a possible replacement or refund. Please call 1-888-746-7726 with questions or concerns Monday through Friday 8 a.m. to 5 p.m. Eastern Time. Flower replacements will only be provided if the flowers arrive in poor condition. Refunds will not be given for circumstances resulting from negligence.
Assembled Country
Costa Rica
Component Country
Imported
Shipping Info
Due to the speed of delivery, order tracking numbers may not be available prior to the day of delivery.
Flowers must be ordered a minimum of 7 business days in advance of delivery
Orders available for delivery Tuesday through Friday
Delivery is not available to AK, HI or Puerto Rico
Member reviews & questions