Deeper Fishfinder with Mounting Arm for Sonar
by
deeper
|
Item
 #: 

206646
|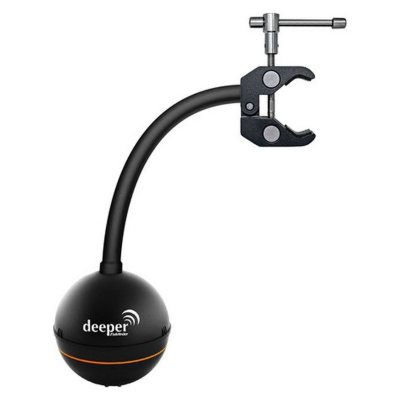 Deeper Fishfinder:
High accuracy sonar shots reveal most of the fish species with a crystal clarity
Allows you to target your prey with confidence
Deeper sonar is powerful enough to perfectly function in the depths from 1.5 ft (0.5 m) to ~130 ft (40 m) below the surface in both salt and fresh waters
Deeper Mounting Arm for Sonar:
Fixation to any boat
Fast attachment
Description
Deeper Fishfinder
Deeper Fishfinder is the first of its kind. It's a portable, wireless sonar, compatible with 7000+ iOS and Android devices. Deeper is specially-designed to find the location of fish, as well as depth, water temperature, bottom contour and much more. Deeper temperature sensors provide accurate water temperature fluctuations, so you always know the perfect biting time. Offering multiple mounting solutions, Deeper lets you explore the lake, river or sea from every angle. Scan places other fish finders cannot reach. 
Deeper Mounting Arm for Sonar
Clamp your Deeper to a variety of objects. A universal ¼ 20" (quarter twenty) male screw makes it compatible with RAM mounts and most paddle sport gear. The arm mounts to all boats and completely replaces any standard sonar. This heavy-duty, durable mount can be used in any condition, water type and on a higher speed than simple fishing line. The quick-release clamp makes it easy to mount and unmount your Deeper in a few seconds. The flexible arm adjusts to a variety of angles. Perfect for clamping to both metal and plastic material.
Specifications
Deeper Fishfinder:
2.6"/ 6.5 cm diameter
From iOS 8.0 and Android 4.0 to the latest iOS and Android devices
ABS
0.22 lb/100 grams
Wireless Bluetooth connection
Up to ~140 ft - 160 ft/~40-50 meters (depends on the OS and smartphone model)
130 ft (40 m) / wide angle - 4.3 ft (1.3 m); narrow angle - 2 ft (0.5 m)
Water temperature sensor
Celsius / Fahrenheit
-4F to 104F/-20C to 40C
Lithium Polymer, 3.7V rechargeable; lasts for 6 hours of non-stop usage; takes 2 hours to fully charge
Compatible with 110V / 240V, micro USB
Dual beam
290 kHz (15°) / 90 kHz (55°)
Black
GLOBAL version: SKU: FLDP09; EAN: 4779032950213; 32pcs/master carton; ASIA version: SKU: FLDP10; EAN: 4779032950206; 32pcs/master carton
Deeper Mounting Arm for Sonar:
RAM mounts; paddle gear tracks
20'' (50cm)
0.06" (0.14cm)
¼ 20" (quarter twenty) male
0.2" (0.5cm) - 2.4" (6cm)
2.3" (6cm)
22" (56cm)
Aluminium piping; stainless steel locking system
Black & Metal
Warranty Information
1 Year Warranty
There is no additional information available for this item.