by Namco
|
Item # 222316
|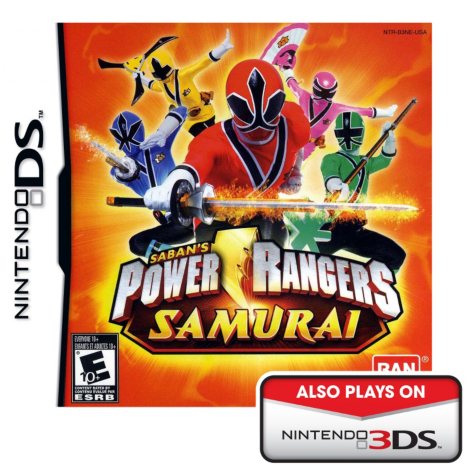 About this item
ESRB Rating: E for Everyone 10+
Description
Nighlok MegaMonsters are on the loose and it's up to you and the rest of your team of Power Rangers to take them on and rid the world of the evil forces of the Netherworld. Activate your Spin Swords and become your favorite Samurai Ranger in the newest generation of thrilling Power Ranger action. From the ancient Symbols of Samurai Power to team-based battles, Saban's Power Rangers: Samurai teaches the importance of working together, friendship and responsibility while providing a thrilling platform for all-out combat against evil. Gain control over the elements as you protect the world from evil with your Fire Smasher, HydroBow, Forest Spear, Earth Slicer or Sky Fan. Use your stylus Samuraizer to master the symbols and morph into the Red, Blue, Green, Yellow or Pink Ranger to battle hordes of Nighlok monsters. Overcome tough challenges that stand in your way and complete your martial arts training to become a force to be reckoned with. Collect enough Zord discs and combine your animal Zords to form the humongous Samurai Megazord in epic boss battles.
Policies & plans
Specifications
Discover the next generation of Power Rangers as you become a Samurai Ranger
Practice the ancient Symbols of Samurai Power by controlling the elements of fire, water, sky, forest and earth
Team up with fellow Rangers and activate the Samurai Megazord for jaw-dropping boss battles
Use your Fire Smasher, HydroBow, Forest Spear, Earth Slicer or Sky Fan to take on the forces of evil in the Netherworld, including hordes of Nighlok monsters
Collect Zord discs to activate the Samurai Megazord that will help you defeat the MegaMonster once and for all
Unlock secret passageways and access hidden items
Battle evil armies and overcome challenges by combining martial arts and teamwork
Warranty
Computer/video game software must be returned in the original and unopened packaging with a receipt to receive a refund. Defective software must be returned within 90 days of the original purchase with a receipt to receive an exchange of merchandise.
Member reviews & questions