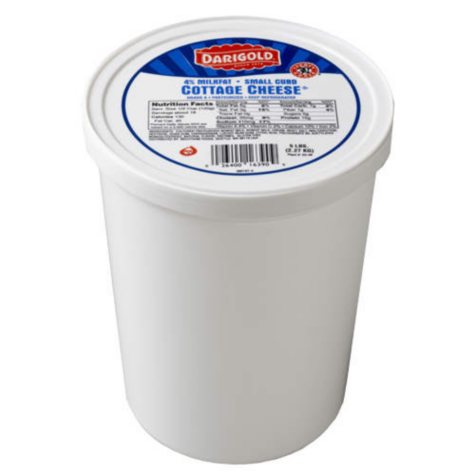 About this item
A sweet buttery flavored and textured cottage cheese with creamy dressing.
Select a club for price and availability
Darigold® Cottage Cheese - 5 lb.
Description
The sweet creamy flavor and texture of Darigold cottage cheese is a balance between creamy dressing and silky curd that is uniform in size and shape. Every mouthful is guaranteed to be smooth and delicious. Only the best — exactly what you've come to expect from Darigold. Cottage cheese is a high protein snack that is often overlooked for its protein content. Just one half-cup serving of Darigold 2% or 4% cottage cheese has 14 grams of protein. Those who closely monitor their carb intake may be pleased to know that a serving yields only 5 grams of carbs. Used in appetizers, dips, salads and maindishes. It flavors, moisturizes and softens texture in many baked goods.
Specifications
Color and Appearance:
Curd particles are reasonably uniform in both size and shape
The creamed cheese exhibits a moderate gloss or sheen
The cream dressing clings or adheres to curd particles
Flavor:
A clean, slightly acidic flavor with a slight "buttery" aroma (balanced culture flavor) and a creamy flavor note
Clean finish with no aftertaste
Only a sufficient salty taste to "bring out" the desired flavor
Body and Texture:
The body has a "meat-like" (meaty) consistency, but is not overly firm, rubbery or tough when it is chewed or placed between the teeth
Texture is relatively smooth (silky) through out
Distinct curd particles are felt, as well as seen
Small curd
Since 1918
Member reviews & questions