by Barrie House
|
Item # 990082
|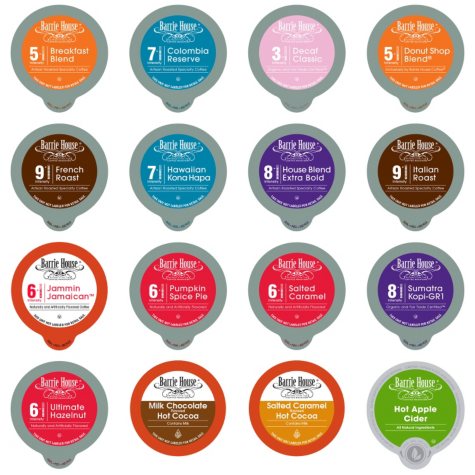 Product Details
About this item
See your local club for flavor varieties
24 coffee capsules
Cool, peel and recycle the capsule
22-gram capsule
24 K-Cups in each box.
Description
FTO Decaf Classic: An elegant blend, combining several Central & South American Arabicas, for a fruity & winey medium-bodied delicate decaffeinated coffee.
Donut Shop: A smooth and mellow coffee that awakens your taste buds. Features a balanced light body with tangy citrus, toasted cereal sweetness notes and a clean finish.
Colombia Reserve: A sweet and delicately fruited coffee that is full-bodied and winey and highlights a balanced brightness with a remarkable dry finish and hints of walnuts.
Breakfast Blend: A smooth and mellow coffee that awakens your taste buds. Features a balanced light body with tangy citrus, toasted cereal sweetness notes and a clean finish.
Ultimate Hazelnut: An indulgent smooth coffee with notes of creamy toasted hazelnuts, sweet vanilla and a delectable aroma, it is a full-bodied rich and complex irresistible treat.
Jammin Jamaican: Enjoy a cup of Jamaican fun, our Jammin Jamaican coffee is flavored with caramel, vanilla, coconut, Jamaican rum and chocolate, with an intoxicating aroma.
French Roast: Our French roast is intensely bold and flavorful with dark, rich, glistening beans, pronounced smoky overtones, spicy notes, complex flavor and a pleasant finish.
Pumpkin Spice: Spice up the season with this delicious rich coffee, infused with a creamy pumpkin spice flavor, cinnamon, nutmeg and sweet vanilla notes and distinct aroma.
Salted Caramel: Salty meets sweet, the perfect deliciousness. This coffee combines a hint of the exotic Hawaiian pink salt with the warm, familiar taste of luscious rich caramel.
House Blend Extra Bold: The perfect coffee, with heavy body, smooth finish and notes of dark cocoa, toasted nuts, soft acidity and sweetness it is a rich, satisfying and balanced cup.
Italian Roast: Inspired by our passion of Italy, a seductive full bodied, rich and well balanced blend with dark cocoa notes, sweetness, intense aromas and a Smokey finish
Hot Apple Cider: A perfect harvest of spicy taste and farm-fresh apple flavor. Our hot apple cider is a comforting treat, which offers a nostalgic reflection on favorite memories or the perfect way to build new ones
Hawaiian Kona Hopa: A unique coffee taste originating from the volcanic soil of Hawaii with fresh coconut, sweet caramel and hints of citrus and nuts flavors, its bold and unforgettable.
FTO Sumatra Kopi GR-1: A Heavy and bold coffee with distinctive earthy aroma, rustic low notes with a hefty body, complex sweetness, dark chocolate notes and herbal spice nuances.
Milk Chocolate Hot Cocoa: Barrie House Milk Chocolate Hot Cocoa is a creamy, classic chocolate flavor combining rich, buttery smoothness to make this an instant favorite. Our Hot Cocoa is a bold chocolaty taste of childhood for children of all ages.
Salted Caramel Hot Cocoa: Barrie House Salted Caramel Flavored Hot Cocoa reinvents the way hot cocoa is prepared with our Single Serve Capsules. Specifically developed to reveal the subtleties of each flavor and enhance the tasting experience for you.
Policies & plans
Warranty
This product is covered by the Sam's Club Member Satisfaction Guarantee.
Member reviews & questions