by Augason Farms
|
Item # 889320
|
Model # 07008
|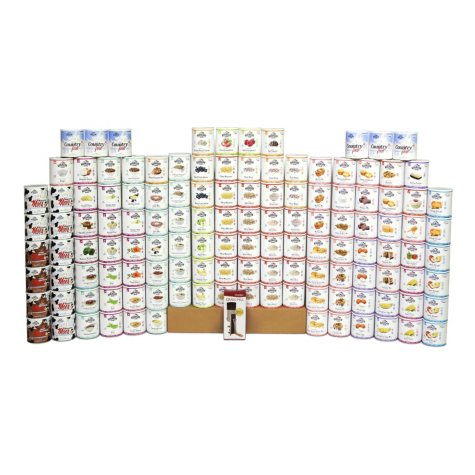 About this item
1 year food supply for 1 person
7,841 total servings
1,768 average calories per day
645,485 total calories
127 - #10 cans
Includes wheat grinder
Description
Anyone who has made jam with their grandmother knows the wisdom of emergency food storage is nothing new. Though storing food is one of the most prudent actions we can take to protect our loved ones, in these days of supermarkets and fast food, we often forget about the necessity of long-term food storage.
Unlike many food storage options, the Augason Farms Ultimate Kit not only includes the basics, from wheat to freeze-dried fruits, but also a variety of delicious soups and 20-minute entrées, ensuring that you will enjoy the best while living off your food storage. The kit also includes freeze-dried beef and chicken that rehydrate in seconds, reducing prep time. Plus, to make it easy, Augason Farms is including a bonus wheat grinder.
1 person for 1 full year of quality food
2 people for 6 months
Family of 4 for 3 months
Augason Farms makes emergency preparedness simple. Family owned and operated for over 40 years, Augason Farms has refined its recipes and sources the finest ingredients to create the highest-quality, long-term freeze-dried meal solutions in the business. While most emergency food companies contract their production and packaging to outside manufacturers, Augason Farms produce and package its food items from beginning to end – giving you peace of mind and a promise of the best quality and value you can purchase.
When buying any emergency food kit, always consider the length of time the kit will feed the number of people being served and most importantly, the average number of calories the kit provides each person in a day. Note that the number of servings is important, but not all servings are the same size. Calories will sustain you and your family, not the number of servings.
Policies & plans
Specifications
Augason Farms Ultimate Emergency Food Storage Kit (1 year, 1 person):
127 - #10 gallon-size cans and bonus wheat grinder
58 different varieties of product
Average calories per day: 1,768
Total calories: 645,485
Total servings: 7,841 servings to create 1,095 complete meals
Quality long-term food storage
Affordable
Variety of recipes on each can
No refrigeration needed*
Easy to prepare, simple directions on each can
Kit will ship in 22 cartons
Cereals and Grains
6 Hard White Wheat - 51 servings per can
1 Creamy Wheat Cereal - 36 servings per can
1 Super Nutty Granola - 23 servings per can
6 Long Grain White Rice - 47 servings per can
6 Elbow Macaroni - 26 servings per can
2 Quick Rolled Oats - 22 servings per can
Baking
1 Shortening Powder - 178 servings per can
2 Chocolate Fudge Brownie Mix - 45 servings per can
3 Blueberry Muffin Mix - 40 servings per can
3 Honey Cornbread Muffin Mix - 42 servings per can
3 Buttermilk Pancake Mix - 21 servings per can
2 Blueberry Pancake Mix - 19 servings per can
2 Honey Wheat Bread and Roll Mix - 49 servings per can
4 Honey White Bread and Roll Mix - 49 servings per can
1 White Granulated Sugar - 595 servings per can
1 Honey powder - 15 servings per can
Vegetables
2 Dehydrated Potato Dices - 20 servings per can
2 Potato Gems - 45 servings per can
2 Potato Shreds - 21 servings per can
1 Dehydrated Potato Slices - 28 servings per can
3 Freeze Dried Sweet Corn - 23 servings per can
1 Dehydrated Chopped Onions - 217 servings per can
3 Freeze Dried Peas - 19 servings per can
1 Freeze Dried Broccoli Florets and Stems - 28 servings per can
2 Dehydrated Diced Carrots - 29 servings per can
1 Dehydrated Diced Red and Green Bell Peppers - 113 servings per can
Fruits
2 Honey Coated Banana Slices - 21 servings per can
2 Dehydrated Apple Slices - 32 servings per can
1 Freeze Dried Sliced Strawberries - 18 servings per can
1 Freeze Dried Whole Raspberries - 22 servings per can
Eggs and Dairy
6 Country Fresh 100% Real Instant Nonfat Dry Milk - 39 servings per can
8 Morning Moo's Low Fat Milk Alternative - 93 servings per can
4 Chocolate Morning Moo's Low Fat Milk Alternative - 57 servings per can
1 Cheese Blend Powder - 43 servings per can
1 Butter Powder - 204 servings per can
4 Dried Whole Eggs - 71 servings per can
2 Dried Scrambled Egg Mix - 92 servings per can
Meats
1 Freeze Dried Beef Chunks - 13 servings per can*
1 Freeze Dried Chicken Chunks - 15 servings per can*
1 Vegetarian Meat Substitute Bacon Bits (flavored) - 192 servings per can
Beans
4 Pinto Beans - 52 servings per can
2 Black Turtle Beans - 49 servings per can
Soups and Sauces
1 Chicken Bouillon - 921 servings per can
1 Creamy Potato Soup Mix - 25 servings per can
2 Southwestern Chili - 34 servings per can
2 Beef Gravy Mix - 38 servings per can
Drinks
4 Apple Delight Drink Mix - 103 servings per can
2 Orange Delight Drink Mix - 99 servings per can
Entrées
4 Chicken Fettuccine Alfredo - 14 servings per can*
2 Asian Beef Teriyaki - 20 servings per can*
2 Spaghetti Marinara with Beef - 20 servings per can*
2 Beef Stroganoff - 14 servings per can*
2 Chili Mac with Beef - 24 servings per can*
Misc.
View nutrition information here. (PDF)
Augason Farms Emergency Preparedness Tips. (PDF)
Looking for the right kit? Compare the contents of Augason Assortment Kits. (PDF)
FAQs

Q: How do I compare "servings per can or pail" to product weight and calories?
A: The truth is you cannot. Serving sizes and number of servings per can are set with respect to government guidelines on food nutrition and recipe requirements for each product. You will find some recipe creations may require multiple servings of specific products to create the recipe. When reviewing food storage kits, a good comparison is based upon number of persons, calories per day, length of time and calculating the total number of meals possible. For example: 1-Person, 1-Year (3 meals per day, 365 days = 1,095 total meals), 1,700 calories per day. Your decision should be based upon average calories per day per person and not the total serving count.
Q: Once I open the product, how long do I have to use the product?
A: Shelf life varies by product and is affected by temperature and moisture. Once the can/pail is opened, the storage life for most products is approximately one year.
Beans, Freeze Dried Fruits & Vegetables: 30 years
Grains: 30 years (Exception – Brown Rice: 7 years)
Bakery Staples: 30 years (Exception – Shortening Powder, Flour, Vital Wheat Gluten, Dough Enhancer: 10 years)
Dehydrated Fruits & Vegetables: 25 years (Exception – Banana Slices, Potato Gems: 10 years)
Freeze Dried Meats & Entrées: 25 years sealed - 1 month opened
Delight Drinks: 15 years
Vegetarian Meat Substitutes, Cereals, Bakery Mixes, Eggs & Dairy: 10 years (Exception –
Morning Moo's: 25 years, Chocolate Morning Moo's: 15 years)
Soups & Sauces: 10 years (Exception – Vegetable Stew Blend, Hearty Vegetable Chicken or Beef Soup Mix: 25 years)
Q: How will my product be shipped?
A: Most items are shipped by small parcel carriers like FedEx. The larger kits will arrive in multiple boxes from a single carrier.
Q: What do the numbers mean that are marked on my Food Storage Kit Boxes?
A: To facilitate fulfillment of your order, all kit boxes are pre-assembled with specific products, then pulled from inventory to assemble your order. Numbers on the boxes may not be in sequential order. Pail items will be shipped in separate cases.
Q: Why when I open the cans/pails, are some only partially filled?
A: With some products, settling occurs and is expected. Cans/pails are sold by weight and not by volume for that reason.
Q: Where should I store my product?
A: Product is best when stored in a cool, dry place at temperatures between 55˚F and 70˚F (ideal humidity 15%). Heat shortens the storage life of any food – the cooler the storage, the longer the storage life. Once product is open, please ensure the lid is secure when storing and use within the guidelines.
Q: If a can gets dented, does it affect the quality of the product?
A: SMALL DENTS MAY OCCUR IN CANS FROM SHIPPING, AND THIS IS NORMAL. THEY DO NOT POSE A PROBLEM, PROVIDED THE SEAL HAS NOT BEEN BROKEN AT TOP OR BOTTOM OF THE CAN. IF THE SEAL HAS BEEN BROKEN AT THE TOP OR BOTTOM OF THE CAN, PLEASE CONTACT SAM'S CLUB CUSTOMER SERVICE TO RESOLVE THE ISSUE: 1-888-746-7726.
Dents should not occur from shipping in pails. You may however, see indentations in the pail from air pressure changes in shipping. This will not harm the product inside and should straighten out over a short period of time.
Q: Are the cans/pails marked with "use by" dates?
A: Cans/pails are marked with a production date called a Julian date. For example, 17022 means the can was produced in 2017 on the 22nd day (January 22). Each can is also marked with the expected storage life.
Warranty
This product is covered by the Sam's Club Member Satisfaction Guarantee.
Assembled Size
19 x 12.5 x 7.5 - 22 Cases
Less than 23 cubic feet of space required for storage
Shipping Info

Standard - 2 to 6 business days


Delivery not available to AK, HI or Puerto Rico
Member reviews & questions