by Augason Farms
|
Item # 980066293
|
Model # 5-02336
|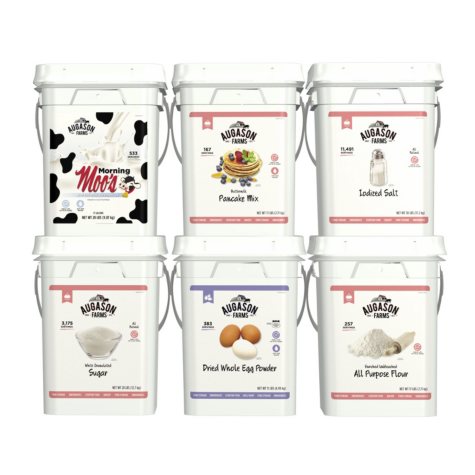 About this item
Includes the basics of any emergency supply kit
170,565 total calories
16,006 total servings
Shelf life up to 30 years*
Description
Augason Farms Baking Basics Pail Kit makes baking simple and convenient. It provides the essential ingredients typically used in baked-good recipes, including shelf-stable alternatives for milk and eggs. Plus, you'll get the ever-versatile buttermilk pancake mix which can be used as the basis for recipes well beyond pancakes, breads, entrées, snacks, pizza crust, churros and more—making this pail combo an essential component of your pantry and emergency food storage supply.
Family owned and operated since 1972, Augason Farms has refined their recipes and sourced the finest ingredients to create the highest quality, long-term freeze-dried meal solutions in the business. While most emergency food companies contract their production and packaging to outside manufacturers, they produce and package their food items from beginning to end. Giving you peace of mind, and the promise of the best quality and value you can purchase.
When buying any emergency food kit always consider the length of time the kit will feed the number of people being served and most importantly, the average number of calories the kit provides each person in a day. Be wise—the number of servings is important, but not all servings are the same size. Be ready—calories will sustain you and your family, not the number of servings. Augason Farms makes emergency preparedness simple!
Policies & plans
Specifications
Augason Farms Baking Basics Emergency Food Supply Pail Kit includes:
6 Pails

170,565 Total Calories

16,006 Total Servings

Each pail is 4-gallon size with handle

Easy to store, does not take up much space.
The lids on all Augason Farms pails include a gasket which seals the product and keeps it air tight. Durning shipping, due to high altitudes you may see the pails disfigured on the sides due to pressure differences inside the pail and outside. This will in no way affect the product or packaging integrity.
This Kit will add calories to your existing emergency food supply: 467 calories per day to any 1 year 1 person kit or will provide over 1890 calories per day for 3 people for one month.
Order multiple Basics kits and combine them for your customized emergency food supply needs.
Morning Moo's Low-Fat Milk Alternative Pail
Augason Farms Morning Moos® is a whey-based powdered milk beverage that's ideal for everyday use or as a part of your emergency food supply. It looks and tastes like fresh milk, is rich in calcium and vitamins A and D, much like 2% milk.
533 Servings. Net Wt 20lbs
Buttermilk Pancake Mix Pail
You'll want to add Augason Farms Buttermilk Pancake Mix to your bakery items list! Keep it on hand to make fluffy pancakes, waffles, biscuits, muffins and more, whether today or years down the road as part of your long-term food storage.
167 Servings. Net Wt 17lbs
Iodized Salt Pail
Augason Farms Iodized Salt provides a life-sustaining mineral that boosts food flavor. It is a vital component of a food storage program. Because an iodine deficiency can lead to medical problems, this contains non-metallic mineral iodine to meet the dietary requirement.
11,491 Servings. Net Wt 38lbs
White Granulated Sugar Pail
Sugar is a staple of any emergency preparedness food supply kit, or using it every day in the handy 4-gallon container.
3175 Servings. Net Wt 28lbs
Dried Whole Egg Powder Pail
Augason Farms Dried Whole Egg Powder adds versatility to your emergency food supply and is an easy way to ensure you have eggs on hand when you need them. Simply combine the egg powder and water, or use them with your favorite breakfast entrées.
383 Servings. Net Wt 11lbs
Enriched Unbleached All-Purpose Flour Pail
Flour is a staple of any emergency preparedness food supply kit, or using it every day in the handy 4-gallon container.
257 Servings. Net Wt 17lbs
* Shelf life ranges up to 30 years based on food type (see individual pouches for details). Unopened products included within a kit retain their shelf life after kit container is opened. Best when stored in a cool and dry place at temperatures between 55°F and 70°F. Actual shelf life may vary based on individual storage conditions. Please remove the oxygen absorber after opening each pouch.
Warranty
This product is covered by the Sam's Club Member Satisfaction Guarantee.
Member reviews & questions