by Augason Farms
|
Item # 331887
|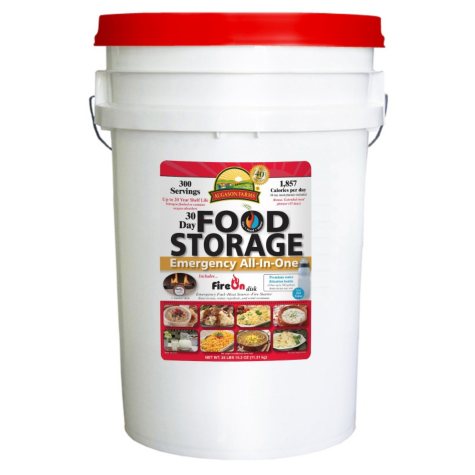 Product Details
Why We Love This
Thirty days of easy to prepare, home-cooked style foods that taste so good, you'll want to try these recipes now rather than wait for the next emergency. Water filter and fire starter are included to help get your cooking going.
About this item
Food for 1 person for 30 days
307 total servings
54,670 total calories
1,822 average calories per day
Pail with mylar pouches
Fire starter disk and water bottle with filter system
Description
Augason Farms 30-Day Food Storage Emergency All-in-One Pail is your ultimate survival solution. The waterproof pail contains enough food to provide 1,822 calories per day for 1 person for a month, or for a family of 4 for a week. The pail also includes a safe, stable fuel source and a self-filtering water bottle that can clean up to 100 gallons of water. With the Food Storage Emergency All-in-One 7 Gallon Pail, you're not only getting a reserve supply of food, you're getting delicious peace of mind.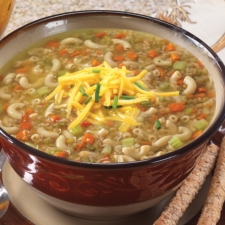 Wide Selection of Appetizing Meals
Augason Farms crafts their food for both everyday and food storage use. You can rest assured that your family will love these tried-and-true recipes. Whether it's a hearty oatmeal breakfast or filling cheesy broccoli rice, these foods are easy to prepare and have home-cooked flavor. The included 30-day meal planner offers a wide range of appetizing combinations, making it easy to mix and match meals. If you're looking to extend the number of days the meals will last, a 45-day meal planner with a lower calorie per day average is also included.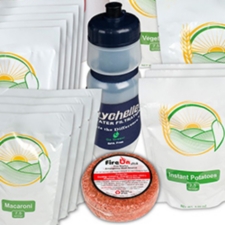 Emergency Fire Starter and Water Filter
Augason Farms knows storing combustible fuel poses many risks. FireOn is a secure alternative, designed as an emergency fire starter. It is a safe, non-combustible, burnable material that lights quickly in even adverse conditions. FireOn takes the guesswork out of how to cook food or stay warm in an emergency. The self-filtering water bottle removes up to 99.99% of bacteria, viruses, contaminants and pollutants. The filtering bottle is simple to use. Just pop the top, fill the bottle and let the special designed filter do the rest to provide safe drinking water.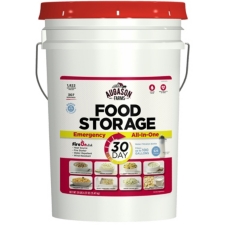 Sealed with a Long Shelf Life
Items sealed in the 30-Day Food Storage Emergency All-in-One Pail have a shelf life up to 20 years. Great for cabins, boats, campers, and even in your vehicle.
Family owned and operated since 1972, Augason Farms believes that great taste is a tradition worth preserving. Crafted with a focus on taste and nutrition, their products are manufactured to the highest standards. With more than 40 years of experience providing the highest-quality products, Augason Farms is the place to turn for all of your food storage and emergency preparedness needs. Healthy and great-tasting products have been their hallmark for generations. When you make the wise decision and choose Augason Farms, you are not only selecting food you can count on, you are getting delicious peace of mind.
Policies & plans
Specifications
Augason Farms Food Storage Emergency All-in-One Pail (30 days, 1 person)
307 total servings

54,670 total calories

1 person

30 days

Average 1,822 calories per day
How to compare emergency kits for your family and budget
Easily compare cost per serving: Divide selling price by total number of servings.
Easily compare cost per calorie: Divide selling price by total number of calories.
Augason Farms 30-Day Food Storage Emergency All-in-One Pail
Components proudly made in the USA
Pail contains 307 servings providing and average of 1,822 calories per day
Each delicious meal takes just a few minutes to prepare – just add water
No high-fructose corn syrup, trans fats or MSG
Up to 20-year shelf life sealed; pouch life up to 1 year after opening*
Easy to use self-filtering water bottle – filters up to 100 gallons
1 FireOn disk in each pail, large enough to break apart for multiple uses
30-day and extended 45-day meal planner included
8 great-tasting food varieties in re-sealable mylar bags with oxygen absorbers
Instant Potatoes (8 servings)
Macaroni and Cheese (15 servings)
Creamy Potato Soup (48 servings)
Cheesy Broccoli Rice (40 servings)
Creamy Chicken Rice (48 servings)
Hearty Vegetable Blend (32 servings)
Maple Brown Sugar Oatmeal (60 servings)
Morning Moo's Low Fat Milk Alternative (40 servings)
Self-filtering water bottle with microbiological filter
Clean, fresh water wherever you go with this all-in-one solution
24-oz. plastic water bottle with pull-top cap fits in a back pocket, backpack or in your bike bottle holder
Just fill from any water source (except salt water) and the included filter provides clean water as you drink, removing sediment, contaminants and other pathogens
The Ionic Adsorption Micron Filtration System is good for up to 100 gallons of filtered water
FireOn Emergency Fuel-Heat Source-Fire Starter
Easy to use as a fire starter or a sole heat source
Effortlessly started with a match, the intact disk will burn for up to 30 minutes
Since most meals require only about 15 minutes cooking time on a small, portable camp stove, FireOn can be extinguished and re-lit or broken in half for dual use
Add to any fuel source to start your fire
Shelf Life
*Product good for up to 20 years when unopened. Best when stored in a cool, dry, and dark location at temperatures between 55 and 70 degrees F (ideal humidity of 15%). Actual shelf life will vary based upon individual storage conditions.
View nutrition information here. (PDF)
View menu planner here. (PDF)

Looking for the right kit for you? Compare Augason Farms kits here. (PDF)


FAQs
Q: How do I compare "servings per can or pail" to product weight and calories?
A: The truth is you cannot. Serving sizes and number of servings per can are set with respect to government guidelines on food nutrition and recipe requirements for each product. You will find some recipe creations may require multiple servings of specific products to create the recipe. When reviewing food storage kits, a good comparison is based upon number of persons, calories per day, length of time and calculating the total number of meals possible. For example: 1-Person, 1-Year (3 meals per day, 365 days = 1,095 total meals), 1,700 calories per day. Your decision should be based upon average calories per day per person and not the total serving count.
Q: Once I open the product, how long do I have to use the product?
A: Shelf life varies by product and is affected by temperature and moisture. Once the can/pail is opened, the storage life for most products is approximately one year.
Beans, Freeze Dried Fruits and Vegetables: 30 years
Grains: 30 years (Exception – Brown Rice: 7 years)
Bakery Staples: 30 years (Exception – Shortening Powder, Flour, Vital Wheat Gluten, Dough Enhancer: 10 years)
Dehydrated Fruits and Vegetables: 25 years (Exception – Banana Slices, Potato Gems: 10 years)
Freeze Dried Meats and Entrées: 25 years sealed - 1 month opened
Delight Drinks: 15 years
Vegetarian Meat Substitutes, Cereals, Bakery Mixes, Eggs & Dairy: 10 years (Exception –
Morning Moo's: 25 years, Chocolate Morning Moo's: 15 years)
Soups and Sauces: 10 years (Exception – Vegetable Stew Blend, Hearty Vegetable Chicken or Beef Soup Mix: 25 years)
Q: How will my product be shipped?
A: Most items are shipped by small parcel carriers like FedEx. The larger kits will arrive in multiple boxes from a single carrier.
Q: What do the numbers mean that are marked on my Food Storage Kit Boxes?
A: To facilitate fulfillment of your order, all kit boxes are pre-assembled with specific products, then pulled from inventory to assemble your order. Numbers on the boxes may not be in sequential order. Pail items will be shipped in separate cases.
Q: Why when I open the cans/pails, are some only partially filled?
A: With some products, settling occurs and is expected. Cans/pails are sold by weight and not by volume for that reason.
Q: Where should I store my product?
A: Product is best when stored in a cool, dry place at temperatures between 55˚F and 70˚F (ideal humidity 15%). Heat shortens the storage life of any food – the cooler the storage, the longer the storage life. Once product is open, please ensure the lid is secure when storing and use within the guidelines.
Q: If a can gets dented, does it affect the quality of the product?
A: SMALL DENTS MAY OCCUR IN CANS FROM SHIPPING, AND THIS IS NORMAL. THEY DO NOT POSE A PROBLEM, PROVIDED THE SEAL HAS NOT BEEN BROKEN AT TOP OR BOTTOM OF THE CAN. IF THE SEAL HAS BEEN BROKEN AT THE TOP OR BOTTOM OF THE CAN, PLEASE CONTACT SAM'S CLUB CUSTOMER SERVICE TO RESOLVE THE ISSUE: 1-888-746-7726.
Dents should not occur from shipping in pails. You may however, see indentations in the pail from air pressure changes in shipping. This will not harm the product inside and should straighten out over a short period of time.
Q: Are the cans/pails marked with "use by" dates?
​A: Cans/pails are marked with a production date called a Julian date. For example, 16022 means the can was produced in 2016 on the 22nd day (January 22). Each can is also marked with the expected storage life.
Warranty
This product is covered by the Sam's Club Member Satisfaction Guarantee.
Member reviews & questions