Wedding Collection Fall Sunflower (17 pieces)
Product Details
Why We Love This
Your guests will love the cohesive fall tones of these fresh flowers–and you save much-needed time for all your other tasks!
About this item
Bridal, Bridesmaid and Throw Away Bouquets
Boutonnieres, Corsages and Petals
For extra Bridesmaids Bouquets, see items 199149 and 199198
Online only
Price includes shipping
Description
This Wedding Collection offers exceptional freshness and design that will delight your wedding party and be sure to bring you great joy on your wedding day.
Please have someone available to receive and process the flowers on the delivery date.
View the care and handling information for the Wedding Collection flowers here.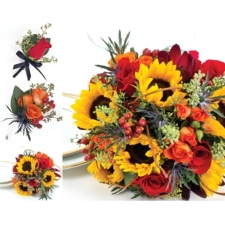 Collection Includes:
1 Bridal Bouquet, 4 Bridesmaid Bouquets, 1 Throw Away Bouquet, 6 Boutonnieres, 4 Corsages, 1 Box of Petals, Clippers, Flower Food, Care Instructions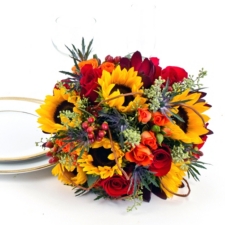 Bridal Bouquet Includes:
6 Sunflowers Med Yellow, 6 Red Roses, 4 Red Safari Sunset, 3 Orange Spray Roses, 6 Red Hypericum, 5 Blue Eryngium, 2 Seeded Euc, 6 Curly Willow Looped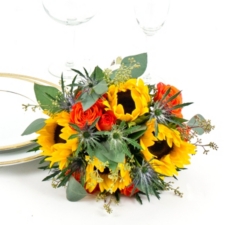 Bridesmaid Bouquet Includes:
4 Sunflowers Med Yellow, 3 Orange Spray Roses, 4 Blue Eryngium, 2 Seeded Euc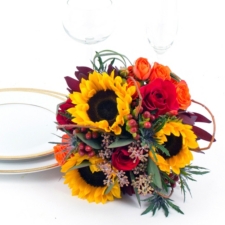 Throw Away Bouquet Includes:
3 Sunflower Med Yellow, 4 Red Roses, 2 Orange Spray Roses, 3 Red Hypericum, 3 Red Safari Sunset, 3 Blue Eryngium, 1 Seeded Ecu, 4 Beargrass Looped, 4 Curly Willow Looped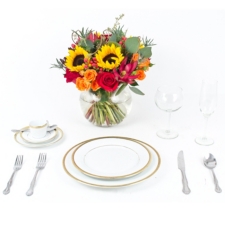 Centerpiece Includes:
6 Sunflower Med Yellow, 6 Red Roses, 4 Red Safari Sunset, 3 Orange Spray Roses, 6 Red Hypericum, 5 Blue Eryngium, 2 Seeded Euc, 6 Curly Willow Looped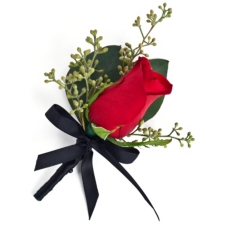 Groom's Boutonniere Includes:
1 Red Rose, 1 Seeded Euc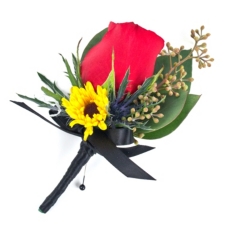 Groomsmen's Boutonniere Includes:
1 Red Rose, 1 Blue Eryngium, 1 Yellow Viking Pom, 1 Seeded Euc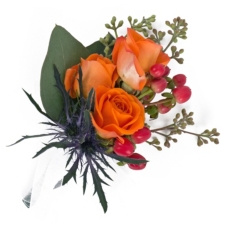 Corsage Includes:
3 Orange Spray Roses, 2 Blue Eryngium (bloom), 1 Red Hypericum, 1 Seeded Euc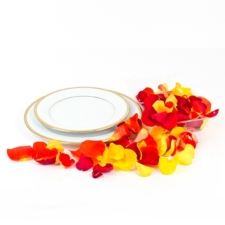 Petals Include:
7 Stems Mixed Yellow, Red and Orange Roses for Petals
Policies & plans
Specifications
Due to differences in monitor resolution, color intensity may vary from actual items
Suggested delivery date of at least 2 days before your event
Sunflowers are phototropic, meaning that the blooms will follow the light. Make sure arrangements are evenly lit to prevent shifting.
Substitution Policy:
To ensure optimum freshness, different varieties may be substituted based on availability. In making substitutions, we take great care to ensure that we exceed your expectations, and that you will be satisfied with the flower quality and performance.
Flower Care and Conditioning:
These flowers are shipped dry and may appear "wilted" when you first receive them. This is natural, as they have been without water for over 24 hours and are very thirsty. The initial hydration process is imperative so your flowers are at optimum freshness and appearance. Allow time for your flowers to revitalize (8 hours minimum).
Follow the Care Guidelines Below:
Unpack flowers immediately upon arrival
Corsages, Boutonnieres and Rose Petals
These will arrive in clear cases and are easily removed from the shipping box
Place boutonnieres, corsages, and rose petals inside a refrigerator between 34-36 degrees
Keep boutonnieres' and corsages refrigerated until the last possible moment
Transport boutonnieres' and corsages in the clear cases they were delivered in. This will protect them until they are used
To use, untie from box, remove water tubes and use pin included to carefully place on jacket or dress
Bridal Bouquet
Includes bridal, bridesmaid and throw away bouquets
Always start with a clean vase or display bucket
Add flower food and tap water. Approx. 1-2 inches of water is sufficient
Use clipper provided to carefully cut the plastic straps that hold the bouquets to the shipping box
Paper wrap should be removed to inspect bouquet upon arrival, if there are any minor signs of bruising on the outer petals, they can be removed carefully before the event
Remove hydration sponge and bag from the lower stems
Cut, at an angle, ½ and inch off of the bottom of the stem with flower clipper provided
Place in 1-2 inches of water making sure only the stems are in water without getting the ribbon wet
Place stems in vase or bucket immediately after cutting to ensure proper hydration
Place flower in a cool location out of sunlight and away from heat sources. (To maintain bloom developments keep in refrigeration at about 34-36 degrees. This will keep the flowers from opening further. Leaving at room temperature will promote natural development of bloom and will help blooms open beyond the stage at with they arrive.)
Avoid touching flowers. Touching the petals may cause bruising that is not immediately visible but can appear as browning or wrinkles
Avoid laying bouquets sideways on flat surfaces as this may damage the outer blooms.
Keep bouquets in water until the last possible moment to keep flowers fresh and hydrated
Do not expose the flowers to heat at any time before the function. (Do not leave outdoors or in a car, etc.)
Before using, you may trim the stems within 1/2" of the ribbon or to desired length for final presentation
Delivery dates and prices fluctuate with seasonal availability and demand.
Although your order takes 10 days to process, we suggest you place the order from 10 to 30 days in advance. Since flowers are perishable and affected by weather, please have someone present to receive the flowers between 8:00 a.m. and 12:00 noon if you live in a metropolitan area or 8:00 a.m. to 4:30 p.m. if you live in a suburban or rural area. This will ensure that your flowers are not left at the doorstep or sent back for next day delivery.
Additionally, shipments may be delayed by weather or other unforeseen circumstances resulting in shipping and/or delivery dates being modified.
Order Cancellation Information:
Please note that all requests to cancel a floral order must be made within 4 business days of the scheduled delivery date of the order.
No deliveries to Alaska, Hawaii or Puerto Rico.
Warranty
This product is covered by the Sam's Club Member Satisfaction Guarantee. Sam's Club guarantees timely delivery of fresh, beautiful flowers. If, for any reason, you are not completely satisfied with the product freshness delivered, please notify us immediately to request a possible replacement or refund. Please call 1-888-746-7726 with questions or concerns Monday through Friday 8 a.m. to 5 p.m. Eastern Standard Time. Bouquet replacements will only be provided if the Bouquet arrives in poor condition. Due to the nature of this particular item, time constraints may affect any possible replacement. These are special order items and take time to process; therefore 24-hour replacement may not be available. Requests for replacements and pictures must be received prior to 2:00 pm EST in order to have a replacement order sent out. Images will be required for any replacement or refund and must be received within 48 hours after receiving the product. Refunds will not be given for circumstances resulting from negligence or the wrong delivery dates chosen. Refunds will not be given for cancellations less than 4 days for bulk floral. There must be someone available to sign for the box or make arrangements with FedEx directly for any changes in delivery.
Component Country
Imported
Shipping Info
Standard - 2 to 6 business days
Order Cancellation Information :
Please note that all requests to cancel a floral order
must
be made within 4 business days of the scheduled delivery date of the order.
No deliveries to Alaska, Hawaii, or Puerto Rico.
Member reviews & questions