Description
With the KidKraft® Westbury Wooden Playset, you can build a haven for your children where they'll not only spend years playing but create a lifetime of memories. Kids' outdoor playsets encourage physical activity as well as positive social interactions, all while getting them away from their screens and breathing fresh air.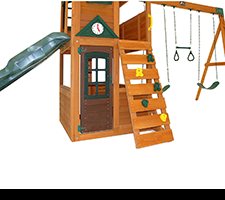 Who Needs a Wooden Swing Set?
When you build a wooden play set in your yard, you're inspiring your children's imaginations and providing them with endless hours of heart-racing fun. This premium outdoor play set is smaller than most yet offers an array of features and activities that will keep kids interested for ages to come.
You can set up this KidKraft Westbury Wooden Playset in your yard and encourage your children to invite their friends in the neighborhood to come to play. This ensures all the kids in the vicinity have a safe place to play, which will surely be appreciated by other parents.
Building a thrilling wooden swing set is also a great way to reward your children's good behavior. And once they finish all their homework and weekend chores, they can be allowed all the playtime they can take on their backyard playground!
When kids have to accompany their parents on their errands, they can be allowed a bit of time running free on the playground after heading home. Using a kids' outdoor playset as a reward can help kids understand that playtime and being physically active is its own reward and may help them stay active throughout their youth.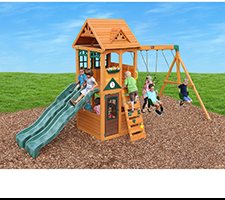 What are the Best Features of the KidKraft Westbury Wooden Playset?
Where to begin?! This outdoor play set has many amazing features, including:
Side-by-side high rail wave slides
Upper clubhouse with flower bed
Working door to lower clubhouse
Decorative windows and a sloped roof
Two belt swings
A swinging acrobat's bar
Play clock with movable hands
Rock climbing wall along safety plank stairs
Is Assembly Required with This Kids Outdoor Playset?
Yes! This playset is made with 100% cedar wood and is shipped to you as pre-assembled panels with detailed instructions that make assembly a breeze. Thanks to this panel construction, it means 27% fewer wood pieces used and up to 32% fewer hardware pieces for you to put together. This wooden swing sets' built-in post-in-panel uses exterior hardware to strengthen each corner, which creates a post-like appearance with a projected size that is much larger than traditional play sets. This creates a stiffer corner, similar to a steel I-beam that's used in commercial buildings, so this playset is built to last and last.
Please keep in mind that this wooden swing set is only intended to be used by up to 10 children at any one time, between the ages of three and 10 and weighing no more than 110-pounds a child.
Policies & plans
Specifications
Two high rail wave slides
Wooden roof with dormer
Premium windows
Working door to lower clubhouse
Play clock with moveable hand
Flower box (flowers not included)
Two belt swings
Acrobatic bar
View installation and operating instructions. (PDF)
Warranty
This product is covered by the Sam's Club Member Satisfaction Guarantee.
Member reviews & questions