Member's Mark Peppercorn Medley Grinder (5 oz.)
Product Details
Why We Love This
It's pepper re-imagined! This medley of peppercorns by Member's Mark gives you a nuanced blend of mild fruit flavor and bold pepper heat.
About this item
Well-balanced peppercorn medley with spicy and fruity flavors
Contains black, green, white and pink peppercorns
Can finely and coarsely grind pepper by adjusting built-in settings
Perfect for sprinkling over meats, soups, salads, vegetables and much more
Description
Give your dishes a sweet kick of heat with Member's Mark Peppercorn Medley Grinder. Colorful and flavorful, sprinkle this on your food to give it a well-balanced hint of sweetness and spiciness.
What's in Member's Mark Peppercorn Medley Grinder?
While most pepper grinders only consist of one type of peppercorn, Member's Mark Peppercorn Medley Grinder consists of four. Filled to the brim with green, black, white and pink peppercorns, not only do you have a flavorful blend of spices to season your food with, but also an easy way to add more color.
What's the Difference Between Green, Black, White and Pink Peppercorns?
Green, black and white peppercorns are all the same. They're just picked at different stages of ripeness. Green peppercorns are the most unripe and contain a fresh and mild flavor to them. While the commonly used black peppercorn is boiled in hot water then dried in the sun to produce both its color and spicier taste. White peppercorns are black peppercorns without the outer skin giving it a more earthy flavor. Pink peppercorns, on the other hand, are actually ripe berries with a uniquely sweet, spicy, and floral taste.
How to Use this Peppercorn Medley Grinder
Use this peppercorn medley as you would with any other pepper grinder. Sprinkle it on meats, vegetables, pasta, salads, soups and much more to give it a unique spicy and fruity flavor. With a built-in adjustable setting, you can grind the peppercorns in four different sizes. Grind them small to evenly impart a spicy flavor throughout your dish, or grind them coarsely for bold heat and an impressive presentation.
All-Purpose Seasoning
This balanced blend of peppercorns will put your regular black pepper seasoning to shame. With more than just a spicy taste, you also get to experience a pleasant hint of fruit and florals on every bite. Used for almost everything, this peppercorn medley grinder is sure to become a staple in your seasoning cabinet.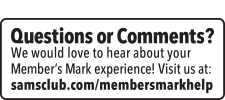 Policies & plans
Warranty
This product is covered by the Sam's Club Member Satisfaction Guarantee.
Member reviews & questions