Member's Mark Commercial Sanitizer (128 oz.)
Product Details
Why We Love This
Formulated for demanding foodservice and food processing environments, this potent, odorless commercial sanitizer is ideal for using on hard surfaces.
About this item
Find sanitizer test strips and sanitizer pail here.
Kills 99.99% of foodservice germs
EPA registered product approved for use on food contact surfaces
Concentrated – makes 128 gallons
For use in restaurants, institutional kitchens, schools, daycare centers and salons
Description
Provide all of your hard surfaces tough, sanitizing action with Member's Mark™ Commercial Sanitizer (128 oz.).
Does This Commercial Sanitizer Have Any Odor?
No, Member's Mark Commercial Sanitizer is an odorless sanitizer with a clear, light pink color. This sanitizer offers a sanitizing solution for restaurants, industrial cleaning supplies, commercial cleaning supplies and for your home.
Is It Effective?
Member's Mark Commercial Sanitizer offers effective sanitizing that kills 99.99% of food service germs. The commercial kitchen sanitizer is EPA registered and approved for use on food contact surfaces. And you don't have to only use this product to clean kitchens, you can use this commercial sanitizer in schools, daycare centers, salons and even in your home. The sanitizer contains 200 parts-per-million (ppm) active quarts for use on food contact surfaces in 500 ppm hard water to protect against: E-coli, Campylobacter jejuni, E-coli 0157:H7, Klebsiella pnemoniae, Listeria monocytogenes, Salmonella enterica, Shigella sonneii, Staphylococcus aureus and Yersinia enterocolitica. The sanitizer also acts as a disinfectant against: human coronavirus, influenza A2, norovirus-feline calicivirus and Trichophyton mentagrophytes (athlete's foot fungus). The no-rinse formula can be used on washable, hard, nonporous surfaces like dishes, glassware, eating utensils, kitchen equipment, counters, tables and chairs. The product is also suitable for any USDA-inspected food processing facilities or for federally inspected meat and poultry facilities.
Is It EPA Approved?
A sanitizer like Member's Mark Commercial Sanitizer is EPA approved because it effectively combats and protects against common pathogens. EPA approved products are unable to claim efficacy against any pathogens unless the agency has approved and registered the product after reviewing and supporting data that make said claims. Every EPA product approved by the agency must have an EPA registration number. The EPA registration for this commercial sanitizer is 6836-302-1677.
Non-Refillable Container
This container is not refillable and should be properly recycled or discarded in the trash or at a landfill. Read the back label of the container for further instructions about discarding the container.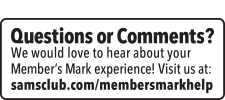 Policies & plans
Specifications
Physical state: liquid
Color: clear, light pink
Odor: odorless
pH: 6.0-7.5, 100%
EPA Registration No. 6836-302-1677
View safety data sheet. (PDF)
Ingredient Disclosure (PDF)
3 Compartment Sink Sanitizer
10g. commercial sink
1 oz./G dilution rate
Total use per sink fill 10 oz. (1 oz./G * 10)
3 sinks per day (Breakfast, Lunch, Dinner)
Total Sanitizer Concentrate Usage/Day – 30oz. (10oz.* 3 sinks/day)
Pail Applications
6 qt. pail
2.25 oz./G dilution rate
1G (4 qts.) of water per pail
Total use per pail 2.25 oz. (2.25*1g)
2 pails per location in daily use (1 behind counter/1 in lobby)
Pails changed 3 times/day (Breakfast, Lunch, Dinner)
Total Sanitizer Conc. Usage/Day – 13.5oz. (2.25oz./pail*2 pails*3 changes)
Spray Bottle
32 oz. spray bottle (1 qt.)
2.25 oz./G dilution rate (.56 oz./qt.)
Total use/spray bottle - .56 oz.
3 spray bottles in use (1 in lobby, 1 behind counter, 1 at food prep area)
Bottles used/day - 3
Total Sanitizer Concentrate Usage/Day – 1.68 oz. (3 bottles*.56 oz/bottle)
Mopping/Floor
36 qt. Mop Bucket (9G)
2.25 oz./G dilution rate
18 qts. of water/bucket (4.5G)
Total usage/bucket 10.13 oz. (2.25 oz.*4.5G)
Buckets/Day – 2 (1 in front/1 in back)
Total Sanitizer Conc. Usage/Day – 20.26 oz. (10.13oz./2 buckets/day)
Warranty
This product is covered by the Sam's Club Member Satisfaction Guarantee.
Member reviews & questions