Product Details
Why We Love This
Get some northern exposure at your next cookout with our Alaskan salmon burgers. Wild caught and sustainably sourced, they're rich in omega-3s.
About this item
All-natural wild caught Alaskan salmon burgers
477 milligrams of omega-3 per serving
Harvested from a certified sustainable source
12 frozen burgers per package
Gluten free
Description
Traditional burgers can be boring. If you are looking for a healthier alternative to the everyday hamburger patty, then Member's Mark Alaskan Salmon Burgers might be a good choice. These salmon burger patties are rich in omega-3 fatty acid, a naturally occurring oil that promotes heart health.
Are Member's Mark Alaskan Salmon Burgers from a Sustainable Source?
These Alaskan salmon burgers are from salmon harvested from the waters off the coast of Alaska. These waters are certified by the Marine Stewardship Council (MSC) and the Responsible Fisheries Management (RFM) as a sustainable source for salmon.
What Are the Ingredients in the Wild Salmon Burgers?
The trident salmon burgers are 92% salmon. Additional ingredients include spices for seasoning the patties and forming the patties. These frozen salmon burgers are gluten-free and do not use any wheat products as a binder in their product.
How to Serve Wild Alaskan Salmon Burgers?
Keep Member's Mark Alaskan Salmon Burgers frozen until ready to use. You do not have to thaw before cooking.
To grill, heat grill to medium-high heat. Place patties in a single layer on the grill and cook approximately 5 to 6 minutes each side or until done. To pan sauté/sear, heat pan on medium-high heat. Place patties in a single layer in the pan and cook approximately 5 to 6 minutes on each side or until cooked. To bake in a conventional oven, preheat oven to 425°F. Arrange patties in a single layer on a baking sheet. Cook in the oven for 18 to 20 minutes or until done. For best results when oven preparing, turn patties over halfway through cooking time.
All patties should reach an internal temperature of 165°F. Member's Mark does not recommend microwaving these burgers.
What Is the Nutritional Content of Alaskan Salmon Burgers?
A single patty equals one serving for salmon burgers. Each package contains 12 burgers. Each burger has 130 calories with 6 grams of fat. There are no carbohydrates in each patty, with 45 milligrams of cholesterol. These burgers have 420 milligrams of sodium and offer 21 grams of protein with 4% of your daily value of iron.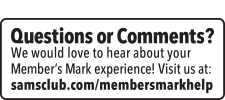 Policies & plans
Specifications
12 quarter-pound burgers
Gluten free
92% salmon
Warranty
This product is covered by the Sam's Club Member Satisfaction Guarantee.
Member reviews & questions