Member's Mark Whole Bone-In Pork Loins, Bulk Wholesale Case (priced per pound)
By Member's Mark
|
Item # --
|
Why we love this
Pork loins make the perfect dinner centerpiece. Serve them with a side of creamy mashed potatoes, hearty salad or gooey macaroni and cheese. Don't forget the wine!
Highlights
Prepare fresh pork loin whole or cut into smaller pieces
Fairly lean and full of flavor
Tender after slow-cooking
Can be grilled, roasted in the oven or slow-cooked in the crockpot
Case Sale item image not to scale. Please refer to unit and case sale weights to determine actual size.
Due to high demand please visit your local club to purchase case packs.
About this item
Description
Case Sale: Bone-in Pork Loin (2 bags per box, priced per pound) provides whole bone-in pork loin that is simple to prepare and full of flavor. This bone-in pork loin is a delicious cut of fresh pork with a small amount of fat along the top, making it a lean and healthy protein option. When cooked in the slow cooker, on the grill or in the oven, the meat becomes incredibly tender. This healthy pork can be enjoyed at family cookouts, elegant dinner parties, pot luck gatherings and more.
Does the Case Come with Whole Bone-in Pork Loin?
Yes, the case includes two bags of bone-in pork loin slabs. Each slab is a whole bone-in pork loin to make for easy preparation and ensure maximum flavor.
How Should I Prepare Fresh Pork Loin?
Raw pork loin can get an enhanced flavor with a dry rub or wet marinade before cooking. Remember to use fresh ingredients for wet marinades and be modest with the salt for dry rubs. The thin layer of fat on the whole bone-in pork loin will add delicious flavor and moisture.
What Seasonings Go Well With Bone-in Pork Loin?
The Italians have a saying "Chi usa aglio non fa mai sbaglio," which means "He who uses garlic never makes a mistake." This is especially true when it comes to preparing pork loin. Fresh garlic is great with a wet marinade while garlic powder goes well when mixed with oregano, cumin, coriander, thyme and a dash of salt for a dry rub.
How Much Does this Case of Bone-in Pork Loin Cost?
This product is priced per pound, therefore the final cost depends on the total weight of the raw pork loin.
Case Sale Orders
Order requires 24 hours advance notice, although the item may be available for pick-up sooner
Given the nature of the item, online pricing, quantity and/or availability may change without notice and is subject to market demands
Payment information may be provided either online or in-club, but final payment will always be in-club at time of pick up
Item may be rejected prior to final payment in-club for any reason and after purchase will be subject to the Sam's Club® Return/Refund Policy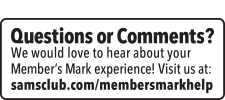 | | |
| --- | --- |
| Warranty | This product is covered by the Sam's Club Member Satisfaction Guarantee. |
---
Additional information
Member reviews & questions