Member's Mark Commercial Lemon Fresh Disinfectant Cleaner (1 Gallon)
Product Details
Why We Love This
Formulated for demanding commercial and institutional environments, this lemon-fresh cleaner is a disinfectant, sanitizer and deodorizer all in one.
About this item
Disinfectant cleaner that kills 99.99% of germs
One-step disinfectant, cleaner, sanitizer, fungicide, mildewstat, virucide and deodorizer
Concentrated – 1 container makes 64 gal. of solution
Won't dull finished floors
For institutional and residential use
Description
Keep surfaces clean and sterilized with ease by relying on Member's Mark™ Commercial Lemon Fresh Disinfectant Cleaner (1 gal.). This heavy-duty disinfectant cleaner offers incredible cleansing power and an array of features that make it ideal for public spaces as well as residences.
About Member's Mark Commercial Lemon Fresh Disinfectant Cleaner
This gallon jug of disinfectant is a true powerhouse of clean, as it not only cleans surfaces, it sterilizes and deodorizes as well. It offers a pleasant lemon fresh scent that lingers in the air long after the cleaning is finished. In just one-step, this disinfectant cleaner works to sanitizer, fungicide, mildewstat and virucide, helping to prevent the spread of contagious diseases. It safely eliminates 99.9% of germs.
Who Uses Commercial-Grade Disinfectant Cleaning Products?
Anyone who works to keep public spaces clean. This commercial disinfectant cleaning product is used by janitorial staffs at hospitals to thoroughly cleanser and sanitize apparatuses, waiting room seats and tables, floors, walls, bathroom fixtures and so much more. It is also a staple in fine hotels as well as in schools and daycare centers to prevent children from passing around dangerous illnesses. Despite how tough it is on dirt and germs, this disinfectant cleaner is safe to use on most surfaces.
Can I Use Member's Mark Commercial Lemon Fresh Disinfectant Cleaner at Home?
Yes! This is a wonderful disinfectant cleaner to use at home. Its concentrated, so be sure to dilute it in a bucket with hot water before using. Though it's commercial grade, it is safe to use on surfaces and items in your house and will help prevent colds and other illnesses from affecting you and your family. Use it in the bathroom, in the kitchen, to wipe down mirrors, door knobs, remotes, floors, pretty much anywhere. You'll love its versatility and the lovely lemon fresh aroma it imparts in its wake.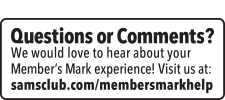 Policies & plans
Specifications
Acid-free cleaner and disinfectant
EPA Registration No. 6836-73-1677
Ingredients: water, alcohols, C9-11, ethoxylated, ethylenediamine tetraacetate, alkyl (C14 50%; C12 40%; C16 10%) dimethyl benzyl ammonium chloride, sodium metasilicate, octyl decyl dimethyl ammonium chloride, dioctyl dimethyl ammonium chloride, didecyl dimethyl ammonium chloride
View safety data sheet. (PDF)
Ingredient Disclosure (PDF)
Warranty
This product is covered by the Sam's Club Member Satisfaction Guarantee.
Member reviews & questions