codeSpark Academy Coding App for Kids Subscription
by codeSpark
|
Item # 980315400
|
Why we love this
Sam's Club is offering 30 days free† of codeSpark Academy. This fun educational app teaches key programming concepts with puzzles, games, step-by-step creative projects, and more.
About this item
Unlimited coding challenges
New skills every week
Hundreds of educational puzzles
Unlimited access to creativity suite
Access for up to 3 children
Subscription Savings
Club Members enjoy 20% savings on a monthly plan and Plus Members save even more.*
From
Description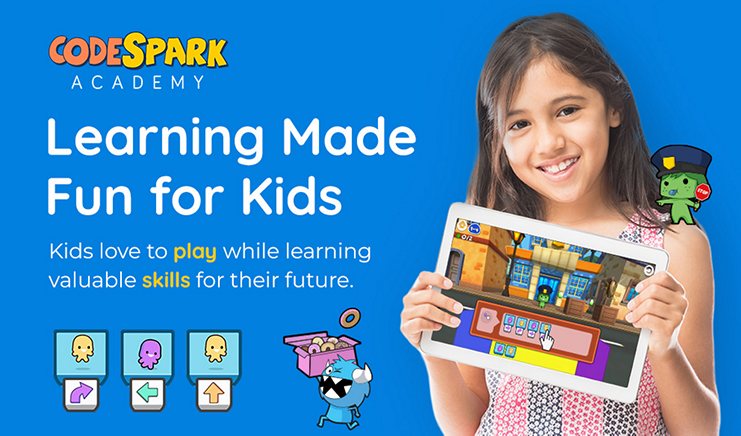 codeSpark Academy is the most used home coding program for kids 5-9! Our award-winning app has introduced over 30 million kids in 190 countries to the ABCs of computer science and our lovable coding characters, the Foos.
codeSpark Academy uses a patented "no words" interface to teach the basics of computer programming and essential coding skills through various interactive learning activities, including puzzles, games, step-by-step creative projects, game design, and offline printables – all of which can be monitored by parents.
"My 5-year-old does not want to stop playing this. He caught on very quickly!"
"My daughters are 6 and 8, and this is their new favorite game. Now they want to be programmers!"
KEY FEATURES:
* Kids learn key programming concepts and use them to code their own games and interactive stories.
* Word-free. Anyone anywhere can play.
* Curriculum developed based on collaboration with and research from MIT, Princeton, and Carnegie Mellon.
* Perfect for pre-readers, ELL students, and kids with reading and focus-related challenges.
* Supports 3 individual child profiles.
* No collection of your child's private data.
* No advertising or micro-transactions
* No written communication between players or external parties.
* No commitments or hassles. Cancel at any time.
PRESS & AWARDS:
codeSpark teaches basic computer programming skills — "the ABCs of coding"— with no reading necessary - NPR
"codeSpark Academy is easy to learn, full of playful characters, and it's easy to experiment." - Children's Technology Review
"Most appealing to me as a parent was seeing how my children enjoyed working together on the puzzles" - Parents' Choice Awards
*** 2020 American Association of School Librarians - Best Apps for Teaching
*** KAPi Awards Winner ***
*** Parents' Choice Gold Award ***
*** Apple Editor's Choice & Top Educational App ***
EDUCATIONAL CONTENT:
codeSpark Academy is inspired by visual programming languages such as Scratch from MIT, Alice from Carnegie Mellon University, and other 'beginner' programming languages like Logo, SmallTalk, and Squeak.
Our word-free interface allows anyone, anywhere, to play. They'll master core computer science concepts such as pattern recognition, problem-solving, sequencing, algorithmic thinking, debugging, loops and conditionals.
FAQ
How can I access codeSpark Academy?
codeSpark Academy with the Foos can be downloaded on the App Store, Google Play Store, or the Amazon App Store. codeSpark Academy can also be played on a desktop in a web browser.
For which age range is codeSpark Academy best suited?
codeSpark Academy is geared toward children ages 5-9. However, kids older than 9 have a blast playing the game (they tend to go through the puzzles quickly and then spend most of their time coding levels). Kids younger than 4 can play codeSpark Academy, but they would usually need some help from a grown-up.
What does codeSpark Academy teach?
codeSpark Academy teaches kids ages 4-9 the basics of computer science. Kids learn concepts such as sequencing, loops, conditional statements, events, boolean logic & sorting, and variables.
My child is a pre-reader/ELL student/has a reading disability. Can I still use codeSpark Academy?
Yes! codeSpark Academy with The Foos does not use words to teach coding basics. Instead, the game is completely visual-based, allowing kids of all abilities to play and learn.
Policies & plans
Specifications
Upon check out, you direct Sam's Club to disclose limited member information to codeSpark to enable service activation. Use of your personal information will be subject to codeSpark's Privacy Policy: https://codeSpark.com/privacy/
Limit 1 subscription purchase per member.
* codeSpark subscriptions are available to Sam's Club members at special member prices. Enjoy the following member prices:
codeSpark Plans
Standard Retail Price
Club Member Price
20% savings
Plus Member Price
25% savings
Monthly Plan
$9.99
$7.99
$7.49
Annual Plan
$79.99
$63.99
$59.99
† Your first 30 days are free for codeSpark monthly and annual subscriptions. Free trial period begins on date of purchase of subscription on samsclub.com. At the end of your 30-day free trial, Sam's Club will automatically charge your preferred payment method on a recurring monthly basis for the selected subscription, at the price then in effect (plus applicable taxes), until you cancel, change your service subscription plan, or change your Sam's Club membership. To avoid being charged, you must cancel at least 24 hours before the end of your free trial period. You can change or cancel your subscription at any time in your account. Free trials are for new subscribers only. Limit of one subscription and free trial per membership. There are no refunds for subscriptions. For residents of the District of Columbia, 30-day or more free trials with automatic renewal are not available. For residents of Vermont, annual subscriptions are not available for automatic renewal. Subject to full subscription terms and conditions located at https://www.samsclub.com/sams/html/help/terms-and-conditions.html#subscription
Cancellations
If you have a subscription, you must cancel at least 24 hours before the next-scheduled subscription renewal date to avoid being charged for the next subscription period (e.g. if renewal date is January 10, you must cancel by 11:59:59 pm PT on January 9). After cancelling, your subscription service will be valid through the end of the current billing period. No refunds or prorated amounts provided for cancellations.
To manage or cancel your subscriptions, visit: https://www.samsclub.com/account/subscriptions
Member reviews & questions
Disclaimers
"Membership is required to complete an in-club or curbside pickup purchase at Sam's Club."