Member's Mark Cinnamon Sticks by Tone's ( 7 oz.)
Product Details
About this item
Fragrant, tasty cinnamon sticks
Use as a garnish, seasoning or drink stirrer
Use cinnamon sticks as supplies for crafts and more
Season and spice slow-cooked meats or chili
7-oz. container of cinnamon sticks
Description
Member's Mark Cinnamon Sticks by Tone's are more than a seasonal option, they make an excellent way to add aromatic, spicy cinnamon notes to food and drink all year round.
Who Is Tone's?
At Tone's, tap into regions from around the world and experience the fresh, delicious flavors to easily prepare an out-of-this-world dinner experience with simple ingredients. Tone's preserves their oils and ensures their purity so Member's Mark stands by Tone's commitment to quality and flavor. They are determined to provide spices and seasonings with the highest levels of freshness that the whole family will love.
What Foods and Drinks Go Well Member's Mark Cinnamon Sticks?
Member's Mark cinnamon sticks are more than just a beautiful garnish. They add a warm, savory flavor when simmered in mulled wine or apple cider. Toss a cinnamon stick into coffee grounds or your favorite tea and brew as usual for an extra pick-me-up. Place a Member's Mark cinnamon stick in drinks as a drink stirrer when you serve hot cocoa or hot toddies. You can even use cinnamon sticks as instead of typical tea bags and add honey or other spices for a health nutrient blend.
These are the best cinnamon sticks to place in oatmeal for a special blend of exotic flavor. Simply include Member's Mark Cinnamon Sticks in the pot while your oats are cooking. As the oats absorb the stick, they release a wonderful, warm cinnamon scent that is irresistible. Experiment with new rich flavors in your meat by placing a cinnamon stick into a slow cooker and fill with slow-cooked meat like a roast or ribs, or mix into your next batch of chili. The cinnamon will add a light, spicy essence to your meal.
What Other Uses Are There for Member's Mark Cinnamon Sticks?
Member's Mark cinnamon sticks also make wonderful crafting supplies. Make holiday ornaments by hot-gluing sticks in various shapes (like triangle or square) and decorate with small flowers or objects. The shape of the sticks when combined make lovely tree-shaped ornaments to hang and fill your home with a lovely, comforting scent.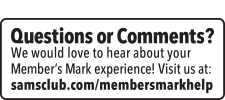 Policies & plans
Warranty
This product is covered by the Sam's Club Member Satisfaction Guarantee.
Member reviews & questions