About this item
3 hearts of celery (central stalks of the celery plant)
Excellent source of vitamin C
Great raw or cooked
Great served with dips for a healthy snack
Order online and pick up in the store
Description
This Celery Hearts (32 oz.) two-pound package contains the central stalks of three bunches of celery. The hearts are the most tender and delicious part of the celery bunch. Sometimes the outside stalks of celery are stringy and tough whereas the hearts are soft, tender and a wonderful addition to any recipe. Fresh celery hearts make a great snack raw: try some with your favorite peanut butter or cream cheese. Celery is an excellent source and of vitamin C and a healthy snack for you and your kids.
What Are Some Of the Uses For Fresh Celery Hearts?
Fresh celery, like many fresh vegetables, is a healthy and nutritious snack all by itself. Celery is a common ingredient in soups and salads; it is also tasty with your favorite dips or stir-fries.
Can I Order Fresh Celery Online?
A major advantage of the Internet is the ability to order products online. Many consumers do not think of ordering fresh vegetables online, but it is quick and simple. With just a few easy clicks you can order your celery hearts online and pick them up at your favorite Sam's Club location. Put in your grocery order, save some time wandering the aisles and enjoy the modern conveniences of life in this digital age.
An Excellent Addition to Your Healthy Diet.
The celery stalks of the celery plant are a low-calorie food and are suitable for diets that seek to cut down on calories. Celery hearts are a versatile vegetable that can be prepared a number of ways or simply eaten raw. Getting in the habit of eating celery is easy and fresh celery hearts are a great place to start.
Recipe: Braised Celery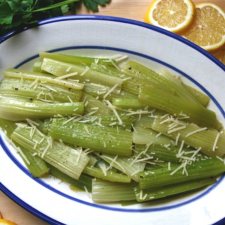 How to Make It
Using a vegetable peeler, remove the fibrous outer layer of the celery. Slice the celery lengthwise then cut in half. Heat olive oil, in a medium skillet. Add celery and cook for 5 minutes.
Add chicken broth, garlic, thyme, rosemary, salt and pepper and bring to full boil over high heat. Cover and cook for 5-10 minutes, or until the celery is barely tender. Do not allow to lose full crispness.
Drain immediately and place in serving bowl. Sprinkle with parmesan cheese and serve hot.
The recipes appearing on the Site are either user-submitted or content generated from another third party. SamsClub.com does not sponsor, recommend, or endorse any specific recipe third party, product, service or information provided on this Site. All content provided herein is for educational purposes only. Such content is not intended to substitute for the diagnosis, treatment and advice of a medical professional. Consult your medical professional for guidance before changing or undertaking a new diet or exercise program; especially if you are under eighteen (18) years old, pregnant, nursing, or have health problems. Neither the author nor SamsClub.com assumes any responsibility for errors, omissions or contrary interpretation of the subject matter herein.
If you have dietary restrictions and/or allergies, always read the ingredient list carefully for all food products prior to consumption. If the ingredient list is not available on the food product, check with the food manufacturer, or do not consume the product.
Policies & plans
Specifications
Chop them up for soups, stir-fry, stews or even pasta sauce
Celery with peanut butter and raisins is a kids favorite ("ants" on a log)
Refrigerate after purchase
Brand may vary by club
Warranty
This product is covered by the Sam's Club Member Satisfaction Guarantee.
Member reviews & questions
Disclaimers
"Membership is required to complete an in-club or curbside pickup purchase at Sam's Club."