Why we love this
Broccoli's understated sibling, the cauliflower, is actually a versatile star. A healthy alternative to traditional pizza crusts but also yummy as a snack.
About this item
Cauliflower is a delicious low-calorie vegetable
High in vitamins C and K
Bright white in color with a nutty flavor
Description
Find a great variety of exceptionally fresh and delicious produce at your local Sam's Club store, including the versatile vegetable cauliflower (1 ct.).
Cauliflower is a truly unique vegetable that can be eaten on its own as a healthy snack, or prepared with some of your favorite recipes as part of a hearty side dish. But that's not all that cauliflower can do for your diet and your overall health. There are many great cauliflower recipes out there that can transform your high fat and high carb foods into meals that are much healthier for you and your family.
Can Cauliflower Be Used as a Healthy Carb Alternative?
The cauliflower vegetable is a healthy alternative to using so many high-carb ingredients in your favorite recipes. You can mash and blend up cauliflower to a consistency similar to mashed potatoes. Cauliflower can be used to make various types of carb-free breads and crusts. It can also be finely chopped and used as an alternative to rice. Fresh cauliflower is great to eat all on its own, or steamed along with broccoli, carrots and other fresh vegetables for a tasty side dish that is full of flavor but low on carbs.
What Vitamins and Nutrients Are Found in Cauliflower?
Cauliflower is high in vitamin C. It is also a good source of vitamin B6 and vitamin K. This delicate vegetable can be incorporated into a variety of meals to help you eat healthier. Cauliflower is also an excellent source of fiber and protein. Keep it inside your refrigerator to maximize its shelf life and to keep it fresher longer.
Stock up and Save on Cauliflower and Other Produce Today at Sam's Club
Your local Sam's Club store has a large selection of fresh produce that you can buy in bulk quantities. Stock up and save on your family's favorite fruits and vegetables the next time you visit your local Club. Add fresh cauliflower to your shopping list and discover the many different ways it can be prepared.
Recipe: Roasted Buffalo Cauliflower Bites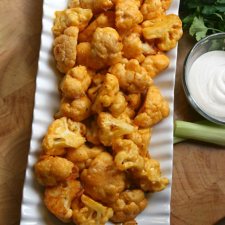 How to Make It
Preheat oven to 450 F. Line a baking sheet with foil, spray with cooking oil and set aside. In a large bowl, combine flour, water, garlic powder, salt & pepper. Mix until batter is smooth. Add the cauliflower florets to the batter and toss to coat completely.
Place florets in a single layer on the prepared baking sheet, shaking off excess batter before arranging. Cook the cauliflower in the preheated oven for 20 minutes. Remove from oven and place cauliflower in a bowl with the Buffalo sauce.
Mix well making sure each floret is coated with the sauce. Place the cauliflower florets back on the same baking sheet in a single layer. Broil in the preheated oven for another 5-10 minutes or until fork tender. Serve with dip/dressing of choice.
The recipes appearing on the Site are either user-submitted or content generated from another third party. SamsClub.com does not sponsor, recommend, or endorse any specific recipe third party, product, service or information provided on this Site. All content provided herein is for educational purposes only. Such content is not intended to substitute for the diagnosis, treatment and advice of a medical professional. Consult your medical professional for guidance before changing or undertaking a new diet or exercise program; especially if you are under eighteen (18) years old, pregnant, nursing, or have health problems. Neither the author nor SamsClub.com assumes any responsibility for errors, omissions or contrary interpretation of the subject matter herein.
If you have dietary restrictions and/or allergies, always read the ingredient list carefully for all food products prior to consumption. If the ingredient list is not available on the food product, check with the food manufacturer, or do not consume the product.
Policies & plans
Specifications
Enjoy it as a tasty snack or as a part of your favorite recipes
Smooth and earthy texture
Warranty
This product is covered by the Sam's Club Member Satisfaction Guarantee.
Member reviews & questions
Disclaimers
"Membership is required to complete an in-club or curbside pickup purchase at Sam's Club."