ABCmouse.com Subscription - Online Learning for Kids Ages 2 to 8
by ABCmouse
|
Item # 980288901
|
Why we love this
Sam's Club brings you a special subscription offer to the award-winning learning program for kids ages 2–8.
About this item
The ABCmouse.com Early Learning Academy is the research-validated program, created by teachers and education experts, that kids ages 2 to 8 love to play with as they learn full standards-based curriculum.
There's so much to discover in ABCmouse.com. Not only can parents find online lessons on core curriculum topics, but this award-winning software also provides access to a suite of offline apps and printable activities for when Wi-Fi isn't available.Unlock the learning potential in your child and get started today!
Upgrade to the ABCmouse.com + Adventure Academy + ReadingIQ bundle to save even more** on your child's educational resources!
ReadingIQ features over 7,000 titles for children, including books by Caldecott and Newbery Medal award winners. Ages 2-12. Available on smartphone, tablet, or computer.
Designed by education experts, Adventure Academy online learning subscription teaches math, reading, science, language arts, and social studies in an immersive 3D universe. Elementary/middle school level. Available on smartphone, tablet, or computer.
Interested in buying a digital subscription? Please see our FAQ page for the most commonly asked questions about digital subscriptions.
Subscription Savings
Club Members enjoy 20% savings on a monthly plan.
Plus Members save even more.*
Try a monthly plan free for 30 days†
From
Description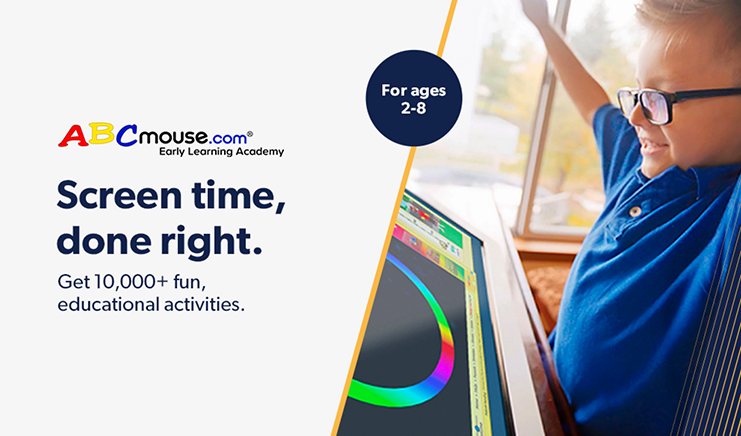 ABCmouse.com provides a safe and secure online learning environment with no pop-up ads or links. Kids at all levels can enjoy more than 10,000 individual learning activities that include lessons on learning to read, math, science, music, art, and more!
Reading Games and Activities Include:
Uppercase and lowercase letter recognition
Phonics
Rhyming words and word families
More than 450 books and beginning readers
Sentence structure
Parts of speech
ABCmouse.com is designed to help teach and improve early literacy skills, such as letter recognition and letter-sound correspondence.
Our games engage kids in foundational reading skills, such as letter recognition, phonics, sight word recognition, and much more, all developed by literacy experts who understand how to teach your kid to read.
Math Games and Activities Include:
Recognizing and counting numbers 1–120
The base ten system
Place value
Addition and subtraction
Names and attributes of 2D and 3D shapes
Length, time, and money measurement
With ABCmouse.com's online math lessons, kids can learn to count, measure, and recognize patterns and shapes in an entertaining interactive environment. ABCmouse.com makes learning mathematics easy and its online math curriculum includes many different ways that children can learn about numbers and develop number sense.
Art Games and Activities Include:
Primary and secondary colors
Shades of colors
Paint-by-number activities
Number and letter dot-to-dots
ABCmouse.com's pre-K art curriculum teaches children to name and identify 11 different primary and secondary colors and helps kids recognize those colors in their day-to-day lives. Children also learn to identify and use several basic shapes in drawing and coloring.
Music Games and Activities Include:
Original songs about every letter of the alphabet
Catchy songs that teach core curriculum topics
Original and classic children's songs
ABCmouse.com's music and songs take advantage of kids' natural ability to learn through music. Our large collection of children's songs teaches many important topics, ranging from the alphabet and counting to the days of the week.
Science Games and Social Studies Activities Include:
The body and health
Plants and animals
Weather, climate, and the seasons
Earth's environments
Maps
Regions of the United States
The Solar System
Matter and its properties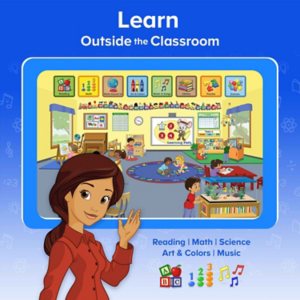 How does ABCmouse.com's Learning Path work?
The Learning Path is a sequence of pre-set activities arranged for each Learning Level in ABCmouse.com. Playing on the Learning Path will provide a child with a variety of different games, coloring pages, videos, and activities that steadily build comprehension for their level in math, science, language arts, social studies, art, and music. You can adjust a child's Learning Level at any time from the Parents Page.
Is ABCmouse.com aligned with Common Core Standards?
ABCmouse.com Early Learning Academy is a supplementary curriculum resource that offers thousands of individual learning activities—books, songs, games, animations, puzzles, art activities, and printables. Each one is thoughtfully and creatively designed to be developmentally appropriate, highly engaging, and in support of the Common Core State Standards for Math and English Language Arts.
How many Child Profiles come with a subscription?
All family subscriptions to ABCmouse.com include three individual profiles.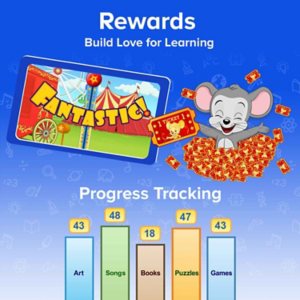 Why are tickets and prizes awarded to my child?
Our Tickets and Rewards system is designed to reward learning and encourage children to find new activities to do while incorporating numbers and math concepts in the process. Your child will have many opportunities to earn tickets as he or she completes site activities and lessons. Your child can then use those tickets to buy more features and clothing for his or her Avatar or items for My Room and other environments.
Policies & plans
Specifications
Upon check out, you direct Sam's Club to disclose limited member information to Age of Learning to enable service activation. Use of your personal information will be subject to Age of Learning's Privacy Policy: https://www.ageoflearning.com/privacy.html
Limit 1 subscription purchase per member.
† Free trial begins on the date of purchase. First 30 days of the ABCmouse.com monthly subscription or first 30 days of the bundle of ABCmouse.com + ReadingIQ monthly subscriptions are free. Limit of 1 free trial per member. Charges will begin at the end of the free trial period. To avoid being charged, you must cancel at least 24 hours before the end of your free trial or the renewal date of your subscription. For residents of the District of Columbia, 30-day or longer free trials with automatic renewal are not available. For residents of Vermont, annual subscriptions are not available for automatic renewal. Subject to full subscription terms and conditions located at https://www.samsclub.com/sams/html/help/terms-and-conditions.html#subscription. Free trial is not available on the ABCmouse.com annual subscription or the bundle of the ABCmouse.com + ReadingIQ annual subscriptions.
* Sam's Club Members save 20% on ABCmouse.com's monthly subscription as compared to ABCmouse.com's monthly standard retail price. Sam's Club Plus Members save 25% on ABCmouse.com's monthly subscription as compared to ABCmouse.com's monthly standard retail price. Plus Members must be logged in to see discounted pricing.
Cancellations
If you have a subscription, you must cancel at least 24 hours before the next-scheduled subscription renewal date to avoid being charged for the next subscription period (e.g. if renewal date is January 10, you must cancel by 11:59:59 pm PT on January 9). After cancelling, your subscription service will be valid through the end of the current billing period. No refunds or prorated amounts provided for cancellations.
To manage or cancel your subscriptions, visit: https://www.samsclub.com/account/subscriptions
Member reviews & questions
Disclaimers
"Membership is required to complete an in-club or curbside pickup purchase at Sam's Club."