Tire Buying Guide
Four things you need to know
before buying a new set of tires.
1. Do the tread test.
All you need is a penny! Place the penny in the shallowest groove with Lincoln's head pointing down. If you can see the top of his head, the tires should be replaced.
Shop All Tires
2. Stay true to size.
New tires should always match the size of the original tires on your vehicle. Find the size in your owner's manual or the sidewall of your tire. Here's what to look for.
Shop All Tires
3. Get style and substance.
Know the most common types of tires and see what's right for you: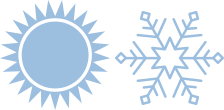 All-season
Cruise year-round with a steady grip on all surfaces.

Winter Tires
Power through snow and ice safely with deep treads.

Performance
Accelerate faster and have better control at every turn.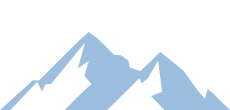 All-terrain
Handle dirt roads, gravel trails and more with ease.
4. Keep tires in check.
Make your tires last longer with these easy maintenance tips.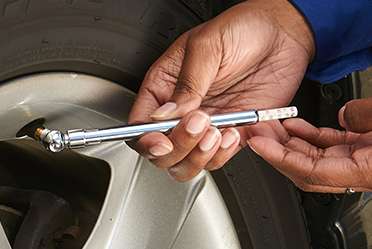 Measure your air pressure
at least once a month to ensure they're properly inflated. Also, have your Tire Pressure Monitoring System checked when you get your tires serviced.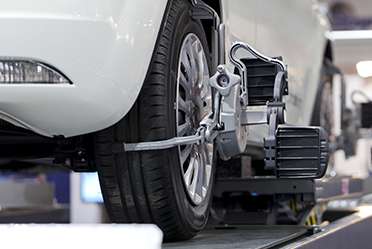 Check your alignment
every 6,000 miles to ensure each tire is
straight and not wearing down the edges.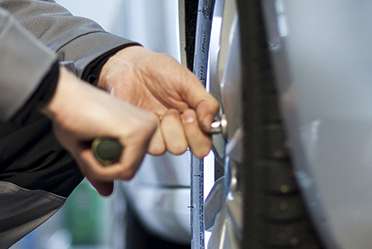 Rotate your tires
every 5,000 to 8,000 miles. This means swapping front and back tires for more even wear. Get free balance and rotation for the life of the tire when you install at Sam's.
Shop All Tires
Tire Buying Guide
With so many tire sizes and styles available, it can be difficult to decide which set of tires to buy for your car, truck or SUV. That's why Sam's Club® created this handy Tire Buying Guide. It covers the top four things you need to consider before making your tire purchase. With the tire information in the tire guide and our online Tire Search Tool you can shop the selection of tires at Sam's Club, where you'll find members-only pricing and special deals from top tire brands. Sam's Club is your one-stop tire shop.
Tire Comparison
If you're comparing prices on tires, you should know about the "Dare to Compare" offer at Sam's Club. Here's how the tire comparison deal works: Sam's Club offers the best "all-in" price on the top tire brands and installation in the country, and we'll prove it! Dare to compare. If you find a better "all-in" price on tires, we'll match it!
Sam's Club defines an "all-in" quote as one that contains the following items:
Price of the tire
Price of mounting and balancing at the time of installation
Price of lifetime balance and rotation services
Price of pro-ratable road hazard protection
Price of new valve stems
Price of Tire Pressure Monitoring System (TPMS) reset
Price of TPMS resets after lifetime services
Price of TPMS sensor removal, re-installation and service pack (if needed)
Some restrictions apply* See details on Samsclub.com.
Tire Measurement and Tire Numbers
One of the first things to do when you're shopping for tires is to know your vehicle's correct tire measurements. New tires should always match the size of the original tires on your vehicle. Just to be sure, look in two places: your owner's manual and the sidewall of your tires. Write down the numbers you see or take a quick photo with your phone. You'll see a few sets of numbers. The first set of numbers is the tire width. Next, you'll see the aspect ratio and rim diameter. Together, these two sets of numbers make up your tire's size. The last set of numbers are for the load rating/load index (a number) and the speed rating (a letter).
*Offer not valid on:
Competitor incentives including, but not limited to, the ones listed below will not be considered when calculating the competitor's "all-in" price:
Prepaid credit cards and gift cards
"Buy One, Get One" and similar promotional offers
Mail-in rebates
Instant rebates or "instant savings"
Retailers operating solely online are excluded from this offer. Specialty tires such as golf cart, ATV/UTV or trailer tires are excluded from this offer. Additional charges for necessary parts or services discovered during installation (such as TPMS sensors, lug nuts, etc.) may apply. Sam's Club, at its sole discretion, reserves the right to deny quotes it deems incomplete, invalid or fraudulent. Sam's Club reserves the right to change or terminate this offer at any time.
How our "Dare to Compare" offer works:
Bring a valid "all-in" quote from a tire sales and installation retailer to your Sam's Club Tire and Battery Center service counter. The quote must be printed on dealer/retailer letterhead and dated within the past 7 business days.
The tire must be the same brand, same line, same load index and speed rating (service description) as the tire intended for purchase at Sam's Club. Sam's Club carries some club-specific tire lines – in these cases, Sam's Club will compare the club-specific tire line to the equivalent general-market tire line. Sam's Club considers the following tire lines to be equivalent and will price match.