Helping you make smart
choices about your seafood.
We're working to develop a transparent supply chain that
helps you track where and how your seafood is sourced.
Shop Seafood
We understand seafood sustainability can be confusing for consumers and we want to help make it easier. The Gold and Silver badges on our fresh and frozen seafood packaging are designed to help consumers easily identify products that have received certification or are being closely monitored and supported for improvement by an industry-recognized plan.
Gold Standard:
Wild Caught
Farm Raised

High standard of sustainable seafood that poses minimal impact to ecosystems and certified by a third party.
Sam's Club follows the sustainability certifications approved by the Global Sustainable Seafood Initiative (GSSI).
Marine Stewardship Council (MSC) certified
Best Aquaculture Practice (BAP) 4 Star, Aquaculture Stewardship Council (ASC) certified.
Silver Standard:
Wild Caught
Farm Raised

Seafood and sustainability practices that are acceptable to ecosystems as certified by third parties.
Suppliers must be registered with a Fishery Improvement Project (FIP) and on their way to becoming a sustainable fishery whose progress is being closely measured, reported and supported.
Best Aquaculture Practice (BAP) 2 or 3 Star.
Sam's Club will only source seafood that meets our minimum sustainability requirements.
What does it mean to have a transparent supply chain?
We require all of our seafood suppliers to provide detailed information on where and how each item is sourced (place of origin, catch method, scientific name and more). Their data is then reviewed by the Sustainable Fisheries Partnership (SFP). This information will be shared with consumers directly on the packaging of all our seafood products and made available on the Ocean Disclosure Project.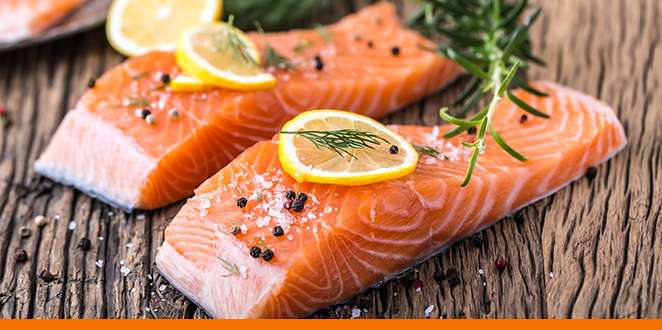 Wild-caught or farm-raised...
is there a difference?
Sustainable wild-caught seafood helps relieve pressure on fish populations, habitats and communities so that is available for generations to come. By having credible and scientific standards, we can ensure fisheries are following guidelines to preserve vital ecosystems and protect the future of wild-caught seafood.
Contrary to popular belief, farm-raised seafood, or aquaculture, is clean, important for conserving resources and necessary to meet growing seafood needs. Aquaculture currently provides half of all fish for human consumption and helps relieve pressure on wild-caught stocks and natural resources.
Meet our partners in sustainability and traceability.
Get to know the third-party organizations that make sure fisheries' and farmers' practices
uphold the requirements for protecting you and the planet.

Global Sustainable Seafood Initiative (GSSI)
GSSI is the premier, global, multi-stakeholder partnership for collaboration and knowledge exchange working towards more sustainable seafood for everybody. GSSI operates the Global Benchmark Tool which ensures confidence in certified seafood by providing formal recognition of seafood certification schemes that meet the rigorous United Nations FAO guidelines on Responsible Fisheries and Ecolabelling. The GSSI Benchmark Process promotes improvement in seafood certification schemes. Sam's Club is part of the GSSI Partnership and follows the sustainability certifications recognised by the GSSI.
Learn About GSSI

Marine Stewardship Council (MSC)
The MSC is a global nonprofit working with fisheries, grocery stores, restaurants and other companies to change the way the oceans are fished, address food fraud and make it simple for consumers to purchase sustainable, traceable, wild seafood.
Learn About MSC

Best Aquaculture Practices (BAP)
The BAP program is the most comprehensive aquaculture certification program in the world. Each star on the BAP logo represents a different part in the farming process. When you see a 4-star logo, it means your seafood was BAP-certified all the way through the supply chain.
Learn About BAP

Aquaculture Stewardship Council (ASC)
The ASC promotes responsibly farmed seafood through its certification and labeling program, which were developed by more than 2,000 stakeholders globally. They work with the aquaculture industry, seafood processors, retail and foodservice companies, scientist and conversation groups.
Learn About ASC

Sustainable Fisheries Partnership (SFP)
SFP gathers and reviews source fishery data collected from our suppliers to analyze the management of the fishery, the health of the fish stocks and the impacts of the fishing gear on other wildlife or the environment. This summary of environmental performance associated with the sources of our seafood products allows us to identify areas where we can make the biggest impact for continuous improvement.
Learn About SFP
Fishery Improvement Project (FIP)
A certified FIP is on its way to becoming a sustainable fishery whose progress is being closely measured, reported and supported. FIPs must be registered with FisheryProgress.org or FishSource.org and must continue to show improvement year over year as they work toward MSC certification. With the help of Sustainability Fisheries Partnership, Sam's Club regularly monitors the progress and activities of FIPs, requiring that they maintain a progress rating of "C" or higher.
We believe it's important to support FIPs as they help identify environmental risks in fishing or fish-farming practices and encourage fishermen and farmers to make improvements and changes to more sustainable practices.
Learn About FIP
Our Sustainability
Commitment
We know that seafood is an important source of nutrition and income for people all over the world. That's why we work with partners all along the supply chain to deliver affordable products in a way that is sustainable for both people and planet. It is our commitment to create a transparent supply chain for our members, as well as to uphold high standards for sustainability so we can do our part to help protect and preserve ocean ecosystems for future generations.