Mesh or traditional?
Here's what you need to know to choose the best router for your home.
Usually, Wi-Fi isn't something you really think about until your service cuts out, or the episode you're binge-watching gets stuck buffering. A lagging internet connection is annoying, but can easily be fixed by upgrading your router or expanding your network with a mesh Wi-Fi system. Whether you just moved and need to set up a new network or are simply looking to speed up service around your house, here's how to choose the router that makes the most sense for you.
Types of routers.
Types of routers. The router you need will depend on the layout of your home and how you'll be using the internet. Here are the two main kinds of routers to consider: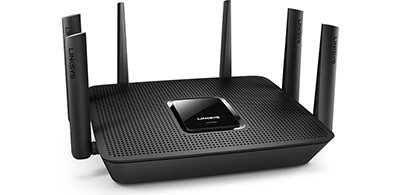 Traditional routers.
Traditional routers are a good choice for people who live in single-story homes under 1,500 square feet or in apartments, since the network signal won't need to travel as far to reach connected devices. Big gamers who want the fastest speeds possible, or people who plan to stream a lot of 4K, high-definition media content, will also be better off with a traditional router because it can handle more bandwidth.
Top features:

Centralized network. Traditional routers set up a single network to connect to your Wi-Fi enabled devices quickly and efficiently. If you're experiencing a weak signal or Wi-Fi dead zone, you can always plug in a range extender to expand the coverage in your home.
Less equipment. Since traditional routers are a single unit, they take up less shelf space and are easy to store in an entertainment center or tuck behind a TV.
Budget-friendly. Traditional routers usually cost around $100, with network extenders ranging from $20-$100. Mesh router kits (see below) typically fall on the pricier side, and can lead to even more expenses if you need to expand your Wi-Fi system.

Keep in mind: If you need to use a range extender, your router's available bandwidth will be cut in half. That means your Wi-Fi network will only run at 50% speed when you're connected through the extender. While you may not even notice the difference, this can affect your ability to send and receive information or transfer large files.
Shop Traditional Routers

Mesh router systems.
If you live in a building that is two or more stories tall, has brick or concrete walls, or is over 3,000 square feet, you probably have multiple Wi-Fi dead zones that could benefit from a mesh router system.
Top features:

Multiple points of access. Rather than relying on a single router for your entire home, mesh Wi-Fi systems use a primary router supplemented by multiple satellite nodes. Mesh systems are easy to expand, allowing you to add more nodes if you renovate your home or want to extend service to specific areas like the basement.
Streamlined connections. Many network extenders that work with traditional routers require you to create a separate network, which means you'll have to switch your Wi-Fi connection as you move from room to room. Mesh routers all use the same network, so your device will automatically connect to the closest satellite node.
Better security. Many mesh router systems come with software that constantly scans for viruses or security breaches, as well as apps that allow users to customize settings like parental controls.

Keep in mind: Since mesh router systems rely on multiple satellites nodes for service, you'll have more equipment that needs to be stored around the house. Luckily, most mesh routers are smaller than traditional modems, making them easy to hide throughout your home.
Shop Mesh Routers