FREE FOR CLUB MEMBERS FOR A LIMITED TIME, STARTING AT 10AM.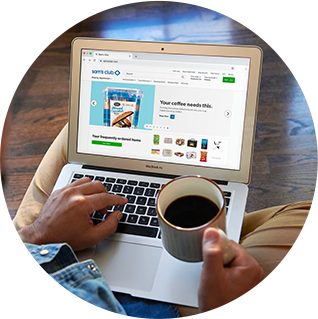 Shop and pay online 24/7.
Search for items labeled "Pickup" to start your order.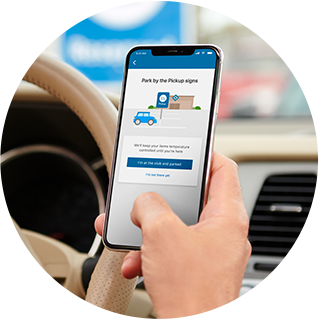 Check in on your phone.
When your order is ready, park in a Curbside Pickup spot and use the app or text to check in.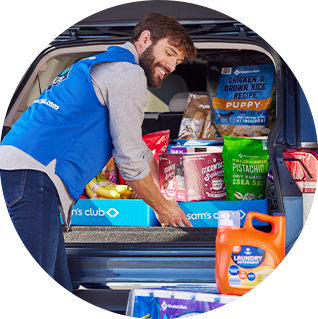 Stay in the car.
We'll load your order for you.
So easy.
Frequently Asked Questions
What is Curbside Pickup?
Curbside Pickup is a free service that lets you shop your club and pick up your order, all without leaving your car. Shop online or in the Sam's Club app. When your order is ready, just head to the club and check in via text or app. Park in a Curbside Pickup spot, and we'll load your car for you.
What does Curbside Pickup cost?
Curbside Pickup is free with Plus membership. For a limited time, Club members may also use this service for free.
When is Pickup available?
Curbside Pickup for Plus members begins at 7am Monday to Saturday and at 10am Sunday. Curbside Pickup begins at 10am for Club members.
How do I pay for Curbside Pickup?
All Curbside Pickup orders require online prepay using one of these options:
Visa®
MasterCard®
American Express®
Discover®
Sam's Club Credit Card
Sam's Club Gift Cards
Debit Card
What products can be ordered for Curbside Pickup?
As you shop, look for items marked "Pick up in club." Items that show only "Ship this item" are not available for Curbside Pickup. Curbside Pickup orders are subject to availability and are limited by the Sam's Club Merchandise Policy.
Is there a minimum amount for Curbside Pickup orders?
No. Please order as much (or as little) as you like.
Can I order refrigerated or frozen items?
Absolutely! We'll keep your refrigerated and frozen items in a temperature-controlled area until you arrive.
How will I know that my order is ready?
We'll send you a confirmation email, in-app message or text if you provided your mobile number. (Message data and rates may apply.)
How long do I have to pick up my order?
We'll hold your Curbside Pickup order for up to 24 hours after your scheduled Curbside Pickup time. Orders not picked up within 24 hours are subject to cancellation.
What do I need to pick up my order?
You'll need your order number and a current government-issued photo ID.
What should I do when I get to the club?
When you arrive, park in a Curbside Pickup spot, then sign in using the Sam's Club app or text messages. We'll bring you your order and load it in your car.
Can I have someone else pick up my order?
Yes. Just enter the person's name, email address and phone number during checkout by using the "Additional Pickup Person" feature. When they arrive, they'll need your order number and an ID and will pick up your order inside the club at Member Services. Unfortunately, an additional Curbside Pickup person can't be added once your order is submitted.
Can the Additional Pickup Person use Curbside Pickup?
Not at this moment. The Additional Pickup Person you identify during checkout will need to go to Member Services for assistance with your order.
Can I get a receipt and/or a gift receipt?
Yes! We'll email your receipt after you pick up your order. For a gift receipt, select that option during checkout and provide the requested information, then we'll email the gift receipt.
What is the authorization hold on my account?
An authorization hold is a temporary hold placed on your credit or debit card when you place an order. This hold is made to confirm available funds in the amount of your purchase price.
If you order items of variable weight, such as fresh meat, we may authorize a hold that slightly exceeds the final purchase price. Don't worry, you'll only be charged for the items you actually receive. Your credit card company or bank will remove the additional amount of the authorization hold, typically within three to five business days.
My order was canceled. Why do I still see a charge?
You will not be charged for a canceled order. However, the authorization hold for a canceled order may still appear in your credit card transactions or checking account. Your credit card company or bank will remove the authorization hold, typically within three to five business days.
Can I cancel a Curbside Pickup order?
Yes. Just visit or call the Sam's Club location you chose for Curbside Pickup at the number in your confirmation email.
Do Instant Savings apply to Curbside Pickup orders?
Definitely. If the offer is still valid when you order and prepay, the Instant Savings discounts will be applied.
Can I order delivery items to be shipped and then picked up at my club?
No, we do not have a ship-to-club option at this time.
How can I make my Pickup order tax exempt?
To make a tax-exempt purchase for Curbside Pickup, you must be approved for tax exempt status on your membership. If you haven't been approved, you will not be able to purchase as tax exempt. Once your tax-exempt membership status has been approved, you'll be able to mark some or all items as tax exempt during checkout.
Can I order same-day Curbside Pickup?
Yes. If you see a same-day slot open during checkout, feel free to choose that. Same-day orders must be placed before 3pm local time and are limited to 9 different items or fewer. Due to increased demand for the Pickup service, same-day time slots may not always be available.
What are your Pickup safety measures?
Curbside Pickup lets you shop your club online or in the Sam's Club app, contact free. Just order, park, check in on your mobile device and let us load your car. Our associates are required to wear face masks and complete daily temperature checks and health screenings. In addition, carts are sanitized between each Curbside Pickup order. If you're feeling unwell, are positive for COVID-19 or quarantined, please send someone else to pick up your order by using the "Additional Pickup Person" feature. Just enter the person's name, email address and phone during checkout.
I have a question. How do I get help?
Please give us a call at 1-888-746-7726.
Details on pricing and Curbside Pickup orders.
While Sam's Club strives to provide accurate product and pricing information, pricing, pictorial or typographical errors may occur. In the event that an item is listed at an incorrect price or with incorrect information due to an error in pricing or product information, Sam's Club shall have the right, at its sole discretion, to either refuse or cancel any orders placed for that item or contact you for notification and instructions on such cancellation. Without limitation to said terms above, Sam's Club does not represent that each item on this website is accurate in regard to pricing and product information and disclaims any liability as to such accuracy.
Details on CPU promotion(s)
Place your Curbside Pickup order between 7/06/21 to 7/30/21 on Sam's Club's Desktop, Mobile Web, or App and receive an Instant Savings for $5 off MEMBER'S MARK Ultra-Premium Bath Tissue and/or $5 off MEMBER'S MARK Super Premium Paper Towels. This offer is only valid in participating U.S. clubs, excluding Puerto Rico, to members with an active U.S. membership. Offer is redeemable once per item and for one purchase. Applies pre-tax and cannot be used in combination with other offers or promo codes. Offer excludes purchases of alcohol, tobacco, eGift cards, prescriptions and other items excluded at Sam's sole discretion . Sam's Club reserves the right to amend or cancel this offer, in whole or in part, or change part of the offer at any time for any or no reason, including without limitation, in the event of fraud, abuse of offer or violations of offer, as determined by the sole discretion of Sam's Club without notice to the member.