Choose your comfort level.
Mattress density determines comfort, or how hard or soft the bedding feels. Less density = softer. Add a mattress topper to customize the feel.
Firm
This style offers the most joint and back pain relief and reduces motion transfer.
Medium
Medium-comfort mattresses conform to your body while still offering some support.
Soft/Plush
Cloud-like with lots of bounce, soft/plush mattresses offer the most cushion.
Get the support you need.
Learn the different materials before choosing the best fit:
Innerspring/Coil
Memory Foam
Hybrids
Air Beds
Gel
Know your sleep style.
How you naturally like to snooze can affect your mattress choice.
Choose a medium or soft mattress
that conforms to your shape,
like Innerspring or Hybrids.
Try a firmer mattress with more support,
such as Memory Foam or Latex.
Lean more toward firm than plush,
like Memory Foam or Hybrid.
Pick an option that reduces motion
transfer, like Memory Foam, Air or Latex.
Select the right base for you.
Now, choose a mattress base that helps you sleep a little tighter.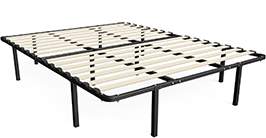 Find a frame.
Pick a supportive frame that is easy
to move and enhances your décor.
Shop Bed Frames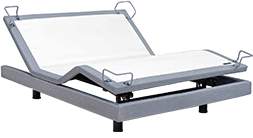 Customize your comfort.
Personalize your sleep with a
supportive, adjustable base.
Shop Adjustable Foundations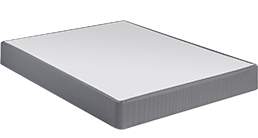 Boost your bed.
Add a durable box spring for more
comfort and weight distribution.
Shop Box Springs
Good sleep, guaranteed
Five tips for a good
night's sleep.
Out like a light.
Blue light from phones and TVs suppresses melatonin, which controls our sleep cycles. So, best to abstain from working in bed.*
* Publications, H. H. (2015, November 5). Blue light has a dark side. Harvard Health.
Sound asleep.
Play with using sleep apps, white
noise machines, wristband trackers,
humidifiers and lavender diffusers.
Schedule your shut-eye.
Go to bed and wake up around
the same time every day to
train your body to sleep.*
* Public Good Projects, The (Producer), & Hoffman, J. (Director). (2014). Sleepless in America. United States: National Geographic.
No booze
before you snooze.
Alcohol before bed might help us fall asleep, but it decreases our REM sleep, the kind our brains need to function.*
* Park, A. (2015, January 16). How booze messes with your sleep. TIME Magazine.
Hit the gym
(then the hay).
Exercise relieves insomnia. Even some light stretching before bed helps us catch more Z's.*
* Reynolds, G. (2013, August 21). How exercise can help us sleep better. New York Times.