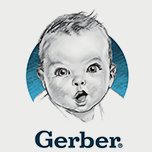 Partners in parenthood.
You and Gerber are in it together! With nutritious food made from quality ingredients, you'll find just what your little one needs for every stage.
Shop Now
Gerber Baby Food
Whether you're looking for formula, snacks or solid food for your growing baby, you'll find nourishing options made by Gerber at Sam's Club. When it comes to formula, turn to the most trusted name in baby food: Gerber. There's Gerber Infant Formula including the one and only Gerber Good Start. The Good Start Infant Formula is the right choice for babies who experience excessive crying, fussiness, colic and gas. Bring Gerber Powder Infant Formula with you wherever you go, and you'll always have an easy, nutritious meal on-hand. You're going to love the entire line of Gerber baby formula and Gerber baby food products.
Is your little eater ready for solid food? Sam's Club carries fantastic options your baby will love. At mealtime, try Gerber Rice Cereal and Gerber Oatmeal Cereal. Want to try both? It comes in a convenient value pack at Sam's Club. They are both single-grain cereals and they're a wonderful way to deliver the wholesome nutrition your growing baby needs. And, don't forget the fruits and vegetables. Gerber Fruit + Veggie pouches deliver top-notch nutrition in a convenient package.
Snack time is the best time with Gerber. Try Gerber Puffs, Gerber Lil Crunchies Baked Corn Snack and the Gerber Toddler Pouch. There are lots of flavors and textures for your little eater to enjoy, and they're packed with nutrients.
No matter what stage your baby is at, you can trust Gerber baby formula, Gerber baby food and Gerber snacks.