Weslo Crosswalk G 3.2 Treadmill
by
Weslo
|
Item
#: 519961
|
Model #:
WLTL34913
|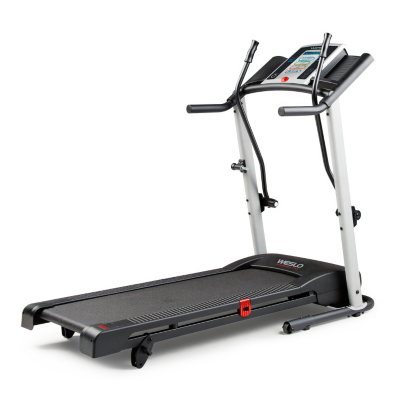 Select your options
Choose a Set Up Option:
The Crosswalk benefits that include Comfort Cell™ cushioning, 2-position adjustable incline and a 2.5 horsepower Impulse motor. Grab hold of the Crosswalk® upper-body arms to tone your arms, back, and chest. With the Crosswalk you can step up to innovative features and great results.
Description
Designed with features to step up your routine, the WESLO® Crosswalk 3.2 is your fast track to fitness. Enjoy the Crosswalk benefits that include Comfort Cell™ cushioning, 2-position adjustable incline and a 2.5 horsepower Impulse motor. Grab hold of the Crosswalk® upper-body arms to tone your arms, back, and chest. With the Crosswalk you can step up to innovative features and great results.
Specifications
3.5 CHP Impulse™ Motor:
Get smooth, consistent operation every time from this powerful motor. Engineered to maintain its strength for long-term use, this motor is perfect for light or intense workouts.
Upper-Body Workout Arms:
Burn more calories with upper-body workout arms! Featuring soft-touch grips, these workout arms are easy to hold and keep you comfortable throughout your workout.
4 Weight-Loss Workouts:
Get fit fast with 4 quick select workouts designed by a Certified Personal Trainer to help you burn maximum calories and reach your fitness goals.
2-Position Manual Incline:
Maximize your workout with increased calorie burn and reduce stressful joint impact simultaneously with this 2-position (1.5% and 6%) manual incline.
Comfort Cell™ Cushioning:
Reduce stressful impact on your joints and maximize workout comfort with this unique treadmill deck designed with a layer of cushioning to protect you as you workout.
0–10 MPH Quick Speed® Control:
Quick Speed® allows you to instantly change the speed of the treadmill between 0–10 MPH with the touch of a button.
Easy Pulse™ Heart Rate Monitor:
Get an accurate heart rate reading by simply placing your thumb on the Easy Pulse™ Sensor that is built right into the console.
16 x 50 Treadbelt:
A step above the rest, this treadmill belt is engineered to run smoother and quieter than the average treadmill belt.
Space Saver® Design:
This patented, revolutionary design allows your treadmill to fold vertically for storage.
250 lb. Weight Capacity:
The Crosswalk G 3.2 Treadmill can accommodate up to 250 pounds.

For additional questions or concerns regarding this product, please contact the Manufacturer's Customer Service Department at 1.800.999.3756.

This agreement is between you, the Customer, the original purchaser of the product,
and GoConfigure. Services are not performed by GoConfigure or Sam's Club.
Terms and Conditions for Installation and Repair Services
Installations, Inc., doing business as GoConfigure, is a provider of services to consumers on
behalf of certain retailers relating to the installation and/or repair of equipment and
materials purchased by consumers from GoConfigure's retailer relationships (the "Services").
These Terms and Conditions explain GoConfigure's obligations to you ("Customer") and your
agreements with GoConfigure.
HOW IT WORKS
A service team representative will contact you to confirm the appointment within 2 business days of placing your order
Let GoConfigure professional installers get your purchase up and running
All of GoConfigure's installations are performed by licensed installers
With GoConfigure:
• Assembly will begin within 5 business days of delivery on most items and, in most cases, sooner
• They'll teach you how to get the most out of your new products
• Packaging materials are placed in preferred area on the purchaser's property
GOCONFIGURE'S OBLIGATIONS
• All installation and/or repair services completed under the name GoConfigure are
completed by third party independent contractors that are selected at the sole discretion
of GoConfigure. GoConfigure uses reasonable commercial efforts to engage only qualified
contractors to perform the Services and who conform to GoConfigure's standards for
performance of Services.
• The relationship of GoConfigure and the contractor is that of an independent contractor.
The contractor is not an affiliate, partner, employee, agent or representative of
GoConfigure.
• GoConfigure will provide the contractor with the necessary information to, as applicable,
schedule the Services, and to timely pick up, deliver, install and/or repair the products at
Customer's location.
• Contractor is responsible for scheduling Services with the Customer. Scheduled service
dates may be subject to change due to inclement weather.
CUSTOMER OBLIGATIONS
• Upon arrival, Customer should verify the identity of the contractor and if there is any
question or concern contact GoConfigure at 1.888.746.6887.
• Customer should ensure that all paths to the destination of the product must be clear of
furniture or personal belongings, from the curb to the room/location of choice.
• Customer must provide a designated location for placement by contractor of packaging
material upon completion of the Services.
• Customer will complete a final inspection of the product delivered, installed or repaired.
Upon inspection, if service is satisfactory the customer will be required to sign a
completion of services form, indicating the work has been satisfactorily completed. If
there are any issues with the Services or the products known at the time of the
provision of the Services, Customer must indicate such issues in writing to the
contractor.
• Customer requests for additional services, claims, complaints or compliments should be
directed to 1.888.746.6887.
• Contractors are not responsible for the damage to underground systems, security fence,
sprinkler, pet fence, pipe, etc. Prior to Services for installation, Customer is responsible for
obtaining all utility entity and local government permissions that may be applicable.
• An adult at least 18 years of age or older must be at the home during the performance by
the contractor of the Services and authorized by the Customer to sign off upon completion
of the Services.
• Customer agrees that GoConfigure and Sam's Club have no liability for any acts or
omissions of the contractor in the actual performance of the Services and Customer,
knowingly and voluntarily, waives and releases GoConfigure and Sam's Club from any
claims, liabilities, damages or expenses that arise out of or result from the acts or
omissions of the contractor.
FEES INFORMATION
• If Customer needs to reschedule a Services appointment with a contractor, Customer must
provide at least 24 hours notice or GoConfigure reserves the right to charge up to $50
rescheduling or cancellation fee.
• Additional fees may apply for work not included in the original fees. The contractors are
not permitted to request or collect additional fees from Customers of GoConfigure that
they service.
• Service fees for completed installation and/or repair are non-refundable once
the Services are performed, unless there is proven negligence or fault in the completion
of service.
LIMITED WARRANTY OF SERVICES
• GoConfigure provides a 30-day limited warranty on all installation and repair
services. GoConfigure warrants that the Services will be free from any defect in
workmanship for a period of 30 days from the date of completion.
• This limited warranty does not cover damage from acts or occurrences beyond the
reasonable control of GoConfigure or the contractor, including but not limited to, acts of
god such as flooding, hurricanes, tornadoes, micro bursts, electrical outages, etc.
• This limited warranty does not cover any defects in the manufacture of the product being
delivered, installed or repaired by the contractor (such defects may be covered under the
manufacturer's warranty).
• The GoConfigure warranty of services only covers the original Customer and is not
transferrable.
• The warranty shall not be applicable in the event of any misuse or abuse of the product or
if the product has been modified, tampered with or worked on by a service provider other
than as selected by GoConfigure. All warranty claims are investigated by GoConfigure and
Customer agrees to cooperate in such investigation.
• In no event will GoConfigure or Sam's Club be liable for any special, indirect or
consequential damages.
• Some states do not permit certain limitations of warranties, including the limitation of
damages. In such cases, applicable state law will apply.
Warranty Information
90 Day Parts & Labor Warranty.
There is no additional information available for this item.