Ultra-Pure™ 988 Air Purifier
Item
#: 68275
|
Model #:
UP-988
|
(2)
|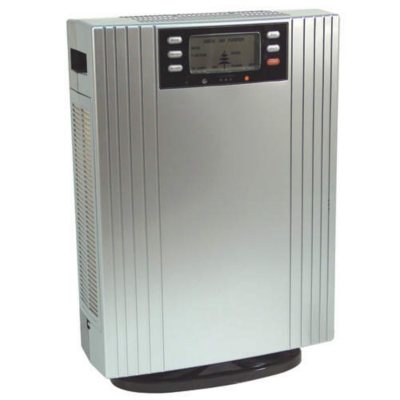 A state of the art 6-stage air filtration and purification system, the finest home air purifiers.
Description
The simple truth is this, Ultra-Pure's™ nine stage air filtration and purification technologies suppress dust, pollen, pet dander, pet odors, cooking odors, tobacco smoke, toxic gases, odors and most other household air pollutants. More importantly they are great allies in the fight against micro-biologicals including viruses, bacteria's, germs, molds, mildews and other airborne biological threats commonly reported in today's headlines.
The 'Anion' Ion generators coupled with foam pre-filters, HEPA and Activated Carbon filters combined remove 99.7% of dust, soot, pollen, pet dander, larger micro-biologicals as well as most chemical fumes and odors. Once the air in an Ultra-Pure™ unit has been filtered, it is purified with our potent UV light and TiO2 combination technologies that throw a deadly knockout punch to most micro-organisms that can cause many of today's health problems. This translates into you and you family living in a happier, healthier and more enjoyable environment.
We equip all our air purifiers with ultra quiet multi-speed fans, easy to read control panels, automatic timer settings and include a free remote control with most models.
Specifications
3-Stage automatic air quality sensor to continuously monitor surrounding air and adjust the 988's operation to assure maximum air purification and quality
Continuous Anion Negative Ion generation helps remove smog, pollen and dust from the air
Wireless remote control included
Effective up to 800 sq. ft.
Owners manual included
110 Volt AC

5 Dual-Stage Filtration and Purification Systems Feature:
Dual washable pre-filters to remove larger airborne particulate
Dual hi-performance HEPA filters to remove dust and pollen; Very helpful for those suffering from asthma and various allergies
Dual activated Carbon filters to help remove gases, smoke, odors, and hazardous chemical fumes
Dual photo catalyst Nano-TiO2 germicidal sanitizers to help suppress the growth of microorganisms including mold, viruses, and bacteria
Dual UVGI or Ultraviolet Germicidal Irradiation lights for killing mold, germs, bacteria, viruses, and removing odors
On-demand (On-Off) activated oxygen (ozone) generation to help oxidize odors, bacteria, mold, chemicals and other pollutants in the air; Maximum production is 0.004ppm (20% below US EPA maximums)
Easy to read back-lighted LCD control panel

5-Mode Automatic Timing:
Automatic On-Off with air quality sensor
Manual on-off for continuous operation
Auto for continuous 20 minutes on – 40 minutes off operation
2-Hour for 2 hours continuous on then automatic turn-off
4-Hour for 4 hours continuous on then automatic turn-off
Unit size: 19 x 14.2 x 7, 16.1-lbs
Warranty Information
1 year
Free replacement if your Ultra-Pure product fails from normal use.
There is no additional information available for this item.