Freemotion TT30 Incline Terrain Trainer
by
Freemotion
|
Item
#: 267632
|
Model #:
SFTL15619
|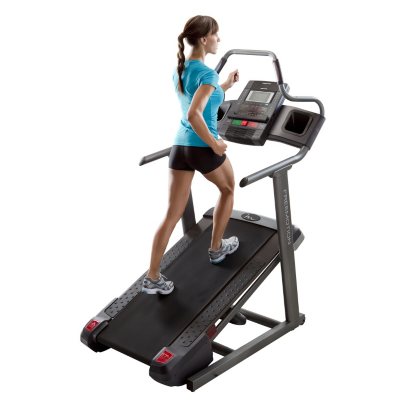 Select your options
Choose a Set Up Option:
The FreeMotion Incline Trainer is fully equipped to give you everything you need to stay motivated and on the path to success. The Incline Trainer also features iFit® Live which gives you the opportunity to train with Jillian Michaels, receive automatic daily workouts and interact with your Facebook® friends.
Description
With a range of -3% to 40%, this incline trainer gives you the opportunity to train at both an incline and a decline. It works directly with iFit® Live so you can experience the inclines and the declines of your favorite trails. The FreeMotion Incline Trainer is fully equipped to give you everything you need to stay motivated and on the path to success. iFit® Live also gives you the opportunity to train with Jillian Michaels, receive automatic daily workouts and interact with your Facebook® friends. The Incline Trainer also features a Compatible Music Port for iPod®, Intermix Acoustics™ 2.0 and a Lifetime Frame and Motor Warranty.
Specifications
iFit® Live:
Introducing the only wireless connection between the Internet and home fitness equipment—iFit® Live*. With workouts Powered by Google Maps™, iFit® Live allows you to experience trails all over the world as if you were outside. Plus, to simulate the physical features of the terrain, iFit® Live automatically adjusts your incline and decline up to 40% and to a revolutionary -3%. Work out with Jillian Michaels, America's toughest trainer. With new fat burning workouts that utilize the powerful 40% incline, she'll help you drop pounds fast! iFit® Live also lets you interact with your Facebook® friends and download daily workouts. You'll lose weight, get fit and stay connected.*Requires iFit® Live Module. Module sold separately. Facebook® and the Find us on Facebook logo® are registered trademarks of Facebook, Inc. Google and Google Maps are registered trademarks of Google, Inc.
-3–0% Decline:
It's the newest revolution to the treadmill workout: walking at a decline. Activate different muscles for faster results by walking at a decline, burn more calories than walking on a flat surface and stimulate more muscle for faster results.
0–40% Incline:
Adjust the incline by up to 40% with the simple touch of a button. You'll burn five times the calories with this unprecedented incline range and keep your workout low-impact and easy on your joints.
Compatible Music Port for iPod®:
Move to the beat of your favorite music with this built-in sound system. Plug your iPod®**, or MP3 Player, into the Interplay™ Music Port and listen as the Intermix Acoustics™ 2.0 delivers unbeatable sound quality. With the iPod® resting on the console shelf, it's within easy reach and leaves the controls right at your fingertips. **iPod is a trademark of Apple, Inc., registered in the US and other countries. iPod® not included.
Intermix Acoustics™ 2.0:
Enjoy your favorite media with this built-in sound system that produces a broad range of frequencies and rich, equalized sound.
Reflex™ Cushioning:
Just as your car's suspension keeps you comfortable and isolated from jarring road conditions, Reflex™ Cushioning increases workout comfort, while keeping your joints protected from the rigors of exercise. And, because we've exhaustively tested this unique cushion system with a maximum load for countless hours, you can be assured it will stand the test of time. Reflex™ Cushioning offers the ultimate impact-absorption technology.
9 Calorie-Goal Workouts:
Infuse your workout with training expertise with 9 Calorie-Goal Workouts—each designed to give you more results in less time.
2.25 CHP Drive Motor:
Experience expanded power with this quiet, self-cooling drive system. Employing an axial fan, this motor reduces noise as it cools internal components—enhancing your workout environment and extending the motor's life.
0–10 Speed Control:
With a speed range of 0–10 MPH, this incline trainer feature allows you to instantly adjust your speed up or down with the single touch of a button instead of having to tediously scroll through options.
Random Trail Generator:
Discover new adventures with the Random Trail Generator. It randomly selects sections of the built-in workouts and rearranges them into a completely-new workout experience.
4" CoolAire™ Workout Fan:
Stay cool and fresh during your workout with the innovative CoolAire™ Workout Fan. You'll stay comfortable, enabling you to work out longer so you can reach your goals faster. The sophisticated fan is built right into the console, just like the AC in your car, allowing you to quickly adjust the settings.
20" x 55" Treadbelt:
A vital component of the drive system, this roomy treadmill belt is designed to operate smoother and more quietly than the average treadmill belt.
Graphical Display with Priority Display:
Quickly view your workout results on this easy-to-read display. You can keep track of your speed, time, incline, distance, pulse, carbs burned and calories burned. With Priority Display you choose which statistics you want displayed.
Dual-Grip Heart Rate Monitor:
Make the most out of every workout by monitoring your heart rate with these sensors that are built-in to the handlebars, ensuring you're always in the right training zone for your goals.
Read owner's manual before operating, assembly required, 300 LB max user weight limit.

For additional questions or concerns regarding this product, please contact the Manufacturer's Customer Service Department at 1.800.999.3756.
This agreement is between you, the Customer, the original purchaser of the product,
and GoConfigure. Services are not performed by GoConfigure or Sam's Club.
Terms and Conditions for Installation and Repair Services
Installations, Inc., doing business as GoConfigure, is a provider of services to consumers on
behalf of certain retailers relating to the installation and/or repair of equipment and
materials purchased by consumers from GoConfigure's retailer relationships (the "Services").
These Terms and Conditions explain GoConfigure's obligations to you ("Customer") and your
agreements with GoConfigure.
HOW IT WORKS
A service team representative will contact you to confirm the appointment within 2 business days of placing your order
Let GoConfigure professional installers get your purchase up and running
All of GoConfigure's installations are performed by licensed installers
With GoConfigure:
• Assembly will begin within 5 business days of delivery on most items and, in most cases, sooner
• They'll teach you how to get the most out of your new products
• Packaging materials are placed in preferred area on the purchaser's property
GOCONFIGURE'S OBLIGATIONS
• All installation and/or repair services completed under the name GoConfigure are
completed by third party independent contractors that are selected at the sole discretion
of GoConfigure. GoConfigure uses reasonable commercial efforts to engage only qualified
contractors to perform the Services and who conform to GoConfigure's standards for
performance of Services.
• The relationship of GoConfigure and the contractor is that of an independent contractor.
The contractor is not an affiliate, partner, employee, agent or representative of
GoConfigure.
• GoConfigure will provide the contractor with the necessary information to, as applicable,
schedule the Services, and to timely pick up, deliver, install and/or repair the products at
Customer's location.
• Contractor is responsible for scheduling Services with the Customer. Scheduled service
dates may be subject to change due to inclement weather.
CUSTOMER OBLIGATIONS
• Upon arrival, Customer should verify the identity of the contractor and if there is any
question or concern contact GoConfigure at 1.888.746.6887.
• Customer should ensure that all paths to the destination of the product must be clear of
furniture or personal belongings, from the curb to the room/location of choice.
• Customer must provide a designated location for placement by contractor of packaging
material upon completion of the Services.
• Customer will complete a final inspection of the product delivered, installed or repaired.
Upon inspection, if service is satisfactory the customer will be required to sign a
completion of services form, indicating the work has been satisfactorily completed. If
there are any issues with the Services or the products known at the time of the
provision of the Services, Customer must indicate such issues in writing to the
contractor.
• Customer requests for additional services, claims, complaints or compliments should be
directed to 1.888.746.6887.
• Contractors are not responsible for the damage to underground systems, security fence,
sprinkler, pet fence, pipe, etc. Prior to Services for installation, Customer is responsible for
obtaining all utility entity and local government permissions that may be applicable.
• An adult at least 18 years of age or older must be at the home during the performance by
the contractor of the Services and authorized by the Customer to sign off upon completion
of the Services.
• Customer agrees that GoConfigure and Sam's Club have no liability for any acts or
omissions of the contractor in the actual performance of the Services and Customer,
knowingly and voluntarily, waives and releases GoConfigure and Sam's Club from any
claims, liabilities, damages or expenses that arise out of or result from the acts or
omissions of the contractor.
FEES INFORMATION
• If Customer needs to reschedule a Services appointment with a contractor, Customer must
provide at least 24 hours notice or GoConfigure reserves the right to charge up to $50
rescheduling or cancellation fee.
• Additional fees may apply for work not included in the original fees. The contractors are
not permitted to request or collect additional fees from Customers of GoConfigure that
they service.
• Service fees for completed installation and/or repair are non-refundable once
the Services are performed, unless there is proven negligence or fault in the completion
of service.
LIMITED WARRANTY OF SERVICES
• GoConfigure provides a 30-day limited warranty on all installation and repair
services. GoConfigure warrants that the Services will be free from any defect in
workmanship for a period of 30 days from the date of completion.
• This limited warranty does not cover damage from acts or occurrences beyond the
reasonable control of GoConfigure or the contractor, including but not limited to, acts of
god such as flooding, hurricanes, tornadoes, micro bursts, electrical outages, etc.
• This limited warranty does not cover any defects in the manufacture of the product being
delivered, installed or repaired by the contractor (such defects may be covered under the
manufacturer's warranty).
• The GoConfigure warranty of services only covers the original Customer and is not
transferrable.
• The warranty shall not be applicable in the event of any misuse or abuse of the product or
if the product has been modified, tampered with or worked on by a service provider other
than as selected by GoConfigure. All warranty claims are investigated by GoConfigure and
Customer agrees to cooperate in such investigation.
• In no event will GoConfigure or Sam's Club be liable for any special, indirect or
consequential damages.
• Some states do not permit certain limitations of warranties, including the limitation of
damages. In such cases, applicable state law will apply.
Details
73.5" L x 36.5" W x 59.6" H
Shipping Information
Delivery service will call to set up appointment
Delivery not available to AK, HI or Puerto Rico
Warranty Information
Lifetime frame & motor, 1 year parts & labor
There is no additional information available for this item.