The Prevention Plan from U.S. Preventive Medicine
by
The Prevention Plan
|
Item
#: 348436
|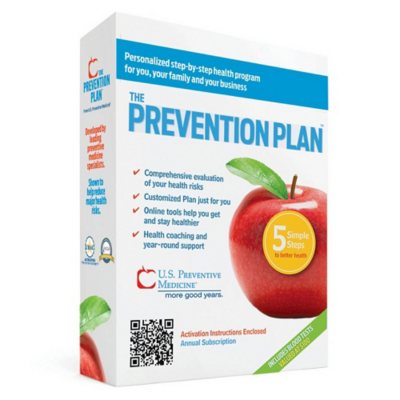 Live better and save money with this personalized program to help you understand and tackle health risks, prevent future risks from developing and increase your wellbeing and vitality for more good years®.
Description
See how The Prevention Plan works.
Your health affects so many areas of your life and business over time: how long you work, how much you pay for medical expenses, quality time with family and friends and how much you enjoy life. Now individuals and small businesses can benefit from a one-year subscription to The Prevention Plan, a personalized, step-by-step health improvement program to help you understand and improve your health risks.
Lose Weight
Losing weight may reduce your risk for high blood pressure, Type 2 diabetes, stroke and heart disease.
Quit Smoking
Smoking causes coronary heart disease, the leading cause of death in the United States. Smoking causes 90% of all lung cancer deaths in men and 80% of all lung cancer deaths in women. Not to mention those who smoke one pack a day would save over $2,000 a year by quitting.
Lower Your Blood Pressure
Controlling high blood pressure, also known as hypertension, may reduce your risk of heart disease, stroke, congestive heart failure, and kidney disease. High blood pressure was a primary or contributing cause of death for 326,000 Americans in 2006.
Prevent the Onset of Type II Diabetes
As one of the leading causes of death and disability, there are many benefits to preventing or reducing your risk of Type II Diabetes. The disease often leads to blindness, heart and blood vessel disease, stroke, kidney failure, amputations and nerve damage.
Save Money
The healthier you are, the more you can save in health insurance premiums, copays and other out-of-pocket costs.
Healthier Employees
Employers, whether or not you provide health insurance to your employees, The Prevention Plan is a cost-effective way to help them to maintain or improve their health and increase productivity while at work.
Specifications
The Prevention Plan Personalized Program Includes:
Annual subscription to The Prevention Plan web-based program
Comprehensive online Health Risk Assessment
Extensive blood panel at a Quest Diagnostics® Patient Service Center including 25 results* for cholesterol (heart), fasting blood glucose (diabetes), liver, kidney and thyroid function, bones, and fluids and electrolytes.
Residents of NY, NJ and RI receive an At-Home Blood Screening Test with results including cholesterol (total, HDL, LDL, triglycerides, HDL/LDL ratio, cholesterol/HDL ratio), calculated blood glucose and Hemoglobin A1c (diabetes)
Personalized Prevention Plan that explains and prioritizes your health risks and recommends the steps you should take to improve your health
More than 20 online education programs to help you achieve your health goals like: lose weight, quit smoking, control or reverse diabetes, lower blood pressure, eat healthier, manage stress, prevent depression, reduce back pain, control cholesterol and more
2 online or telephonic health coaching sessions to keep you motivated
Recommended prevention screenings, schedule and alerts based on age, gender and risks
Confidential Personal Health Record to store and manage your private health information
Robust health library, weight loss guide and tracker, BMI and fitness calculators, health animations and news, symptom checker, meal planners and condition support journals
Personal Prevention Score roadmap to track your progress and motivate you over time
Physician Summary for your doctor and a detailed Member Report for your future reference
24/7 Nurse Line
Minimum Computer Requirements:
Microsoft Internet Explorer 6 (8+ recommended)
Mozilla Firefox 2 (3+ recommended)
Google Chrome 2 or higher (8+ recommended)
Safari 4 (5+ recommended) for Mac
Minimum screen resolution of 1024 x 768
Adobe Flash Player 8.0 or higher
Adobe Reader 7 or higher
JavaScript 1.2 or higher must be enabled
Cookies must be enabled
Other Subscription Information:
Membership is valid for 12 months following the date of registration and is available to ship to all 50 states, Puerto Rico and APO/FPO addresses
Member will receive a Getting Started package with complete instruction and an Individual Identification number to activate the subscription
The Prevention Plan subscription may be purchased and used by the Member or by any person receiving the Getting Started package
Completely private and confidential
An Internet connection is required to access the program
Currently only available in English
Limit one At-Home Blood Test Kit per annual subscription
Active participation in your Prevention Plan subscription automatically enters you into drawings for rewards, prizes, cash and more
The Prevention Plan is a service administered solely by U.S. Preventive Medicine, Inc., and its designated vendors. This program is not administered by Sam's Club®. The Prevention Plan is not intended to diagnose or treat, and does not diagnose or treat, illness, injury or disease. For more information about The Prevention Plan from U.S. Preventive Medicine, please visit www.USPreventiveMedicine.com.
For questions or concerns regarding this product, please visit www.ThePreventionPlan.com or call The Prevention Plan Member Care at 866.713.1180.
Warranty Information
This product is covered by the Sam's Club Member Satisfaction Guarantee.
There is no additional information available for this item.