Swing Sets & Playhouses
Swing sets and playhouses are the epitome of childhood fun. Encouraging kids to get outdoors and get active, swing sets and playhouses provide the added benefits of promoting healthy lifelong attitudes. Having outdoor play equipment right in your own backyard means it's convenient to keep the fun going any time. Explore our wide selection of swing sets, playhouses, and swing set accessories to find the equipment that's perfect for you and your family.
Top seller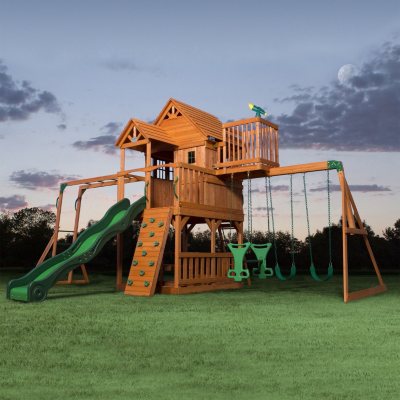 Item #: 690515
In Stock
270Ratings
Top seller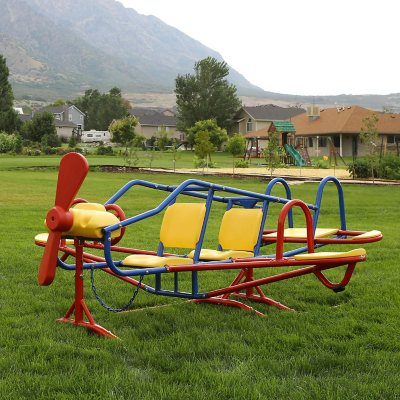 Item #: 786374
In Stock
Shipping Included
1Ratings
Top seller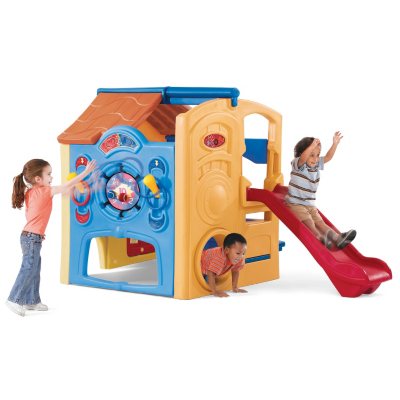 Item #: 403579
In Stock
3Ratings
Choosing the Right Swing Sets, Playhouses, and Accessories
Which swing set or playhouse is right for your backyard depends upon how many kids will be using it, what your safety needs are, and what kinds of equipment your kids prefer. Swing sets can come with a variety of core activities and offer a number of optional accessories to maximize the fun, too. Some of the most popular activities for swing sets are: classic swings, tire swings, disc swings, slides, fireman poles, hanging rings, rope ladders, and tic-tac-toe spinner boards.
Once you've picked out some of the activities you're looking for, it's time to think about some of the other basic swing set questions.
Swing Set Size
Consider the size of your yard. Do you want the swing set to take up the entire yard or only a portion? Be sure to allow plenty of room around the swing set in order to prevent injuries.
Swing Set and Playhouse Materials
Swing sets may be composed of wood, metal, plastic, or a variety of two or all three. Factors such as your preferred aesthetics and safety needs are important to consider as you select your swing set. For instance, a wooden play set may have a nicer appearance, yet it may also present sharper edges and splinters. Additionally, metal swing sets may be most economical, yet do not always offer the longevity of wooden or plastic sets.
Safety and Durability
Be sure to choose a swing set or playhouse suited to how it will be used in your backyard. Consider the ages and number of children who will be using it. While optional accessories can always be replaced or added later, the equipment's core components should stand the test of time. Pay attention to the details, too. Such things as rounded corners and pinch-free chain links have an influence on a child's safety.
Are you ready to choose your perfect swing set or playhouse? Explore our selection and find the equipment that's right for you and your family. No need to worry about getting your equipment when you shop with SamsClub.com; many of the swing sets we offer include free shipping! Let Sam's Club help you make enjoying the outdoors more fun this summer.