Security Systems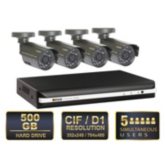 Q-see 4 Channel Security System with 500GB Hard...
$199.88
Item # 175565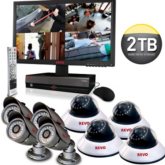 Revo 16 Channel Security System with 2TB Hard...
$999
after $100 Instant Savings
Item # 315570
Q-See 2 Pack Easy View WiFi IP Cameras
$179.88
after $150 Instant Savings
Item # 100773
Surveillance systems are the safety measure you never want to use, but should never be without. A surveillance system is a fraction of the cost of the mental and financial weight if something were to go wrong. Fortunately, Sam's Club offers the best surveillance systems at extremely affordable prices.
Security and High-Tech Cameras from Sam's Club
Sam's Club has everything you need when it comes to the surveillance system you need to protect your business. It starts with great security cameras like multiple cameras with night vision to capture any unauthorized activity. Any good surveillance system also has recording, monitoring and storage, and Sam's Club offers DVRs with 500GB to 2TB hard drives for extensive footage, along with monitors to capture the crisp images from high resolution security cameras.
With a surveillance system purchased through Sam's Club, you can hook a multi-channel feed through the internet to keep a watchful eye on your valuables from anywhere. You can even receive emails with details and images when security events happen.
You'll be amazed at the peace of mind a good surveillance system can bring you, and the high-tech security system tends to deter criminals before anything happens. So get your security in place by ordering surveillance systems from Sam's Club, today!