Razor® RipSkate Caster Skates - Blue
by
Razor
|
Item
#: 493396
|
(1)
|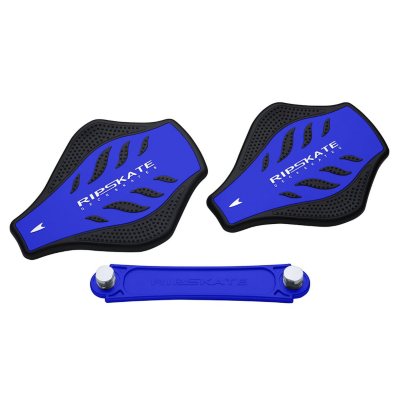 The included casters and pivoting deck provide a snowboard-like carving ability.
Description
Carve like a RipStik or ride like inline skates with the Razor RipSkate caster skates. Theoriginal RipStik was best described as a cross between a skateboard and a snowboard, with apivoting deck and inclined casters producing a snowboard-like carving ability. The RipSkate,however, adds a twist by functioning as two separate skates, each fitting your shoes almostperfectly, or like a RipStik via the removable torsion bar. When connected, the RipSkate letsyou turn or accelerate with a simple weight transfer, so you don't need to push to cruise downthe street. It's almost like surfing, but on pavement rather than water.

If you'd rather roll than carve, you can instead strap the skates on individually and glidelike a Venice Beach native. Details include a concave deck platform and traction plates forincreased foot control; 51mm urethane wheels with ABEC-5 bearings for a smooth ride; 360-degreeincline casters; and a portable design that fits easily in a backpack for people with a mobilelifestyle.

The Razor RipSkate is recommended for riders 8 and older and supports up to 220 lbs.
Specifications
Dual-function skate device that acts like a RipStik or 2 inline skates 
Skates connect via removable torsion bar to act like snowboard/skateboard hybrid 
Unique design allows acceleration and turning without pushing
Individual skates fit your shoes comfortably
360-degree inline casters 
51mm urethane wheels with ABEC-5 bearings
Fits easily in backpack 
Recommended for ages 8 and older
Razor RipSkate is recommended for riders 8 and older and supports riders up to 220 lbs. Read and understand the enclosed owner's manual before riding. Safety equipment such as a helmet, elbow and knee pads are recommended. Check local laws and regulations to see where and how you may use any Razor product.
Details
Dimensions: 29.5"x8.5"x4.5" (LxWxH)
Weight: 5.5 lbs.
Warranty Information
Razor warranties the RipSkate to be free of manufacturing defects for a period of six (6) months from the original date of purchase. This limited warranty does not cover normal wear and tear, wheels, hand grips nor any damage, failure or loss caused by improper assembly, maintenance, storage or use of the product. This Limited Warranty will be void if the product is ever: used in a manner other than for recreation; modified in any way; or rented. The manufacturer is not liable for incidental or consequential loss or damage due directly or indirectly to the use of this product.
There is no additional information available for this item.