ProViri Synthetic Lawn - 7.5' x 13' or 97.5 Sq Ft
by
ProViri
|
Item
#: 205036
|
(1)
|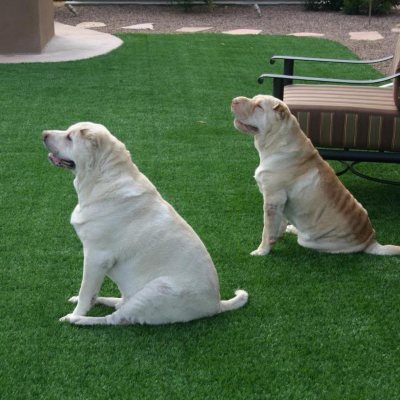 The latest technology of artificial grass creating an overlapping blade system. Giving you a low-maintenance lawn and added coolness. The eco-minded choice for water conservation and maintenance relief made exclusively for Sam's Club! The "Cool Shade Blade" feature is not found in traditional synthetic lawns.
ProViri means "Go Green"!

Description
A fancy appearance and natural beauty year-round! Enjoy an Always Green lawn that is virtually maintenance free. Blades measure 1.75 inches in length and combine 2 green colors for this natural beauty! The NEW ProViri blades have a self-cooling feature that keeps one side of the blade shaded during hot weather. This makes for a cooler surface when you need it.
PLEASE CONTACT US at 877-654-1572 for customer service questions and visit WWW.ProViriLawns.com

Why ProViri?

1. Made in the USA means both our fibers and backings are Made in the USA.
2. All Polyethylene bladed-no Nylon!
3. Urethane backing for durability. Other backings may degrade in 2-5 years, rendering your blades unsupported.

4. ProViri meets all federal and consumer protection requirements for heavy metal and lead safety 



CUSTOMER SUPPORT

For a FREE sample: SAMPLES@PROVIRILAWNS.COM Include your name, address and phone plus the name of the product you are requesting.


INSTALLATION: Pro installers are available for FREE estimates.


Online install videos at www.YOUTUBE.com and search for ProViri

Customer Support: 1- 877-654-1572 

Printable install guides and FAQ available at www.ProViriLawns.com


Returns:
Before returning items, please contact us in the event we may be able to answer questions or give suggestions that will solve your problems. Our customer service line is 1-877-654-1572 .
View the ProViri FAQ's

View the ProViri warranty

View the ProViri installation guide
Specifications
Pre Cut Size is perfect for Pet areas or small yards
Dual colored blades with thatch for authentic plush feel
NEW Cooler blades keep temperature down in hot weather
Pet Friendly- No Stains or Odors
No Mowing and No High Water Bills.
No pesticides, fertilizers or CO2 emissions helps the environment
Questions? Call 1-877-654-1572
Warranty Information
8-year limited from the manufacturer.
Warranty available for viewing and download at www.proviri.com
There is no additional information available for this item.