ProViri Synthetic Lawn - 3.75' x 9'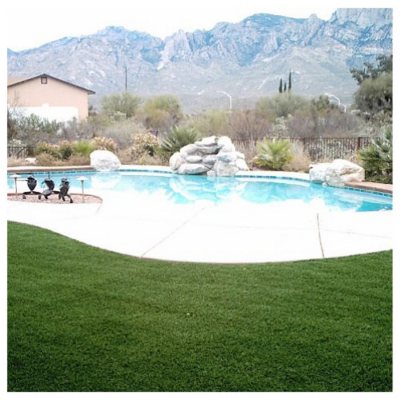 The next generation of artificial grass that gives you a low-maintenance lawn.
ProViri means "Go Green"!
The eco-minded choice for water conservation and maintenance relief made exclusively for Sam's Club!
Description
Blades are 1.75? in length and both ProVIri and ProViri PLUS have thatch. ProViri Plus is a more plush lawn with 30% more fiber than standard ProViri.

If you have questions on how to measure your lawn please call our customer service line. 1-877-654-1572

WHY ProVIri?
1. Made in the USA not in Asian countries
2. All Polyethylene bladed-no Nylon! Polyethylene always washes clean. Nylon may absorb chemicals and dog urine over time
3. Urethane backing. Why is this important? Durability. Ninety-nine% of all athletic fields in North America require urethane backing on their sport fields because of durability. Other backings may degrade in 2-5 years, rendering your blades unsupported.
4. ProViri meets all federal and consumer protection requirements for heavy metal and lead safety

Why did Sams Club select ProVIri as the synthetic grass to supply their customers?
ProViri is manufactured by a true manufacturer?.a leading synthetic grass and athletic field supplier for almost 30 years. And YES! We have been around longer than our warranty!

CUSTOMER SUPPORT

For a FREE sample: SAMPLES@PROVIRI.COM. Include your name, address and phone plus the name of the product you are requesting.

Online install videos at www.YOUTUBE.com and search for ProVIri
Customer support line 877-654-1572
You can always email your questions to INFO@ProViri.com
Printable install guides and FAQ is available on website www.ProViri.com
Pro installers available for FREE estimates

Truck Freight Requirements for Rolls 15?x25? and above:
The weight for a 15? x 25? roll is 200lbs. You will be notified by the trucking company to schedule a time for delivery.
Customers are responsible for providing the equipment or enough man-power to unload the 15' x 25' rolls from the truck. The driver will not assist you.
Note: The rolls above 15' x25' are very heavy and require extra man power to remove from the freight truck. The freight truck driver will not assist you. We advise you to have 2-3 men or a fork-lift at the delivery location to help in roll removal. PLEASE CONTACT US if you desire any large roll order to be separated into smaller sized rolls. 1-877-654-1572 for customer service or info@proviri.com.

Returns:
Before returning items, please contact us in the event we may be able to answer questions or give suggestions that will solve your problems. Our customer service line is 1-877-654-1572.


View the ProViri FAQ's

View the ProViri warranty

View the ProViri installation guide
Specifications
Say NO to:

Mowing
High water bills
Expensive pesticides and fertilizers
CO2 emissions
Brown spots
Say YES to:

More leisure time
Year- round greenery
Lead safety
We are your Pet, Family and Environmentally friendly lawn!

Visit www.Proviri.com for installation instructions and videos!
Details
3.75' × 9' prepackaged roll installed
3.75' × 9' × 2" rectangle for lawn
Warranty Information
8-year limited from the manufacturer. Warranty available for viewing and download at www.proviri.com
There is no additional information available for this item.