Custom Sized ProViri Plus 15'x1'
by
ProViri
|
Item
#: 80388
|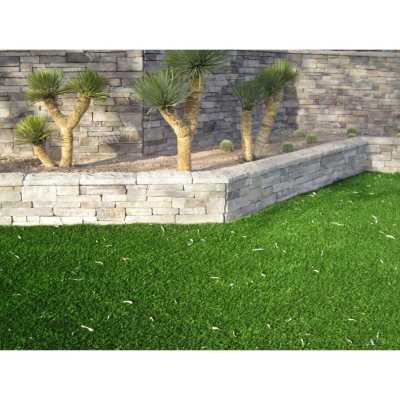 Advanced technology in blade innovation. We have created a blade that is soft, plush and realistic. As always, our products are safe and durable with urethane backing and polyethylene blades. The extra blade weight you receive with ProViri Plus creates a grass "cloud" for family fun! This is a "non-compression" turf. We added plushness as well as the new feature of added spring. These blades are manufactured to resist laying down during active play and foot traffic. A noticeable improvement!


ProViri means "Go Green"!
Description
View a video of this product


Say NO to:
Mowing
High water bills
Expensive pesticides and fertilizers
CO2 emissions
Brown spots Say YES to:
More leisure time
Year- round greenery
Lead safety
·We are your Pet, Family and Environmentally friendly lawn! The eco-minded choice for water conservation and maintenance relief made exclusively for Sam's Club!

PRO INSTALLERS are available for FREE estimates on installation. Call our customer support line 877-654-1572 to schedule and appointment!

How to CUSTOM order: All rolls are 15' wide. Beginning with a 15 foot wide roll, you can custom order to any length you wish! If you enter 15 in the order box you will receive ONE piece of turf 15' x 15' or 225 sf. If you enter 20 in the order box you will receive ONE piece of turf 15' x 20' or 300 sf.
Examples:
If you need 450 sq.ft., place your order for 15' x 30'.
If you need 1000 sq.ft., place your order for 15' x 67'.
If you need 1800 sq.ft., place your order for 15' x 120'.
If you need 9000 sq.ft., place your order for 15' x 600'. Enter in the order box the number of LINEAR feet you will need. (You have to erase the 1 that is already in the box.) If you have questions on how to measure your lawn please call our customer service line. 1-877-654-1572 CUSTOMER SUPPORT-

You can always email your questions to INFO@ProViri.com Printable install guides and FAQ is available on website www.ProViri.com

Truck Freight Requirements for Rolls 15'x25' and above: The weight for a 15' x 25' roll is 200lbs. You will be notified by the trucking company to schedule a time for delivery. Customers are responsible for providing the equipment or enough man-power to unload the 15' x 25' rolls from the truck. The driver will not assist you. Note: The rolls above 15' x25' are very heavy and require extra man power to remove from the freight truck. The freight truck driver will not assist you. We advise you to have 2-3 men or a fork-lift at the delivery location to help in roll removal. PLEASE CONTACT US if you desire any large roll order to be separated into smaller sized rolls. 1-877-654-1572 for customer service or info@proviri.com.

Returns: Before returning items, please contact us in the event we may be able to answer questions or give suggestions that will solve your problems. Our customer service line is 1-877-654-1572.
Specifications
All weather rated
Family safe and pet safe
Made of polyethylene and urethane
Non-toxic environmental standard
Eliminates mud tracking into the home
Cuts down on lawn maintenance costs
Protects ground water from pesticide run-off
No mowing, fertilizer or water needed
Drainage holes mimic the drainage of natural sod
Easy to install
For a free sample, email SAMPLES@PROVIRILAWNS.COM. Include your name, address and phone plus the name of the product you are requesting.
For additional questions or concerns reguarding this product, please contact the Manufacturer's Customer Service Department at 1-877-654-1572 . Also visit our website for full customer support. WWW.PROVIRI.COM for installation guides and videos.
Warranty Information
8-year limited from the manufacturer. Warranty available for viewing and download at www.provirilawns.com
There is no additional information available for this item.